The Chips
Launching on the socket 939 platform today are the Athlon 64 3500+, 3800+ and FX-53 CPUs. As we have mentioned in previous news articles, these new CPUs include the 3500+, 3800+ and FX-53. The 3500+ will run at 2.2GHz while the 3800+ and FX-53 will run at 2.4GHz each. Here's a comparison shot of a 940 pinout and a 939 pinout: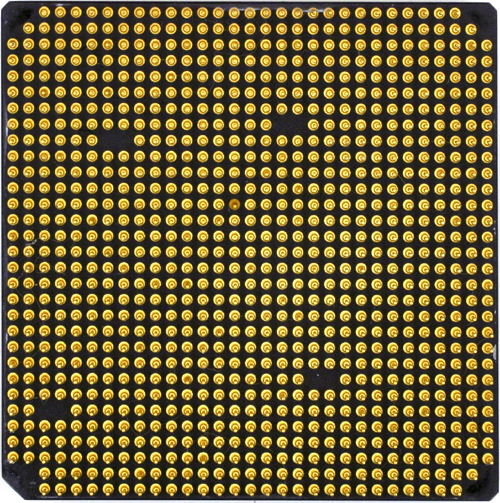 This is a socket 940 processor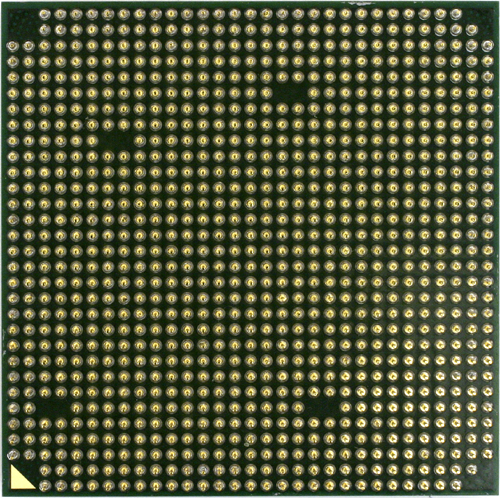 This is a socket 939 processor
Aside from the difference in packaging, the only new thing about these processors is their on die memory controller. These parts are the first to be equipped with a memory controller that can handle dual channel unbuffered DDR memory. As we have seen, integrating a memory controller on die has been a successful way of maintaining performance for AMD, but the drawback is when AMD wants to make its processors work with a new type of memory: they need to redesign part of the silicon.
Here's a table that lays out the processors and their specifications adopted from one of our earlier roadmap articles:
Current AMD Athlon 64 and FX processors
 
Clock Speed
Cache Size
Dual Channel
Unbuffered
Athlon 64 FX-55 (939)

2.6GHz

1MB

Yes

Yes

Athlon 64 FX-53 (939)

2.4GHz

1MB

Yes

Yes

Athlon 64 FX-53 (940)

2.4GHz

1MB

Yes

No

Athlon 64 3800+ (939)

2.4GHz

512KB

Yes

Yes

3700+ (754) ???

2.4GHz

1MB

No

Yes

Athlon 64 3500+ (939)

2.2GHz

512KB

Yes

Yes

Athlon 64 3400+ (754)

2.2GHz

1MB

No

Yes
The questions are next to the 754 pin 3700+ part because we haven't seen one yet, and we didn't run any numbers for that particular configuration.
The 939 pin Athlon 64 parts we know about have 512kB L2 caches, this means that he 3500+ actually has less cache than the equivalently clocked 3400+ 754 pin CPU (the same is true when comparing the 3700+ 1MB part to the 3800+). If we are to expect performance to match the rating system, this means that AMD expects the addition of a dual channel memory controller to more than make up for a halving of the cache.
The slight name change in equivalently clocked parts has had us wondering for a while if we would see the expected increase in performance. With an increase in rating of 100 points for the 3400+ and 3700+, we would expect to maximally see 2.9% and 2.7% increases in performance. Anything around the 2% mark will be enough for us to be comfortable with the new naming scheme, but we certainly don't want to see too many lower numbers.
Normally in testing, we consider a less than 3% margin to be essentially equivalent performance, but this time around we will be paying a little closer attention to any small increases in performance in order to determine whether or not this new performance rating is deserved.

The new FX-53 part number has obviously not changed, as its model number is dependant upon clock speed. We will also not be seeing as significant a performance increase from 940 to 939 pin platforms as upgrading to dual channel from single channel will have a higher impact on performance than moving from registered to unbuffered memory. On the 939 platform, the only performance factor that separates the FX series from the rest of the Athlon 64 line will be its 1MB L2 cache size. Of course, to help maintain its status as an enthusiast part, the FX series will also be completely multiplier unlocked.
But there is a caveat to that as well. With the advent of AMD's Cool'n'Quiet (which is similar in affect to Intel's Enhanced SpeedStep), motherboard makers who choose to implement the technology will be able to offer their users downwardly unlocked multipliers for the Athlon 64 platform. Being able to decrease the multiplier is very important for hardcore overclockers as much higher bus speeds (and thus RAM speeds) are attainable when the core multiplier can be lowered.