Comparing CPUs: 3400+ and 3500+
There have been plenty of rumors trickling out from around the globe that seem to indicate that the 3500+ is a slower processor overall than the 3400+. Of course, answering the question of whether or not the new naming scheme is simply marketing distinction for the new socket, or an actually deserved rating is a question we have strived to answer through these tests. If we step up and take a look at most of the benchmarks we ran, we will see these percent differences: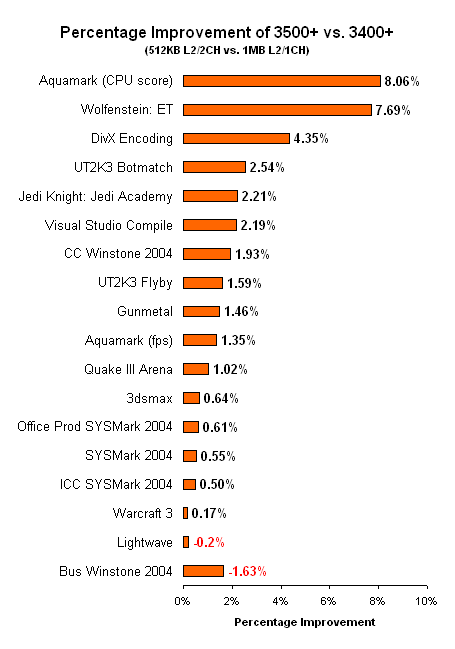 As we can see, six or seven of the benchmarks are at or around the 2% mark we were looking for in calling this part deserving of its performance rating. Most of the other benchmarks still show an increase in performance over the 3400+ even if its not as much as we would like to see, and only two benchmarks show a decrease in performance. There is a good mix of games, encoding, and compiling (and the content creation winstone is close enough) that show the increases we would expect, and things like DX9 games (graphics limited) and 3D rendering don't always scale the way we would expect. It seems that Lightwave and Business Winstone are very sensitive to cache size, in spite of the increased memory bandwidth provided by the dual channel memory interface.
When all is said and done, it is clear that the 3500+ is a better performer than the 3400+ on average. But what else could AMD have done, call it a 3450+? Well, maybe their still holding on to that card for a reason, and maybe their tests show that the 2.2GHz 512kB caches dual channel unbuffered CPU really does deserve a rating of 3500+. There is really not enough data to point toward the 3500+ not living up to its name to get upset with AMD about the rating number.
It is our opinion that the 3500+ is solid performer that is at least not undeserving of its name. And we have a good feeling that overclocking performance may also help to seal the deal, but we'll have to wait on a final verdict in that arena until we actually get our hands on a 3500+ and aren't reduced to underclocking a 3800+.