Far Cry 5 (DX11)
The latest title in Ubisoft's Far Cry series lands us right into the unwelcoming arms of an armed militant cult in Montana, one of the many middles-of-nowhere in the United States. With a charismatic and enigmatic adversary, gorgeous landscapes of the northwestern American flavor, and lots of violence, it is classic Far Cry fare. Graphically intensive in an open-world environment, the game mixes in action and exploration.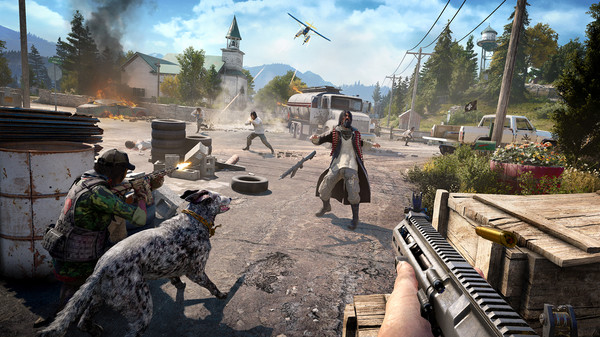 Far Cry 5 does support Vega-centric features with Rapid Packed Math and Shader Intrinsics. Far Cry 5 also supports HDR (HDR10, scRGB, and FreeSync 2).
| | | | |
| --- | --- | --- | --- |
| Far Cry 5 | 1920x1080 | 2560x1440 | 3840x2160 |
| Average FPS | | | |
Both 20 series cards hit the high-quality playability metric of ~60fps or higher, though it's really the 2080 Ti that pulls away and offers beyond previous generation performance. The difference between the GeForce Turings is again very similar to Battlefield 1 with gains in the 30% range, which is meaningful but not leaps and bounds.
Regardless, 1080 Ti tier and higher performance quickly begins to be bottlenecked by the CPU at 1080p.