Unpacking 'RTX', 'NGX', and Game Support
One of the more complicated aspects of GeForce RTX and Turing is not only the 'RTX' branding, but how all of Turing's features are collectively called the NVIDIA RTX platform. To recap, here is a quick list of the separate but similarly named groupings:
NVIDIA RTX Platform - general platform encompassing all Turing features, including advanced shaders
NVIDIA RTX Raytracing technology - name for ray tracing technology under RTX platform
GameWorks Raytracing - raytracing denoiser module for GameWorks SDK
GeForce RTX - the brand connected with games using NVIDIA RTX real time ray tracing
GeForce RTX - the brand for graphics cards
For NGX, it technically falls under the RTX platform, and includes Deep Learning Super Sampling (DLSS). Using a deep neural network (DNN) specific to the game and trained on super high quality 64x supersampled images, or 'ground truth' images, DLSS uses tensor cores to infer high quality antialiased results. In the standard mode, DLSS renders at a lower input sample count, typically 2x less but may depend on the game, and then infers a result, which at target resolution is similar quality to TAA result. A DLSS 2X mode exists, where the input is rendered at the final target resolution and then combined with a larger DLSS network.
Fortunately, GFE is not required for NGX features to work, and all the necessary NGX files will be available via the standard Game Ready drivers, though it's not clear how often DNNs for particular games would be updated.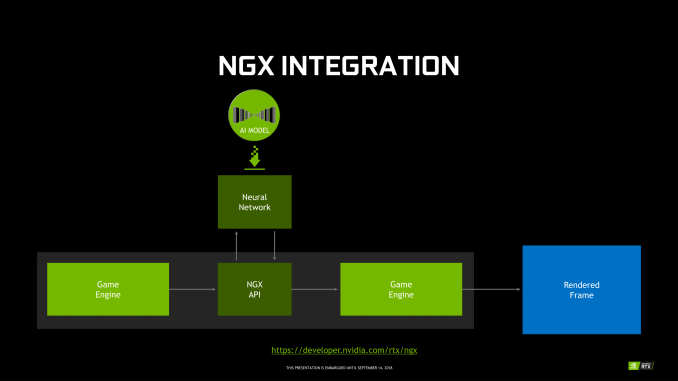 In the case of RTX-OPS, it describes a workload for a frame where both RT and Tensor Cores are utilized; currently, the classic scenario would be with a game with real time ray tracing and DLSS. So by definition, it only accurately measures that type of workload. However, this metric currently does not apply to any game, as DXR has not yet released. For the time being, the metric does not describe performance any publicly available game.
In sum, then the upcoming game support aligns with the following table.
Planned NVIDIA Turing Feature Support for Games
Game
Real Time Raytracing
Deep Learning Supersampling (DLSS)
Turing Advanced Shading
Ark: Survival Evolved
Yes
Assetto Corsa Competizione
Yes
Atomic Heart
Yes
Yes
Battlefield V
Yes
Control
Yes
Dauntless
Yes
Darksiders III
Yes
Deliver Us The Moon: Fortuna
Yes
Enlisted
Yes
Fear The Wolves
Yes
Final Fantasy XV
Yes
Fractured Lands
Yes
Hellblade: Senua's Sacrifice
Yes
Hitman 2
Yes
In Death
Yes
Islands of Nyne
Yes
Justice
Yes
Yes
JX3
Yes
Yes
KINETIK
Yes
MechWarrior 5: Mercenaries
Yes
Yes
Metro Exodus
Yes
Outpost Zero
Yes
Overkill's The Walking Dead
Yes
PlayerUnknown Battlegrounds
Yes
ProjectDH
Yes
Remnant: From the Ashes
Yes
SCUM
Yes
Serious Sam 4: Planet Badass
Yes
Shadow of the Tomb Raider
Yes
Stormdivers
Yes
The Forge Arena
Yes
We Happy Few
Yes
Wolfenstein II
Yes