A Closer Look at VIA K8T800 PRO
The K8T800 was covered in detail in our
launch review for Athlon 64 motherboards
. Additional coverage was provided in the
Socket 940 roundup
at AnandTech. The K8T800 is very competitive in features, and the PRO version is essentially the same chipset.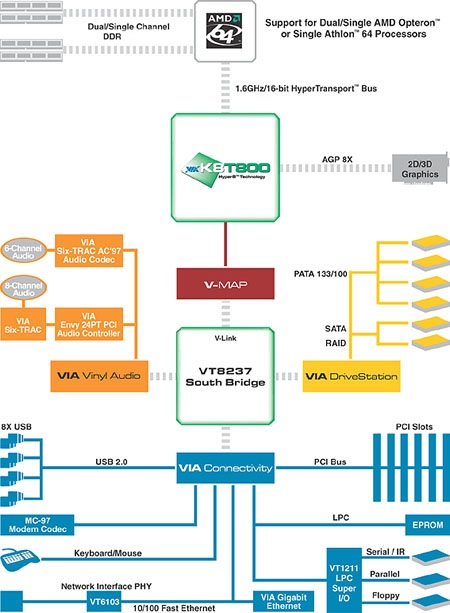 The only real differences in the K8T800 and the K8T800 PRO are the increase in HyperTransport speed to 1000MHz and the addition of a PCI/AGP lock to the BIOS options of the K8T800 PRO. Both these features should make the PRO version of the K8T800 much more appealing to computer enthusiasts.
This is VIA's first use of an AGP/PCI lock on an Athlon chipset and it is long overdue. We first saw this feature used by VIA on the
PT880 chipset
released several weeks ago. VIA tells us that all future VIA chipsets will include the ability to lock internal buses when FSB is increased.