A Closer Look at ATI 9100 IGP PRO
The original 9100 IGP now grows to 3 offerings with the RS350.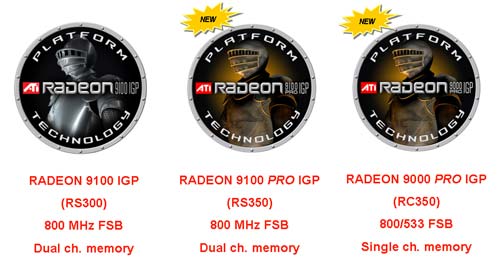 Most interesting is the new Radeon 9100 IGP PRO, which was designed for better performance to compete fully with the current Intel 865/875 chipsets and the upcoming 915 chipset for Prescott. Like the original 9100 IGP, the PRO version is designed for Dual-Channel memory. ATI is also introducing an economy Single-Channel version of the new chipset, which is called 9000 IGP PRO. 9100 designates Dual Channel, while 9000 is used for Single-Channel.
Along with the new PRO Northbridge, there is also an enhanced IXP 320 Southbridge, which adds additional USB ports and SATA drive support to the chipset.
AnandTech covered the original 9100 IGP board in our
review of the Shuttle XPC ST61G4
. Shuttle was an ATI launch partner in the original RS300 launch. Compared to the RS300, the new PRO chipset provides several new features:
North Bridge
Enhanced System Performance
Optimized AGP 8X Performance
Improved Memory Timings
Increased DDR-400 Compatibility
South Bridge IXP 320
2X SATA
SATA RAID 0,1
8X USB 2.0
Except for the new Southbridge features, RS350 is mainly about performance improvements to the RS300 core.