Mushkin PC3200 2-2-2 Special
Mushkin has had PC3200 Level II in their product line for some time, but these are no longer available. So, how do the 2-2-2 Special differ from Level II?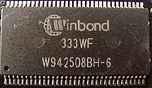 Mushkin tells us that the Black High Performance Level II used the Winbond BH5 chips, which are no longer in production. This new 222 Special uses Winbond BH6 chips selected for 2-2-2 performance at DDR 400. They are said to perform just as well as the BH5 at 3200 speed, but may not be as overclockable. Our reference PC3500 memory from both Mushkin and OCZ have also been based on the now discontinued BH5.
It should also be pointed out that BH6 has also been discontinued, but Mushkin has managed to secure enough chips to introduce this new memory with availability for another 2 to 3 months. However, when these are gone, this appears to be the end of DDR400 2-2-2 DIMMs unless another chip manufacturer is able to bring a similar product to market.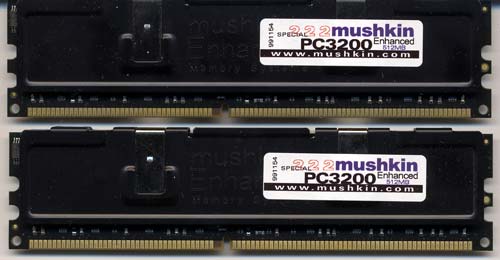 The Mushkin PC3200 2-2-2 was supplied with the black 6-layer PCB that is Mushkin's trademark for their highest-performing memory. The review samples also had black heatspreaders, though Mushkin of late has been using heatspreaders of many different colors with their black PCB high-performance memory.
Mushkin PC3200 2-2-2 Special Specifications
 Mushkin PC3200 2-2-2 Special Memory Specifications
Number of DIMMs & Banks
2 DS
DIMM Size
Total Memory
512Mb (available in 256MB or 512Mb DIMMs)
1 GB
Rated Timings
2-2-2
Rated Voltage
2.5V - 2.8V
We confirmed the SPD timings to be set at 2-2-2. While the SPD cycle time (tras) is at a higher SPD for compatibility with both Intel and AMD boards, we found that 2-2-2-5 worked fine on our Intel testbed. nForce chipset boards normally perform best with a higher cycle time (tras) in the 8 to 11 range.