CPU and Motherboard Recommendations
CPU: AMD Athlon 64 3400+ 1MB L2 cache (2.2GHz) Hammer core
Motherboard: ASUS K8V Deluxe (VIA K8T800 chipset)
Price: CPU - $416 shipped (retail heatsink and fan). Motherboard - $136 shipped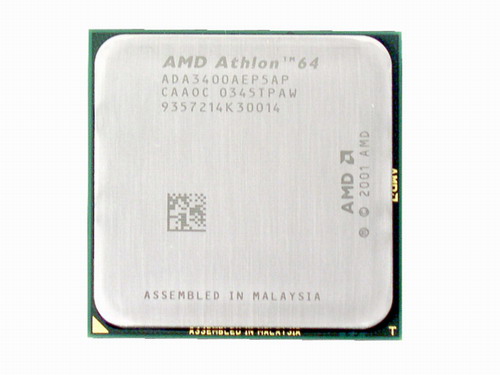 This choice was probably one of the most difficult of all the choices here today, as both AMD and Intel offer blazingly fast processors for almost exactly the same price at this particular speed grade. What finally pushed us over the top was the Athlon 64 3400+'s 64-bit capability. Since all current Pentium 4 processors can only run 32-bit code, AMD's Athlon 64 is unique because it can run 32-bit code just as well the competition
in addition
to 64-bit code. This will be advantageous to users because later this year, 64-bit compatible applications (for example, video games such as Unreal Tournament) will be released to the public as well as Microsoft's Windows XP 64-bit Edition, which contains support for AMD's Athlon 64 processor. As you may have read right here on AnandTech, we conducted several tests with the
preview version of Windows XP 64-bit Edition
and were impressed by some of the performance gains that 64-bit computing is able to bring to the desktop. The poor results that we received in other areas with the beta version of Windows XP 64-bit Edition were almost solely due to the fact that we did not have complete drivers. However, by the end of the year, or possibly sooner, this will not be the case because complete drivers and 64-bit applications will be available, and we're likely to see even more performance gains from having a 64-bit processor.
Before we talk about today's recommended motherboard, we should mention that Socket 939 processors and motherboards (based on chipsets like the nForce3 250) will be released in the coming weeks. Depending on what programs you run the most and what features you need, you may or may not want nForce3 250 motherboards and Socket 939 processors, but we suggest you
read up on them
to get a good idea of what they offer before you make the decision to purchase a high end system. If you need to build your high end system immediately, then you have no need to worry about anything but reviewing this article and doing any other research you need for parts today.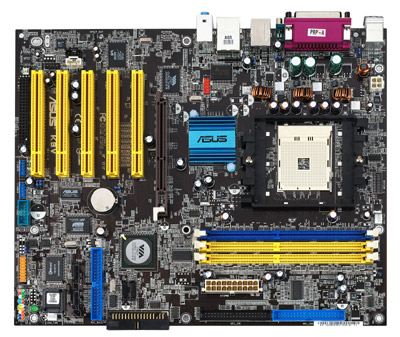 The ASUS K8V Deluxe offers several different advantages and features over other Socket 754 Athlon 64 motherboards that it makes it our recommendation today. First off, the K8V Deluxe's combined performance and price is superb; the K8T800 chipset's outstanding performance combined with features like Serial ATA (RAID), Gigabit Ethernet, IEEE 1394 FireWire, SPDIF, and IDE RAID, among other nice features makes the K8V Deluxe a great high end board for the price. Normally, we wouldn't place a great deal of emphasis on price for a high end system like this, assuming we're not talking over $200. However, for just under $140, it's truly amazing the number of cutting edge features that can fit on a motherboard these days. Of course, this is not to mention the renowned reliability of ASUS motherboards. Having tested the K8V Deluxe extensively, we can assure that you will indeed enjoy a reliable and trouble-free experience for the most part. Overclockers may be especially pleased with this motherboard if they delve into Athlon 64 territory.
We'd also like to bring special attention to AOpen's AK86-L. While the AK86-L is by no means a feature-rich motherboard, what separates it from the pack is its excellent performance and BIOS features. We'd be remiss not to at least mention this motherboard for a high end system because of its performance and BIOS features, though at the same time, we can't recommend the AK86-L simply because of various standard onboard features it lacks compared to the majority of high end motherboards. We think so highly of this motherboard that we recently gave it our
Editor's Choice Gold Award
. We recommend that you at least peruse that review to get an idea of what the AOpen AK86-L can offer you.
Listed below is part of our RealTime pricing engine, which lists the lowest prices available on the AMD CPUs and motherboards from many different reputable vendors:
If you cannot find the lowest prices on the products that we've recommended on this page, it's because we don't list some of them in our RealTime pricing engine. Until we do, we suggest that you do an independent search online at the various vendors' web sites. Just pick and choose where you want to buy your products by looking for a vendor located under the "Vendor" heading.