Design
Although Dell offers some of the most forward-thinking designs in the industry with the XPS lineup, with the Latitude series they play it a bit safe. They do offer a narrow bezel option on the Latitude 7390, but it's nothing like the XPS 13's thin bezel design. That's not all bad though, since there is still space at the top for the webcam, unlike the XPS line which offers a compromised location.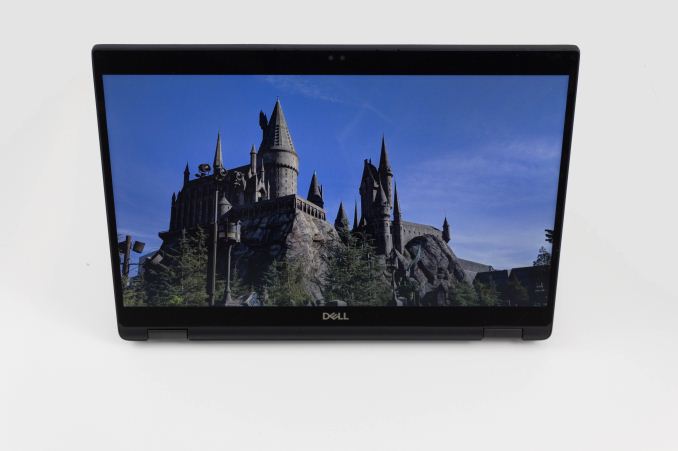 Although the Latitude 7390 doesn't have the wow factor of the XPS, it's still a nice-looking business laptop, with a business-friendly matte black finish. At 305 mm x 210 mm x 12-19 mm / 12 x 8.26 x 0.46-0.75 inches, it's compact and easy to travel with. The device weighs 1.42 kg / 3.12 lbs, which isn't as light as some of the competition, but still fairly easy to move around.
Opening the laptop, the display shows the thin side bezels on the review unit, but the large top and bottom bezels are begging for a taller display to help fill out the device. After using 3:2 aspect ratio displays, it's hard to move back to a 13-inch 16:9 unit for productivity. As a 2-in-1, it would even be more useful with the taller display, and we really need to see more devices move to that aspect ratio after having 16:9 for too long.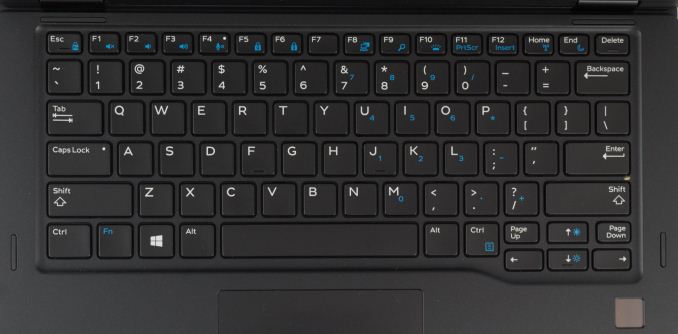 Looking at the laptop deck, the keyboard is nicely laid out, even if the arrow keys could be a bit larger, but it's something that we've had to adjust to in mobile keyboards for a while. It's great to see Dell offer a fingerprint sensor, and it's recessed enough where it's very easy to find even in low-light situations. Dell has also moved to Precision touchpad drivers, and the trackpad works well. The inclusion of physical trackpad buttons is something seen more in the business lineup, and something business users likely prefer, however as a fan of the nub pointer we've seen on other Latitudes, it's a bit of a disappointment that the Latitude 7390 doesn't offer that mouse option.
Dell has offered great keyboards on their Latitude lines, but this one doesn't live up to previous models. The keyboard is a bit soft, and there's a bit of a mushy feel, and overall, it's not the most pleasant to use. The key spacing is fine, and the two levels of backlighting it's easy to find the right keys, but other Latitude models have offered a better key feel than the 7390.
Dell offers plenty of ports, with USB-C on the left and USB-A on both sides. The move to a USB-C charging solution is such a welcome sight after years of proprietary chargers on different laptop models. If there was a complaint, it would be only that there is no USB-C port on the right side, so you have to charge and dock from the left. The inclusion of an HDMI port will also be beneficial to many scenarios in the workplace, where connecting to random projectors is a part of life, but the USB-C also offers DisplayPort as well, of course.


Having an optional Smart Card reader is also a necessity in the enterprise, and is one of the reasons business models struggle to be as thin and light as their consumer counterparts.
There's plenty of cooling slots on the bottom of the device, and full-width rubber feet to keep the device planted in any scenario.
As a 2-in-1, it also offers a lot more flexibility which is going to be appreciated in a lot of situations. Travel with a 360° convertible like the 7390 is much better, especially in a cramped airplane, and you can see the tent mode being handy in presentation situations. As much as the 2-in-1 is great for home use, it might be even more useful in the enterprise, even if it might not be used as often as the normal laptop mode.
Overall the Dell Latitude 7390 is a nicely designed business laptop, but it does play it safe in the design, That's likely just what their customers want though, since durability is likely more prized by a business than a flashier design. But the keyboard isn't as good as previous models, and as someone who likes a good keyboard, it's a bit disappointing.