Alienware Laptops: 15R4 and 17R5
Starting things off at the high-end, Dell will be releasing the latest versions of their Alienware premium gaming laptops in the Alienware 15R4 and 17R5. The new laptops will support up to an Intel Core i9 k-Series processor with overclocking up to 5 GHz. Dell says is the first time ever in their notebooks. Other changes include a re-engineered cooling solution to help keep the overclocking processor cool as well as a change in chassis and internal materials to improve rigidity and maintain a high-quality feel. Alienware is targeting the mid-range to high-end gaming segment, depending on configuration, with these fit for purpose gaming devices and dropped a new CPU in to raise the bar higher.
The external styling hasn't changed from the previous versions, as it carries over the angular I-am-a-gamer look along with its 13-zone LEDs, but the materials used have changed. Dell is now using anodized aluminum and magnesium alloy in the chassis, steel reinforcements, saying these updates increase stiffness and rigidity while still remaining thin and without sacrificing performance. A black color option is now available in addition to the existing 'epic gray'. Accessibility to the internals is via a thin aluminum panel using a simplified new bottom door mechanism said to be rigid and not impact the dimensions. The updated thermal design inside, dubbed Alienware Crytek v2.0, includes a brand new vapor chamber for the CPU and an updated fan design allowing for smaller blades and better performance.

Hardware wise, both the 15R4 and 17R5 have similar specifications and options with about the only difference between them the monitor size and processor options. Both have the same graphics options, ranging from an AMD Radeon (RX 570) to three NVIDIA GeForce GPUs (GTX 1060 6GB, GTX 1070 8GB, GTX 1080 8GB GDDR5X). Memory options and capacities are also the same with capacities up to 32GB (2x16GB) with speeds up to DDR4-2666. The laptops are both able to house up to three storage devices, with two M.2 slots plus a single 2.5" bay. Drive options range from a 1TB 7200RPM HDD up to a 1TB PCIe M.2 SSD with the top of the line configuration housing 2 TB of fast PCIe M.2 SSDs as well as a 1 TB 7200RPM HDD.
Audio, Networking, and Wireless capabilities are also the same between the two. They use a 2.0 speaker configuration with a new speaker design enabling louder sound. In addition, there is a 7.1 channel digital audio out via HDMI which can connect to a compatible home audio receiver. Alienware chose what some may consider a polarizing choice using an all Rivet Networks Killer setup. This includes the Killer e2500 GbE for wired and Killer 1435 Wi-Fi supporting 802.11ac, 2T/2R, and Bluetooth 4.1. There is a second wireless option the Killer 1550 which is faster (up to 1.73 Gbps) and supports Bluetooth 5.0.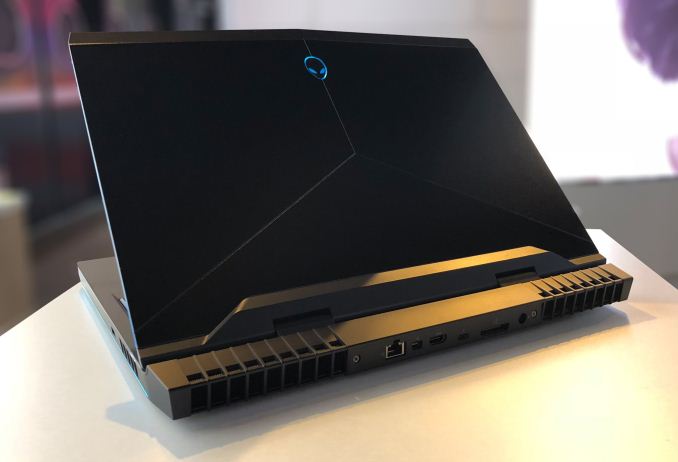 About the only difference between the two models are the available CPUs and monitor size. Both the 15R4 and 17R5 have options for either the i7-8750H (up to 3.9 GHz Turbo), or the i9-8950HK (overclocking up to 5 GHz), both 6C/12T CPUs. The 15R4 adds an option below these in the quad-core i5-8300HQ (up to 3.9 GHz Turbo). All are capable processors from the Coffee Lake line of CPUs with the i9 overclockable through the newly redesigned Alienware Command Center.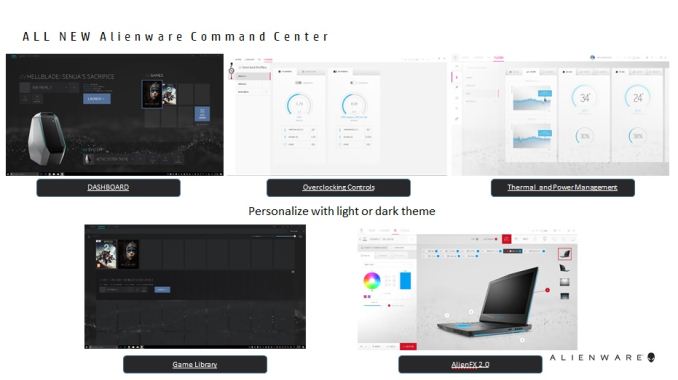 Alienware updated the design of the old Alienware Command Center and focused making the interface easier to use. There is an integrated library function which puts all your games into one dashboard for access. Users are even able to apply overclocking profiles for a specific game. Further, the application allows for monitoring of system functions including temperatures, voltages, and power management. RGB LEDs on Alienware products are also able to be controlled through the Command Center.
There are a total of six monitor options for both laptops, with three supporting NVIDIA G-SYNC technology and three with the same specifications except they are non-GSYNC panels. The 15R4 has two 15.6-inch FHD (1920x1080) panel options - one a 60Hz IPS, the other a 120Hz TN display with 5ms response times. The third option jumps up to a 4K UHD (3840x2160) 60Hz IPS panel. The 17R5's base option is a 17.3-inch FHD 60Hz IPS panel with anti-glare, next, a QHD (2560x1440) 120Hz TN+WVA panel at 400-nits brightness and includes Tobii Eye-Tracking, and last a 4K UHD 60 IPS anti-glare monitor with Tobii IR eye-tracking. The flagship GPU shouldn't have much trouble playing intensive games in FHD and QHD, but some titles may need some image quality adjustments to reach the desired frame count. If those options aren't quite cutting it, both the 15R4 and 17R5 support the Alienware Graphics Amplifier (eGFX chassis) to house desktop graphics cards from AMD or NVIDIA.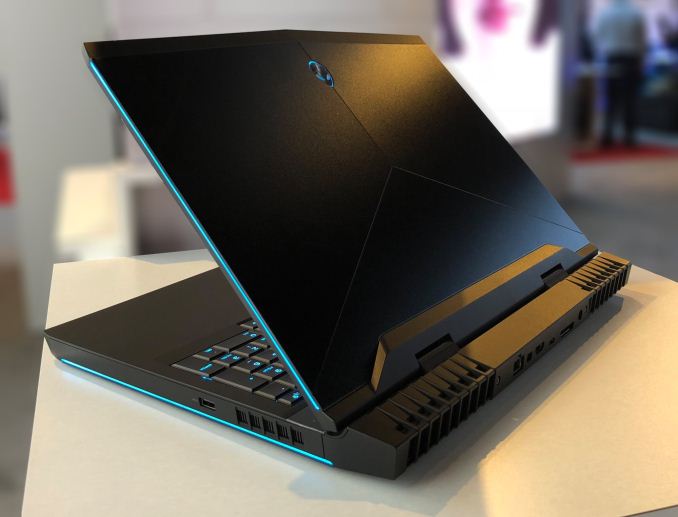 Outside of that, both laptops have a plethora of external chassis connections including three USB 3.0 ports (2x Type-A: 1x w/PowerShare, 1x Type-C) a Thunderbolt 3 port with all the alt modes that entails, as well as HDMI (2.0) and Mini-Display Port (1.2) outputs. Additionally, there are 3.5mm audio and headphone outputs as well as an Alienware Graphics Amplifier port. Alienware also updated their TactX keyboard to now include n-key rollover enabling over 108-key commands Alienware says it is the only keyboard on a laptop with 2.2mm of key travel which can allow for fast keystroke response. The keyboard is reinforced with a steel back plate to help with uniform feedback and rigidity with a guarantee to stay functional for up to 10 million keystrokes.
Limited configurations will be available 4/3 with more options on 4/10. Pricing starts at $1400 for the 15-inch non-G Sync model and $1550 for the 17-inch G-Sync equipped configurations.
Alienware 15R4 and 17R5 Gaming Laptops
15R4
17R5
Type
Gaming Laptop
Processors
i5-8300HQ (4C / 8T - 3.9 GHz Turbo)
i7-8750H (6C / 12T - 3.9 GHz Turbo)
i9-8950HK (6C / 12T - Overclocking up to 5 GHz)

i7-8750H (6C / 12T - 3.9 GHz Turbo)




i7-8950HK (6C / 12T - Overclocking up to 5 GHz)

Maximum Memory

32GB (2x16GB) DDR4 2666

Network Connectivity
Killer Networks e2500 GbE
Killer 1435 802.11ac Dual Band (2T/2R) Up to 867 Mbps, Bluetooth 4.1 (Std)
Killer 1550 802.11ac Dual Band (2T/2R) Up to 1.73 Gbps, Bluetooth 5.0 (Optnl)
Internal Storage
SSD
Laptops support up to 2x M.2 devices + 1x 2.5"

256GB SATA


256GB / 512GB / 1TB PCIe M.2

HDD
1TB + 8GB SSD Hybrid
1TB 7200RPM
Graphics
AMD Radeon RX 570 8GB GDDR5
NVIDIA GeForce GTX 1060 OC 6GB GDDR5
NVIDIA GeForce GTX 1070 OC 8GB GDDR5
NVIDIA GeForce GTX 1080 8GB GDDR5X
Expansion Slots
N/A
Display
All 15.6-inch:

FHD 60 Hz IPS
FHD 120 Hz TN, 5ms
UHD 60 Hz IPS


FHD 60 Hz IPS, G-Sync




FHD 120 Hz TN, 5ms, G-Sync




UHD 60 Hz IPS, G-Sync

All 17.3-inch

FHD 60 Hz IPS


QHD 120 Hz TN + Tobii




UHD 60 Hz IPS




FHD 60 Hz IPS, G-Sync




QHD 120 Hz TN + Tobii + G-Sync




UHD 60 Hz IPS, G-Sync

Ports and Connectors
1 x Power/DC-in
1 x RJ-45 Killer e2500 GbE
2 x USB SS 3.0
1 x USB SS 3.0 w/PowerShare technology
1 x Thunderbolt 3 (USB 3.1 Gen 2 10 Gbps, 40 Gbps TB3, DP)
1 x Alienware Graphics Amplifier port
1 x HDMI (2.0)
1 x Mini-Display Power (1.2 Certified)
1 x Audio out 1/8"
1 x Headphone out 1/8"
Input Device
Alienware TactX Keyboard - 4-zone, multi-color RGB
Camera
Alienware FHD
Alienware FHD
Alienware & Windows Hello for system w/Tobii Eye-tracking detection (Optional)
Power
Lithium Ion 68Wh
Lithium Ion 99Wh (Optional)
180W AC Adapter (Standard)
240W AC Adapter
330W AC Adapter (17R5 Only)
Dimensions
(H x W x D)
1.0" x 15.3" x 12"
1.2" x 16.7" x 13.1"
Weight
7.7 lbs Avg.
9.7 lbs Avg.
Price (Starting)
$1400+
$1450+ (G-Sync only)
$1550+
$1600+ (G-Sync only)