Motherboard
Recommendation: ASUS K8V Deluxe (VIA K8T800 chipset)
Price: $139 shipped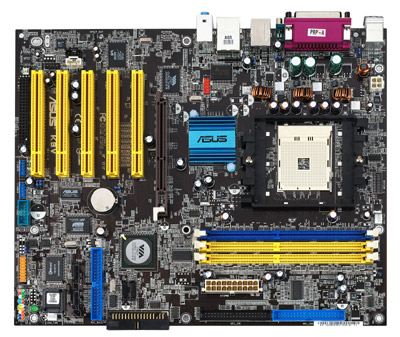 The ASUS K8V Deluxe offers several different advantages and features over other Socket 754 Athlon 64 motherboards that make it our recommendation today. First off, the K8V Deluxe's combined performance and price is superb; the K8T800 chipset's outstanding performance combined with features like Serial ATA (RAID), Gigabit Ethernet, IEEE 1394 FireWire, SPDIF, and IDE RAID, among other nice features makes the K8V Deluxe a great high end board for the price. Normally, we could care less about the price for a cutting edge system like this, assuming we're not talking over $200, but for $140, it's truly amazing the number of cutting edge features that can fit on a motherboard these days. Of course, this is not to mention the renowned reliability of ASUS motherboards. Having extensively tested the K8V Deluxe, we can assure that you will indeed enjoy a reliable and trouble free experience for the most part. Overclockers may be especially pleased with this motherboard if they delve into Athlon 64 territory.
Recommendation: ABIT IC7-G MAXII Advance (875P chipset)
Price: $147 shipped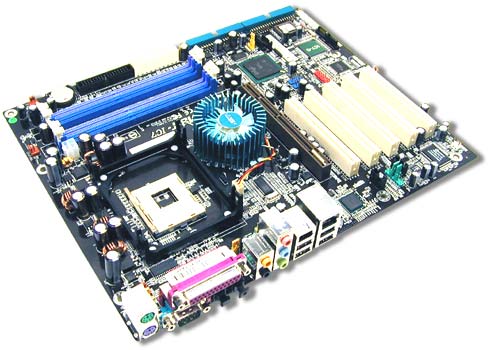 Last summer the Gigabyte 8KNXP was our pick for best high end Pentium 4 motherboard, but since then, we believe that the ABIT IC7-G has edged out the 8KNXP due to the fact that it offers virtually the exact same number of features and performance for $50 less, while last summer, the IC7-G was more expensive. Price usually isn't a concern with a cutting edge system like the one we're recommending here today, but saving $50 and getting a motherboard that's basically as good is never a bad idea how ever you cut it. Anyway, the ABIT IC7-G's mix of Gigabit Ethernet, SPDIF, 3 X IEEE 1394 FireWire ports, and Serial ATA RAID among other features, combined with the industry leading performance and stability of the Intel 875P chipset are the primary reasons why we choose ABIT's IC7-G. Another reason why we choose this motherboard for a cutting edge system is because we've tested virtually every high-end Pentium 4 motherboard in existence over the past 12 months, and to this day, we still can say confidently that the reliability and stability of this ABIT motherboard has been excellent. This exact motherboard is used in one of AnandTech's very own computer labs and I have personally built several high-end gaming systems centered on this motherboard. All in all, the performance, reliability and even the price are stellar.