How to Overclock With ASRock UEFI BIOS
The ASRock BIOS design and layout is consistent throughout the AM4 motherboard range. Everything was present on our motherboard, except the ability to change the settings of the integrated graphics. The only options for overclocking the graphics were in the way of SoC voltage, and even then, it could only be set as an offset value, not a true value. This is a little disappointing given that the ASRock X370 Gaming-ITX/ac hasn't got any hard issues within the BIOS for the graphics, but on the plus side, everything else is done well.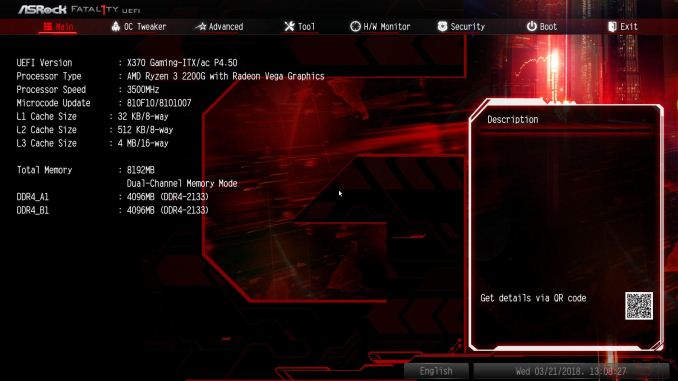 Upon entering the BIOS, the initial menu screen offers information about the board including the installed components including the processor. It is not an easy mode, and the information is very limited. Everything needed for overclocking is in the OC Tweaker menu.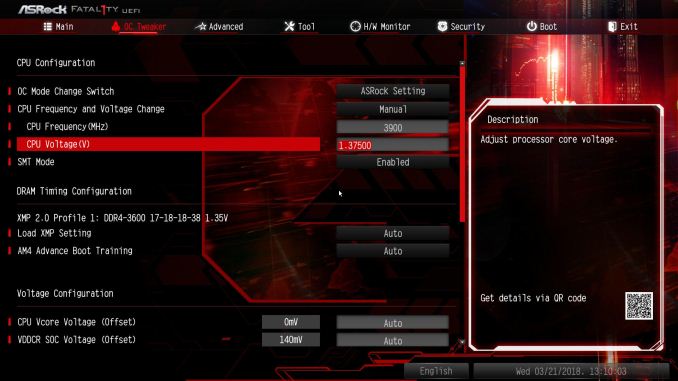 In the OC Tweaker menu, changing the 'CPU Frequency and Voltage Change' from auto to manual opens up the frequency and voltage options. At the top is the frequency, while down the bottom is the voltage. Starting with frequency, rather than offer a CPU ratio, ASRock just offers a plain frequency, and clearly does the multiplier manually.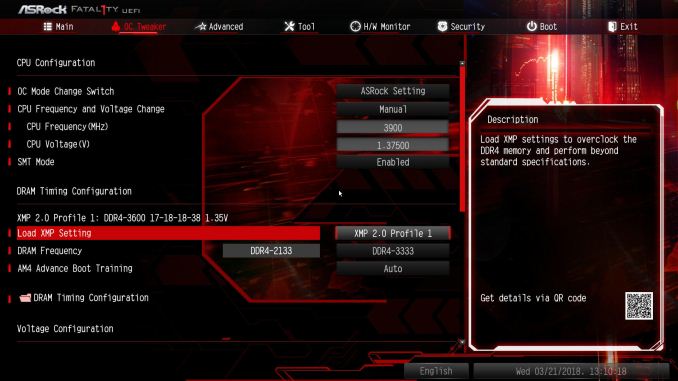 When it comes to applying the XMP profile, unlike the MSI board in our data testing in this article, the ASRock board only opens up a single XMP profile, the standard DDR4-3600 CL16 that the sticks are rated for. Enabling XMP and then changing the memory frequency to the setting that's required is easy enough, as the value goes up in increments and can be adjusted using the + or – keys on a numpad. Alternatively, if the user presses enter a long list via a drop-down menu appears.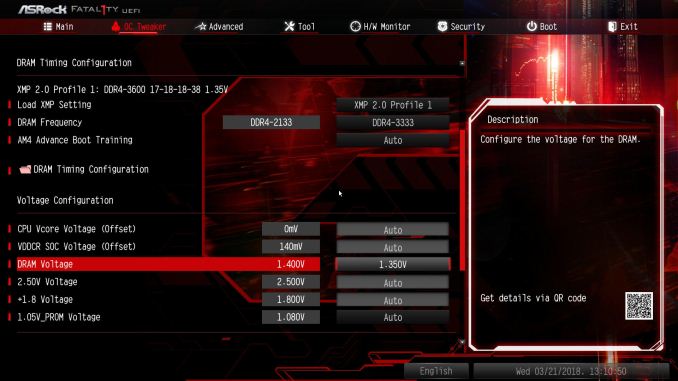 Further down the same page, options are present for changing the offset values to the SoC voltage or VDDCR. Just below these is the DRAM voltage, which when we enabled XMP automatically set the value to 1.4 volts, rather than 1.35 for which our kit is rated, which was a little odd.
Pressing F10 and selecting yes saves the settings and reboots the system. Unfortunately the options changed to not appear as in some other vendors Save and Exit popups.
Note – To overclock the integrated graphics on this board, users will need to install the AMD Ryzen Master overclocking utility within Windows. We go into Ryzen Master on the next page.