Final Words
The Intel NUC6CAYH provided us with the opportunity to evaluate a high-end member of the Apollo Lake SoC family. The Celeron J3455 is a quad-core processor with a 10W TDP. It easily enabled the NUC6CAH to come out on top in all of our benchmarks when compared against other Atom-class systems.
The HDMI 2.0 port (backed by a LSPCon) with 4Kp60 support is very welcome. However consumers need to keep in mind that the benefits from the HDCP 2.2 feature on that port are minimal at best. One of the popular streaming services that we tried (Netflix 4K) ended up not working as expected, with only the 1080p version of the 4K titles getting played. That said, the system has no issues playing all types of local 4K video streams using Kodi. VP9 Profile 2 is not supported, but, given the lack of HDR support, it is not a big deal. The presence of an infrared receiver also enables usage of a remote control if the system is used as a HTPC.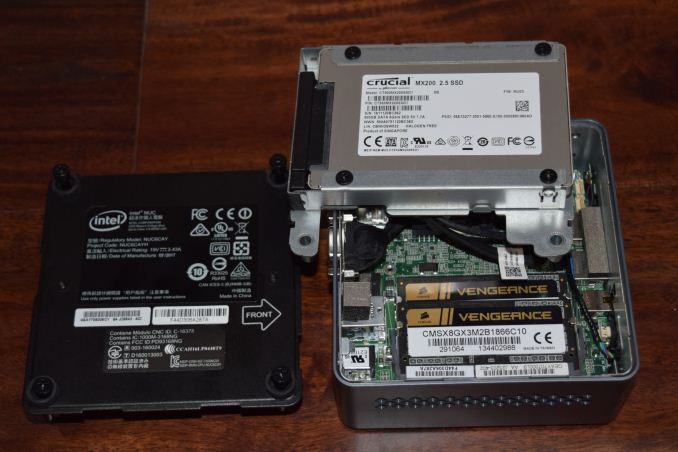 The presence of a VGA port also helps the NUC6CAYH target cost-sensitive markets that are yet to feel the need to move away from a VGA monitor to a HDMI or DisplayPort one. The SDXC slot is bound to have good performance, since it is enabled by a PCIe bridge (Realtek RTS5229). On the flip side, the unit only supports 8GB of RAM. Trying to install 2x 8GB SODIMMs makes the system ignore half the memory.
Coming to the pricing aspect, the NUC6CAYH is available for $130. This is par for the course when it comes to barebones systems using Atom-class CPUs. Intel recently announced that June Canyon (the follow up to Arches Canyon) had started entering the channel in late December. It uses a Gemini Lake SoC and promises better performance compared to Apollo Lake. This should exert further downward pressure on the Arches Canyon models, and that will only be good for consumers.