Mixed Random Performance
Our test of mixed random reads and writes covers mixes varying from pure reads to pure writes at 10% increments. Each mix is tested for up to 1 minute or 32GB of data transferred. The test is conducted with a queue depth of 4, and is limited to a 64GB span of the drive. In between each mix, the drive is given idle time of up to one minute so that the overall duty cycle is 50%.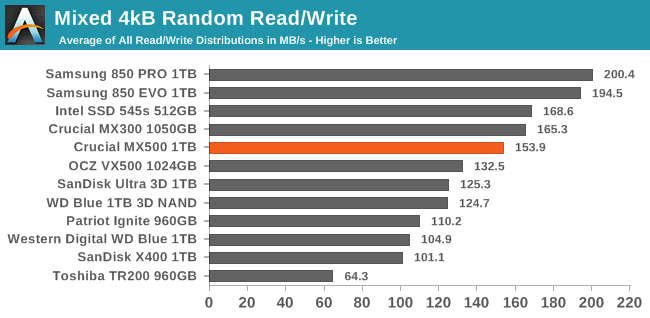 The mixed random I/O performance of the Crucial MX500 is slightly slower than both the MX300 and the Intel 545s, but still above average for mainstream SATA SSDs. The 64L 3D TLC drives from Toshiba and Western Digital/SanDisk are significantly slower, and the Samsung 850 PRO and 850 EVO are still the fastest for this test.
The Crucial MX300 and Intel 545s are tied for first place for power efficiency on this test, with the MX500 coming in third place and well ahead of the other mainstream SATA drives.
The Crucial MX500's performance during this test is a bit unsteady but generally good during the first half when the workload is more read-heavy. The MX500's speed picks up significantly when the workload becomes very write-heavy, but it take too long to start speeding up; other drives like the Samsung 850 PRO and EVO are steadily accelerating with increasing proportion of writes, starting fairly early in the test.
Mixed Sequential Performance
Our test of mixed sequential reads and writes differs from the mixed random I/O test by performing 128kB sequential accesses rather than 4kB accesses at random locations, and the sequential test is conducted at queue depth 1. The range of mixes tested is the same, and the timing and limits on data transfers are also the same as above.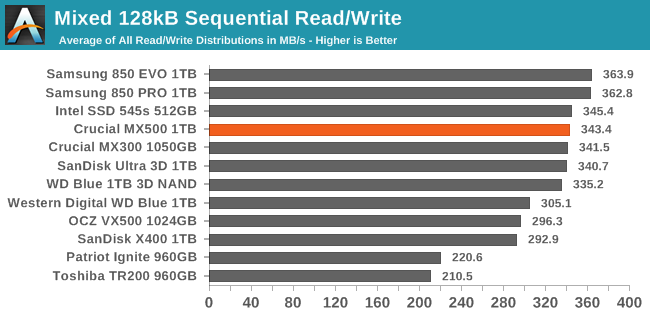 The Samsung 850 PRO and EVO are the fastest SATA drives on the mixed sequential I/O test, and the Crucial MX500 falls into the second tier of drives, along with the other mainstream 64L 3D TLC drives and the MX300.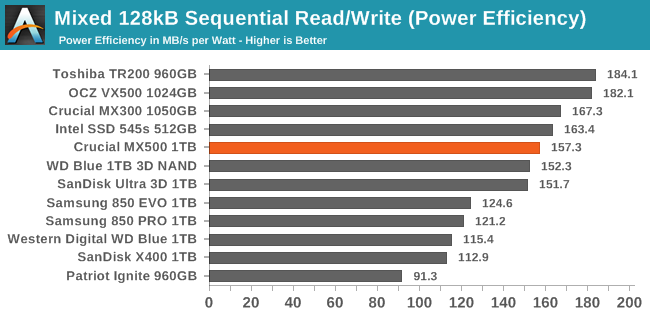 The Toshiba TR200 and OCZ VX500 score highest on power efficiency for the mixed sequential I/O test because they include little or no DRAM. The MX500 scores reasonably well overall but worse than the MX300 and the Intel 545s.
The Crucial MX500 performs well in the early, read-heavy phases of the test but performance drops toward the middle and only recovers slightly at the end of the test. The minimum performance level across the entire test is quite high, but the fastest drives spend much less time performing at or near their minimum.