Albatron
Albatron didn't have a lot to show off at Computex this year. They are doing very well with their current line of 865PE and nForce2 motherboards.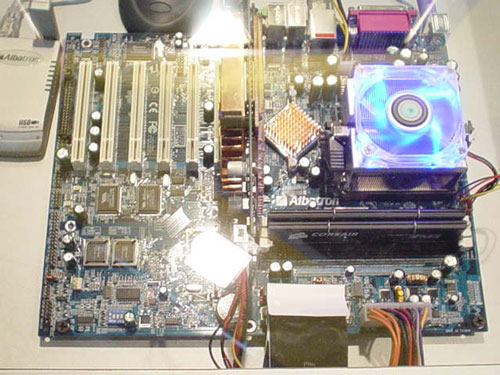 Pictured above is Albatron's nForce3 motherboard. Right now, Albatron isn't too enthusiastic about Athlon 64, which is quite a change of tone from other motherboard makers who believe Athlon 64 can do quite well with more quantity. Albatron cited memory issues and compatibility as problems for Athlon 64. However, we haven't run into any real issues with Athlon 64 motherboards at this point in time; so far Athlon 64 motherboards have proven to be extremely mature. Anyway, Albatron believes that nForce3 is the way to go for Athlon 64 if it does take off soon.
One other interesting tidbit of information we learned from Albatron is that they are skipping VIA's PT880 dual channel DDR400 Pentium 4 chipset in favor of VIA's PT890, which is slated for November. There's nothing necessarily wrong with PT880 though, Albatron just doesn't need to interrupt their current product cycle with a PT880, especially since they're going to introduce an 875P motherboard to displace their 865PE-based PX865PE Pro II next month.