Conclusion
High performance SFX PSUs are slowly but surely gaining ground on the market, and it was a matter of time before Enermax would join that train as well. With the Revolution SFX 650W ERV650SWT PSU, it is clear that Enermax did not try to create the most powerful or the best performing SFX PSU possible, but instead opted for a reasonably priced & high-performance unit that would be more appealing to the bulk of the market, as well as compatible with any SFX-compliant case/system.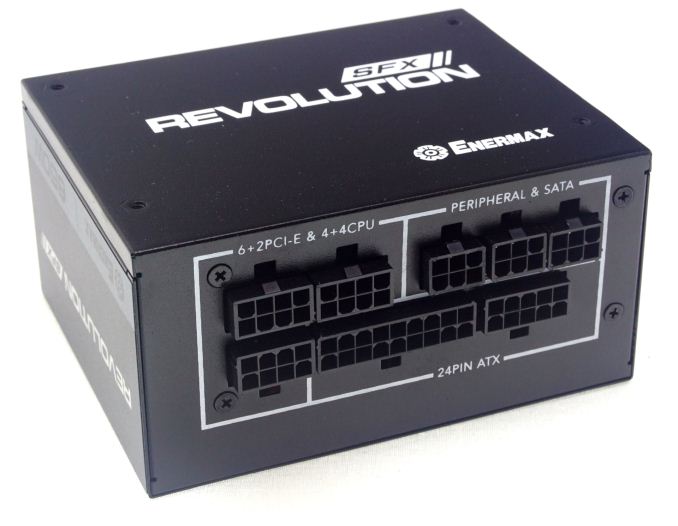 In terms of quality, the Revolution SFX is a very well designed and made product. Channel-Well Technologies (CWT) is a reputable OEM and, despite the packed design, the operating temperatures of the PSU are reasonably low when it operates in a room temperature environment. As advertised, the PSU does have Japanese electrolytic capacitors. Some Taiwanese solid-state capacitors are present but, generally speaking, solid-state capacitors are far more reliable than their electrolytic counterparts and much less likely to be damaged. Our only concern lies with the small sleeve bearing engine fan. The designer probably assumed that the fan will not even be operational while the system is idling, allowing it to last for many years. However, we find it unlikely to last for many years if the PSU is forced to operate heavily loaded for many hours daily. Enermax does provide a 5-year warranty though, which is enough for peace of mind.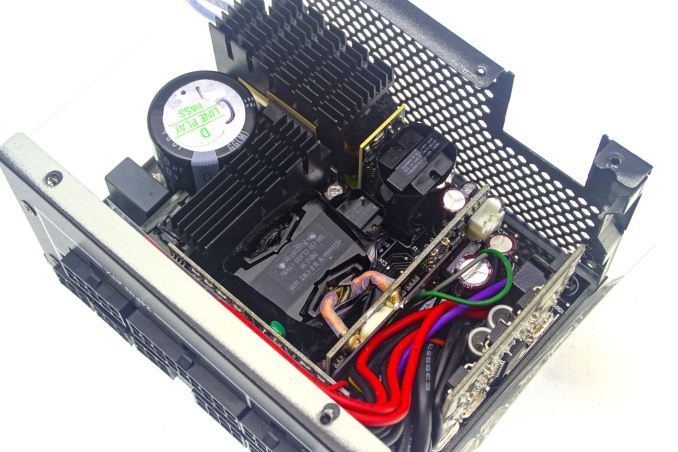 The overall performance of the Revolution SFX is about as we expected from a compact, high output SFX design. We recorded very good electrical performance figures, with voltage regulation and power quality figures that can easily compare to that of premium ATX designs. Its thermal losses however make the Revolution SFX noisy when it is heavily loaded, especially if it has to operate in adverse environmental conditions. While its efficiency does meet the 80Plus Gold standards, the small volume of the PSU and its relatively tiny cooling fan can only barely cope with the thermal energy output when the load is high. Although it does remain operational, the Revolution SFX will be overly loud if it has to operate heavily loaded.
In an interesting twist however that is likely to negate those concerns, this PSU has only two PCI-Express connectors – meaning it's only capable of powering one modern high performance graphics card. Even an overclocked gaming system with a single graphics card is highly unlikely to surpass 70% of this unit's capacity, and it cannot be used to power a powerful dual GPU system. So Enermax is virtually playing it safe by essentially forcing the users to stay within the unit's high efficiency range. Commercial switching PSUs rarely are designed to operate at maximum capacity for prolonged periods of time, but Enermax removed that possibility almost completely by limiting the number of connectors the unit comes with.
Ultimately we believe that Enermax delivered an overall well-balanced SFX PSU for enthusiasts that want to design compact gaming systems without breaking the bank. With its competitive electrical performance, modular design and reasonable retail price, the Revolution SFX is an excellent choice for the average modern living room gaming PC. The only dissonance about this PSU is its 650 Watts output, which the PSU is fully capable of reaching in lab conditions, but it is extremely unlikely to ever come close to with the number of connectors it offers. This is not necessarily a bad thing however because the Revolution SFX is unappealing for use with very high loads, as it would become very loud and its fan's longevity would also become a concern. It is a product intended for the typical gamer and enthusiast that wants a high performance unit but fully intends to stay within the high efficiency (35%-65%) range of the PSU.