DFI NFII Ultra: Basic Features
 Motherboard Specifications
CPU Interface
Socket-462
Chipset
nForce2 Ultra 400 North Bridge
nForce2 MCP-T South Bridge
Bus Speeds
100 to 300MHz (in 1MHz increments)
Core Voltage
1.10 to 2.05V (in 0.0250V increments)
DRAM Voltage
up to 2.80V (in 0.1V increments)
Chipset Voltage
up to 1.90V (in 0.1V increments)
AGP Slots
up to 1.80V (in 0.1V increments)
Memory Slots
3 184-pin DDR DIMM Slots
Expansion Slots
1 AGP 8X Slot
5 PCI Slots
Onboard IDE RAID
HighPoint 372N controller (RAID 0, RAID 1, Raid 1.5 & RAID 0 + 1)
Onboard USB 2.0/IEEE-1394
Six USB 2.0 ports supported by MCP-T
Agere FW803 IEEE-1394 FireWire (up to 3 ports available)
Onboard LAN
Dual LAN:
nForce MCP-T 10/100 Ethernet
Realtek RTL8101L 10/100 Ethernet
Onboard Audio
CMedia CMI9739A codec (nForce2 APU)
Onboard Serial ATA
One SATA connector via Marvel 88i8030
BIOS Revision
6/25/2003 Release BIOS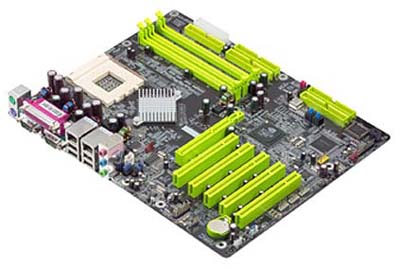 The DFI NFII Ultra comes in a HUGE box containing the LanParty trademark components: PC Transpo carrying harness for hauling around your computer, a FULL selection of cables (including round UV reactive cables that match the board), and the flexible modular FrontX box that includes front microphone jack, USB, and Firewire. Other connectors can be added to further customize the FrontX box, which fits in a 5-1/4" bay, and can be purchased at
www.frontx.com
.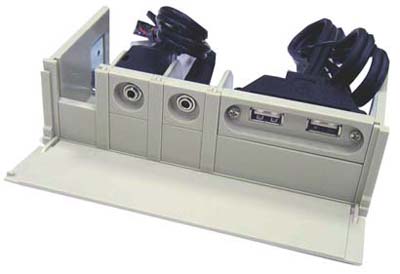 As you can see, the new DFI nForce2 is loaded! The board uses the latest nVidia nForce2 Ultra 400 chipset for official support of all Athlon chips, including the new 200FSB 3200+.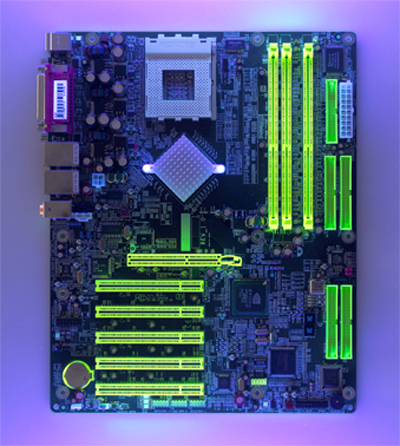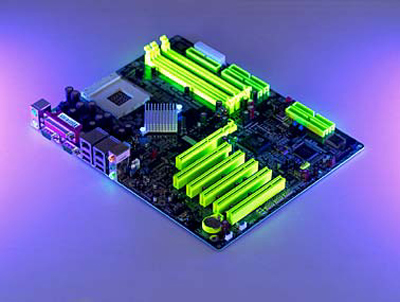 As in the other LanParty boards, the new NFII LanParty is UV reactive. It glows a soft green under black light, which seems to be the trademark color for AMD LanParty, since it is also used in the LanParty KT400A.
On boards using the MCP-T Southbridge, sound is provided by the excellent nVidia SoundStorm digital audio controllers built into the MCP-T. The manufacturer provides a compliant audio codec for the front-end that interfaces to Sound Storm. DFI uses the excellent cMedia codec – the same codec used on all three LanParty boards.
nVidia's powerful MCP-T SouthBridge contains the nForce2 APU (Audio Processing Unit), which is designed around three functions. First, it supports hardware acceleration of 256 2D voices, 64 3D voices, and 3D positional audio. Second, full support is provided for Microsoft's DX8.0 standard. Third, support is provided for Dolby Digital 5.1 and in-hardware Dolby Digital encoding. To take advantage of Dolby Digital, you must use an SPDIF connector with a receiver and the right speakers. Unfortunately, most nForce2 boards do not come with the proper SPDIF connectors, which basically make the wonderful features of the MCP-T a waste of audio power. Fortunately, the DFI comes with the accessory bracket that provides input and output coaxial SPDIF connections.
The NFII Ultra utilizes two 10/100 LAN controllers available in the nForce2 design. You get the familiar nForce2 10/100 Ethernet plus Realtek RTL8101L 10/100 LAN. For a machine with a name like LanParty, we can think of many situations where two LAN adapters could be very useful for a traveling gaming box. However, we are a bit surprised that DFI equipped the NFII Ultra with two 10/100 speed connections and decided not to include at least one Gigabit LAN option. In fairness, the two 10/100 connections will be just as useful in almost all situations, as there are very few situations where a LanParty gamer would find a real need for a Gigabyte LAN connection.

The DFI NFII Ultra I/O ports configuration is complete with two PS/2 ports, two serial ports, one parallel port, four USB 2.0 ports, two 10/100 LAN ports, and Mic In, Line In, and Line Out, which drive the onboard sound and are configurable for rear/sub/center outputs if desired. The microphone output is not lost since it is also available on the FrontX box. The DFI NFII Ultra also supports IEEE 1394 FireWire courtesy of a Agere FW803 controller, capable of supporting up to three ports (two ports on a rear bracket and an additional port on the FrontX break-out box). The dual-IEEE 1394 FireWire bracket is included, as are the SPDIF coax I/O bracket, a SATA cable and even that elusive SATA to molex power adapter required by some SATA drives.
The FrontX kit includes ports for MIC, Headphone, two USB, and Firewire. It is modular, so other options can be added. As already mentioned, a complete collection of matching round green UV reactive IDE cables and a floppy cable are also included, which will look well-coordinated in a window case. DFI even realized that there are still some who are attached to a favorite game controller (connects to a game port instead of USB), so a game port bracket is also included for those who won't retire their favorite game-port device.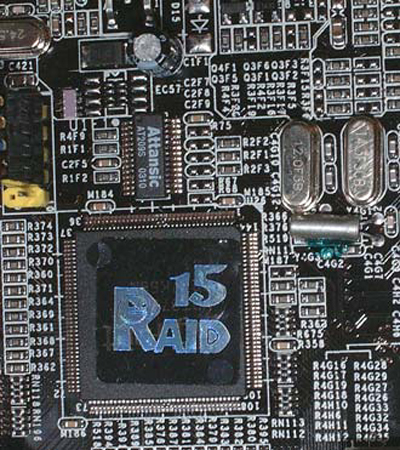 DFI uses the well-regarded HighPoint 372N RAID controller on the NFII Ultra – but with a twist. Included are the usual HighPoint options of RAID 0 (striping for performance), Raid 1 (Mirroring for security), and the four-drive option of RAID 0+1. However, as on the other LanParty boards, DFI has included a really slick RAID option, called RAID 1.5, which allows both striping and mirroring with just two drives. Basically, half of each drive in the 1.5 array is used for striping and the other half is used for performance. So, if you combine two 80GB drives in a 1.5 RAID, you would end up with a fast 80GB drive with mirroring. This is a really interesting option because it will allow faster performance with striping than the pair of 80GB drives set up for mirroring alone using RAID 1. The IDE drive support for this board is truly exceptional, since the HighPoint controller also allows single hard drives to be driven by the RAID chip with no special formatting required.
DFI apparently did not think SATA would matter a great deal on the nForce2 Ultra because a SATA RAID option is not on the board. The support for a single SATA drive is provided by a Marvel controller, which disables IDE channel 1 if a SATA drive is connected. You can use a SATA drive on the NFII Ultra, but support is fairly basic.

To make the LanParty image complete, DFI has included a LanParty decal, thermal compound, a pack of jumper caps, and a LanParty ID badge for the front of your case!!