The Witcher 3
The third game in CD Projekt RED's expansive RPG series, The Witcher 3 is our RPG benchmark of choice. Utilizing the company's in-house engine, REDengine 3, The Witcher makes use of an array of DirectX 11 features, all of which combine to make the game both stunning and surprisingly GPU-intensive. Our benchmark is based on an action-heavy in-engine cutscene early in the game, and Hairworks is disabled.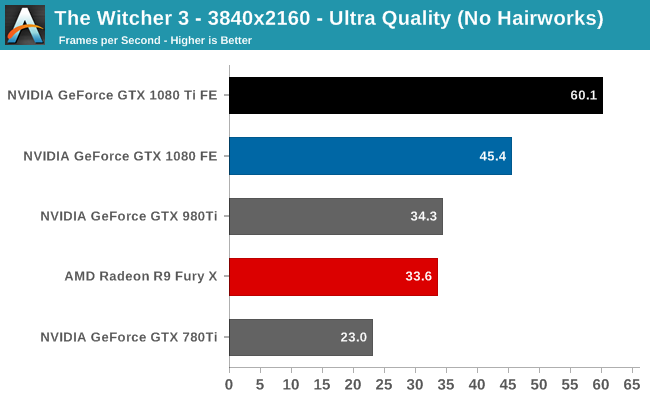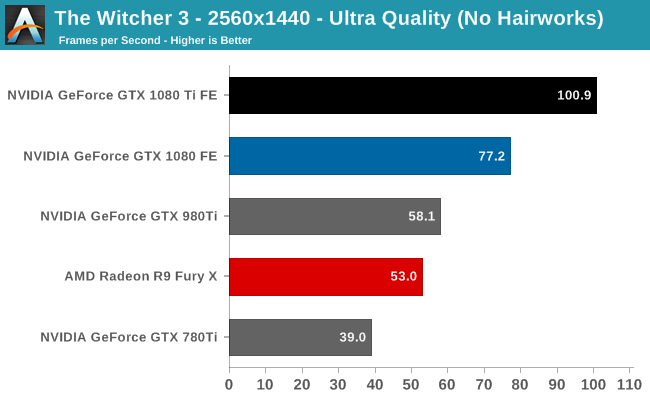 NVIDIA primarily promotes the GTX 1080 Ti as a 4K card, and for good reason. Thanks to Bigger Pascal, NVIDIA finally has the performance to break 60fps on a number of games at 4K, with The Witcher 3 chief among them. At 60.1fps it just makes that mark, with virtually no room to spare.
Overall this game is a strong showing for NVIDIA's newest card. The GTX 1080 Ti picks up another 32% over the GTX 1080, and 75% over the last-generation GTX 980 Ti.