The Division
The final first person shooter in our benchmark suite, The Division is a multiplayer-only game powered by Ubisoft's Snowdrop engine. The game's design focuses on detailed urban environments and utilizes dynamic global illumination for parts of its lighting. For our testing we use the game's built-in benchmark, which cycles through a number of scenes/areas of the game.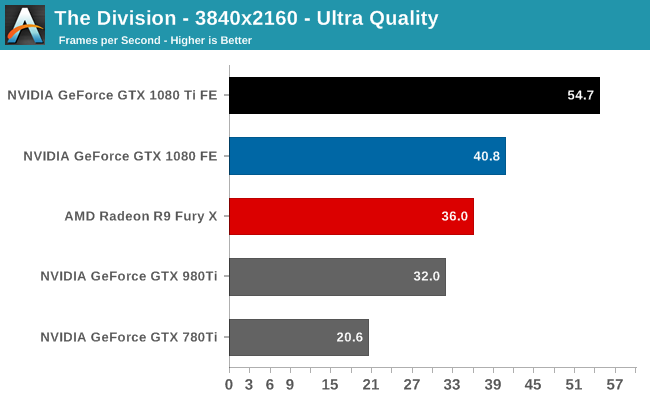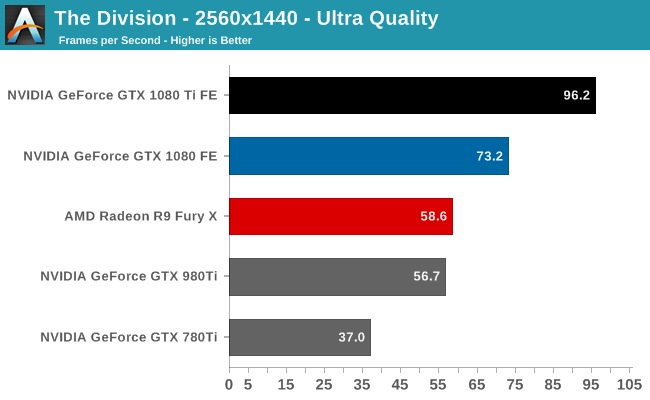 Unlike The Witcher, NVIDIA won't be able to hit 60fps with the GTX 1080 Ti at 4K, but at 54.7fps, they come close. Otherwise at 1440p, there's performance to spare, which should make high refresh rate monitor owners happy.
On a relative basis, this is another strong game for the GTX 1080 Ti. The card picks up 34% over the GTX 1080, and 71% over the GTX 980 Ti. And for those GTX 780 Ti owners still out there, we're looking at a pretty consistent 2.6x increase in performance across all resolutions.