Sneak Preview - Doom3 Performance
What's the most frustrating part of talking about all this high-power DX9 hardware? There are absolutely no games available that truly stress it; the market is waiting for the release of one very pivotal title, the game that will determine whether ATI or NVIDIA is crowned the true next-generation performance king: Doom3.
We have been anxiously awaiting the release of a pre-release benchmark version of Doom3 for our graphics tests, and last Thursday we were given a unique opportunity to benchmark Doom3 on a number of the latest GPUs. The opportunity was put together by idSoftware and NVIDIA, and was very limited in nature, but it was something we had to jump on.
We were given one evening with a system running Doom3, to test the latest GPUs from both ATI and NVIDIA using whatever drivers we pleased using whatever settings we would like. The only stipulation was that we could not comment on how the game looked, just on the performance of the GPUs. Doom3 is still a while away from shipping and thus we can understand id not wanting us to talk about the look of the game, and we gladly agreed to their terms in order to bring you a quick look at the performance of Doom3 on today's GPUs.
Here are some words of forewarning though; for starters, neither ATI nor NVIDIA gave us Doom3 optimized drivers to test with, we tested using the same drivers we used in all of our other tests (both drivers will be publicly available next week from ATI and NVIDIA). We actually ended up using ATI's Catalyst 3.2 instead of 3.4 for our Doom3 tests simply because the Catalyst 3.4 drivers we had were significantly slower in Doom3 and were much more unstable than the 3.2 release.
NVIDIA obviously wouldn't agree to this opportunity unless they knew they would come out ahead in the benchmarks, and as you are soon to see, they did. John Carmack did have a few words of warning, which we received after our benchmarking time with the system was up:
"We have been planning to put together a proper pre-release of Doom for benchmarking purposes, but we have just been too busy with actual game completion. The executable and data that is being shown was effectively lifted at a random point in the development process, and shows some obvious issues with playback, but we believe it to be a fair and unbiased data point. We would prefer to show something that carefully highlights the best visual aspects of our work, but we recognize the importance of providing a benchmark for comparison purposes at this time, so we are allowing it to be used for this particular set of tests. We were not happy with the demo that Nvidia prepared, so we recorded a new one while they were here today. This is an important point -- while I'm sure Nvidia did extensive testing, and knew that their card was going to come out comfortably ahead with the demo they prepared, right now, they don't actually know if the demo that we recorded for them puts them in the best light. Rather nervy of them, actually.

The Nvidia card will be fastest with "r_renderer nv30", while the ATI will be a tiny bit faster in the "r_renderer R200" mode instead of the "r_renderer ARB2" mode that it defaults to (which gives some minor quality improvements). The "gfxinfo" command will dump relevant information about the functioning renderer modes and optimizations. At some point, after we have documented all of the options and provided multiple datasets, Doom is going to be an excellent benchmarking tool, but for now you can still make some rough assessments with it."
So although the game isn't finished and the drivers are not tuned, we should be able to get a decent idea of how performance is shaping up under Doom3. We were only able to test the following cards:
ATI Radeon 9800 Pro
ATI Radeon 9600 Pro
ATI Radeon 9200
NVIDIA GeForceFX 5900 Ultra
NVIDIA GeForceFX 5800 Ultra
NVIDIA GeForceFX 5600 Ultra
NVIDIA GeForceFX 5200 Ultra
The only options that we could change in game were the quality settings which we could set to low, medium or high. We benchmarked medium and high, but on the fastest cards the performance drop in high quality mode was negligible so we stuck to reporting the medium detail level scores due to time constraints.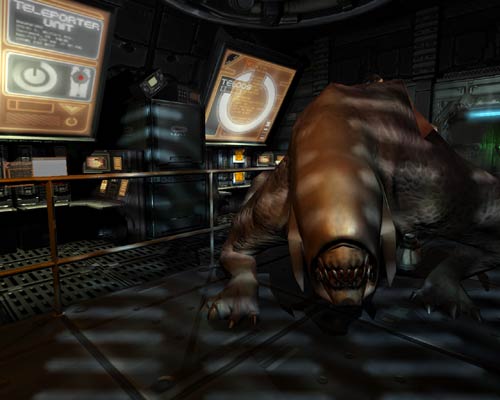 id allowed us to publish a screenshot to give you an idea of the level of detail we're talking about with Doom3. The game is nothing short of impressive and makes the rest of our benchmark suite look extremely dated.
We ran at 1024x768, 1280x1024 and 1600x1200 with AA/Aniso off as well as with 4X AA and 8X Quality Aniso enabled.
Excited yet? Let's get to the results…