Market Share: AMD Is Increasing Units, Not Share
Last year AMD addressed the high-end of the market with unique products like the Radeon R9 Fury series with HBM memory, as well as the Radeon R9 Nano aimed at small form factor systems. This year the company decided to focus on mainstream video cards with its Radeon RX series (previously known as Polaris). So far, this tactic has been paying off: over the past 12 months, AMD regained over 10% of the market and increased quarterly shipments of desktop discrete GPUs by over 1.5 million units.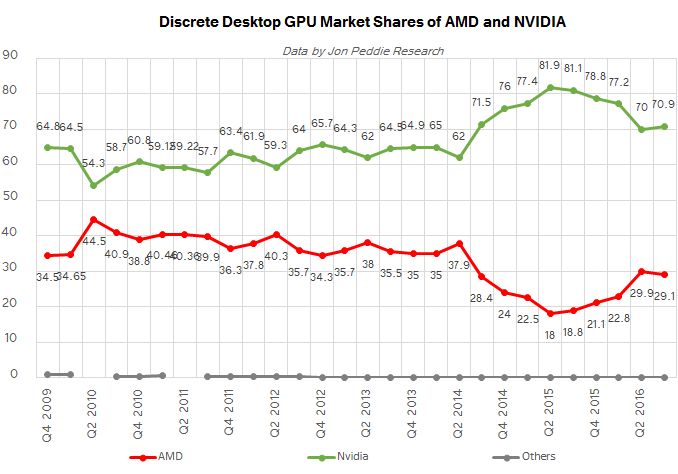 AMD shipped approximately 3.8 million standalone graphics chips for desktop computers in the third quarter of 2016, which is a two-year high, according to Jon Peddie Research. The company's desktop discrete GPU sales were up nearly one million units from the previous quarter (an increase of 34%) and grew by over 1.5 million units from the same period last year (an increase of 68.8%). Meanwhile, AMD's market share declined 0.8% from the previous quarter (Q2 2016) due to strong NVIDIA performance but surged 10% from Q3 2015.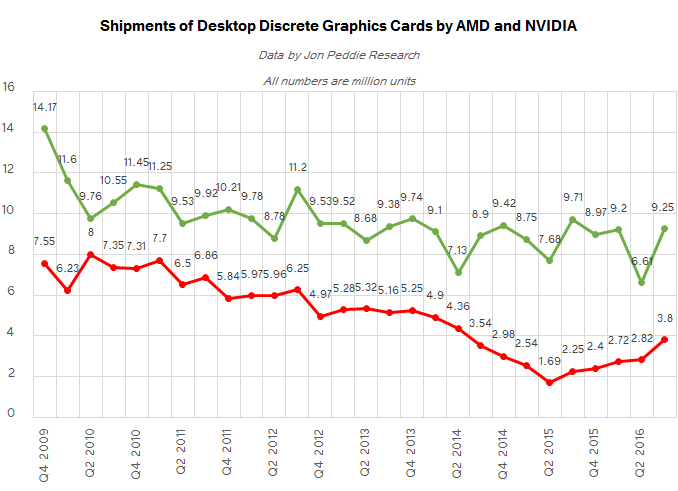 NVIDIA also managed to increase its discrete desktop GPU shipments in the third quarter significantly. The company sold 9.25 million GPUs, up from 6.61 million in Q2 2016 (an increase of about 40%), and up from 8.97 million in Q3 2015 (an increase of 3.1%). NVIDIA typically clears out its inventory in the second quarter, hence, its sequential growth of chip sales in the third quarter is not particularly surprising. Meanwhile, the company has managed to bring its sales back to recent historical levels, which is not bad on a market that has been on a decline for years.