Deciphering the New Cache Hierarchy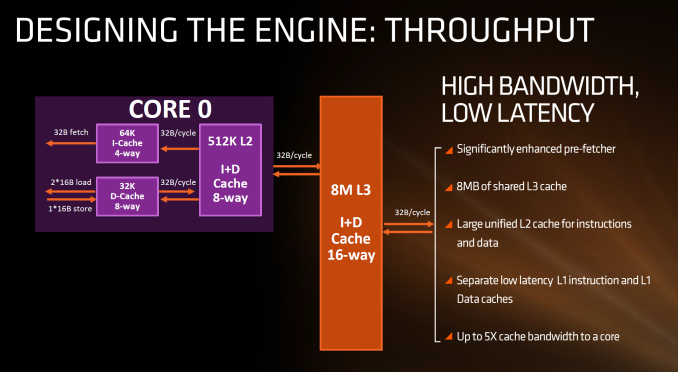 The cache hierarchy is a significant deviation from recent previous AMD designs, and most likely to its advantage. The L1 data cache is both double in size and increased in associativity compared to Bulldozer, as well as being write-back rather than write-through. It also uses an asymmetric load/store implementation, identifying that loads happen more often than stores in the critical paths of most work flows. The instruction cache is no longer shared between two cores as well as doubling in associativity, which should decrease the proportion of cache misses. AMD states that both the L1-D and L1-I are low latency, with details to come.
The L2 cache sits at half a megabyte per core with 8-way associativity, which is double that of Intel's Skylake which has 256 KB/core and is only 4-way. On the other hand, Intel's L3/LLC on their high-end Skylake SKUs is at 2 MB/core or 8 MB/CPU, whereas Zen will feature 1 MB/core and both are at 16-way associativity.
Edit 7:18am: Actually, the slide above is being slightly evasive in its description. It doesn't say how many cores the L3 cache is stretched over, or if there is a common LLC between all cores in the chip. However, we have recieved information from a source (which can't be confirmed via public AMD documents) that states that Zen will feature two sets of 8MB L3 cache between two groups of four cores each, giving 16 MB of L3 total. This would means 2 MB/core, but it also implies that there is no last-level unified cache in silicon across all cores, which Intel has. The reasons behind something like this is typically to do with modularity, and being able to scale a core design from low core counts to high core counts. But it would still leave a Zen core with the same L3 cache per core as Intel.
Cache Levels
Bulldozer
FX-8150
Zen
Broadwell-E
i7-6950X
Skylake
i7-6700K
L1 Instruction
64 KB 2-way
per module
64 KB 4-way
32 KB 8-way
32 KB 8-way
L1 Data
16 KB 4-way
Write Through
32 KB 8-way
Write Back
32 KB 8-way
Write-Back
32 KB 8-way
Write-Back
L2
2 MB 16-way
per module
512 KB 8-way
256 KB 8-way
256 KB 4-way
L3
1 MB/core
64-way
1 or 2 MB/core ?
16-way
2.5 MB/core
16/20-way
2 MB/core
16-way
What this means, between the L2 and the L3, is that AMD is putting more lower level cache nearer the core than Intel, and as it is low level it becomes separate to each core which can potentially improve single thread performance. The downside of bigger and lower (but separate) caches is how each of the cores will perform snoop in each other's large caches to ensure clean data is being passed around and that old data in L3 is not out-of-date. AMD's big headline number overall is that Zen will offer up to 5x cache bandwidth to a core over previous designs.