Meet the ASUS ROG Strix GeForce GTX 1060 OC
As the otherwise reference GeForce GTX 1060 Founders Edition is only available directly though NVIDIA, for our GTX 1060 review I also reached out to ASUS to take a look at a retail card. What they sent over was nothing less than what's the most feature packed and overall premium of the GTX 1060 cards.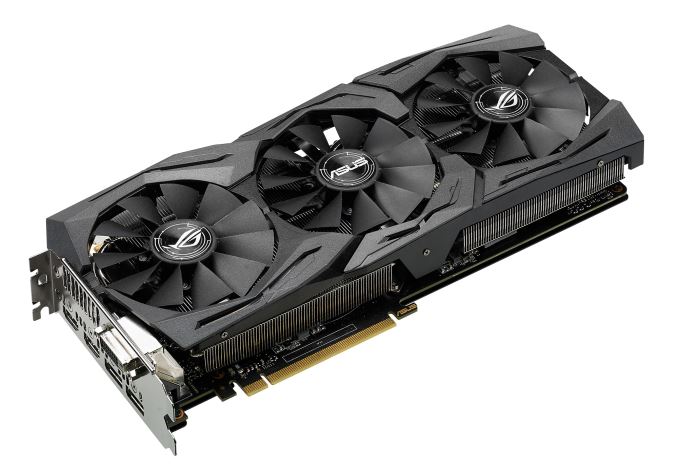 ASUS has made a name for themselves with their Republic of Gamers lineup of hardware, with a focus on premium construction and features, and their STRIX GTX 1060 OC certainly lives up to this reputation. Along with the ubiquitous factory overclock, the card features a sizable triple fan open air cooler, a custom PCB, RGB lighting, and even a pair of 4-pin fan headers for full size chassis fans. In short, ASUS threw in everything for their highest-end GTX 1060 and then some. The tradeoff? It's also the most expensive of the GTX 1060s, retailing at around $314.
GeForce GTX 1060 Cards
NVIDIA GTX 1060 Founders Ed.
ASUS STRIX GTX 1060 OC
Base Clock
1506MHz
1620MHz
Boost Clock
1709MHz
1848MHz
Memory Clock
8Gbps GDDR5
8.2Gbps GDDR5
VRAM
6GB
6GB
Length
9.75"
11.75"
Width
Double Slot
Double Slot
Cooler Type
Blower
Open Air
Price
$299
$314
The specific SKU we're looking at, the STRIX GTX 1060 OC, ships with a moderate factory overclock. Out of the box the GPU base clock is 1620MHz and the boost clock 1847MHz, 114MHz and 138MHz respectively over the GTX 1060 reference clocks. This amounts to an 8% GPU overclock. Meanwhile the memory also features a much smaller factory overclock, shipping at 8.2Gbps, 200Mbps (3%) over reference.
In terms of construction, the STRIX GTX 1060 teeters on being overbuilt. ASUS has taken advantage of the pin compatibility between the GP104 and GP106, reusing the fundamental board and cooler design from their STRIX GTX 1080/1070 cards and simply replacing the GPU with GP106. The end result is that this is a board and cooler setup designed to feed and cool a 180W+ video card, but now attached to the 120W GTX 1060.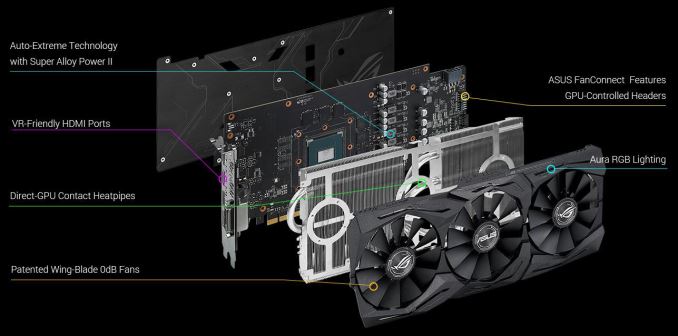 At 11.75" in length, the card's large size allows ASUS to outfit the card with a full, high end cooling setup. Providing airflow is a trio of the company's 90mm "wing-blade" fans. Like many other ASUS cards in the last year, these fans support zero fan speed idle (or as ASUS calls it, 0dB fans), so they only spin to begin with once the card gets up to a temperature that requires active cooling. And as we'll see in our noise testing, with 3 such fans they definitely don't have to spin up very far.
Meanwhile heat transfer is provided by one of ASUS's DirectCU III heatsinks, which runs virtually the entire length of the card. ASUS runs 5 heatpipes between the GPU baseplate and the rest of the heatsink; 4 going towards the rear, and the final looping around the front. The sheer size of the heatsink for a 120W card means that STRIX GTX 1060 can soak up a significant amount of heat before switching to active cooling, both keeping temperatures down and allowing the card to stay in zero fan speed idle mode for longer.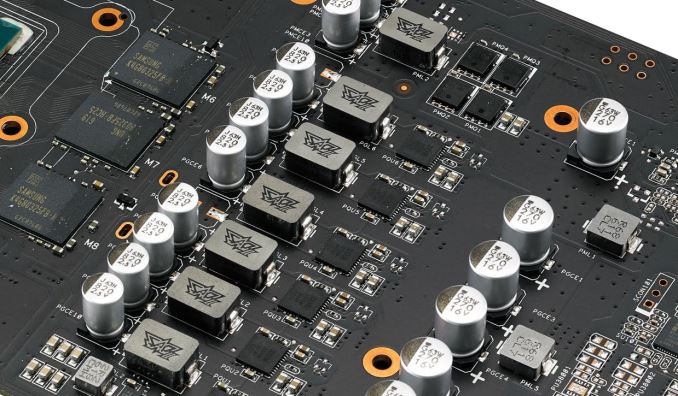 Moving on, since the PCB itself is carried over from the higher-end GTX 1000 series parts, so is the power delivery system. ASUS implements a 6+1 phase delivery system on the STRIX GTX 1060, utilizing their own Super Alloy Power branded components (yes, that's the ROG logo on the chokes). Though impressive in its own right, this is the one area where I suspect that the card's overbuilt design really is going to waste; NVIDIA's strict TDP limits and locked-down overvoltage controls means that short of modifying the card, the power delivery system isn't running anywhere near its limit, even with overclocking.

Speaking of which, powering the card requires an 8-pin PCIe power connector. ASUS has placed a reverse connector near the top of the card, along with their traditional LED status light to indicate whether there's a working connection or not. The placement of this connector is my only real complaint about the card; the connector sits lower than the heatsink, and while the reversed connector makes it much easier to work with, it's still hardware to work with since it's buried below the heatsink. I have a pretty good idea why ASUS did it this way – so that the external power cable won't stick up even higher on an already taller than normal card – but it means that you'll be glad the LED status light is there if you're plugging in a 6+2-pin power cable.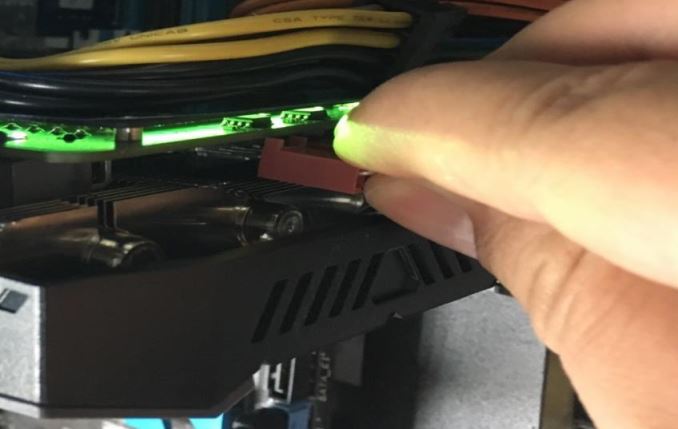 At the other end of the spectrum, the STRIX GTX 1060 doesn't just draw power, but it supplies it as well. Found at the far side of the card is a pair of 4-pin fan headers, installed specifically for letting the video card power and control full size chassis fans. This is the first time a card with this feature has crossed my desk, and while it's admittedly a bit unusual since the card itself is already plenty capable of cooling itself, the feature has some logic to it. Chassis fans are usually slaved to the motherboard, which makes a great deal of sense when the motherboard and its components (i.e. the CPU) are the biggest heat sources. However with the GTX 1060 pushing 120W (and 180W for the full GTX 1080), in most systems the video card is actually the single biggest heat source. So by putting fan headers on the video card, 1 or 2 fans can be set to respond to the video card temperature instead. I don't have any real guess as to how many users will actually use this feature – this is really just a minor cooling/noise optimization – but it's a neat idea that shows that ASUS can still think outside the box.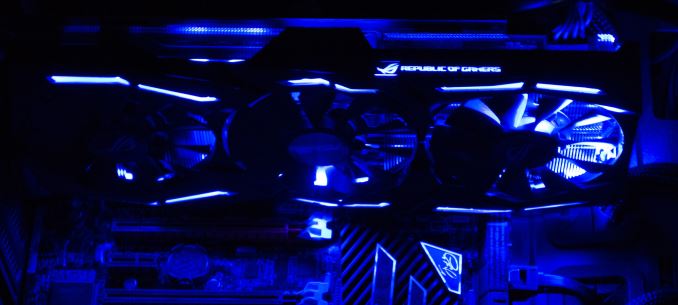 Up next, let's talk about the card's RGB lighting feature. Dubbed Aura by ASUS, the company has embedded RGB LEDs on to the PCB and into the fan shroud, allowing the card to be lit up in a number of different patterns and colors. In terms of functionality this is entirely superfluous, but there's a market for windowed cases for this very reason. For gamers who are the type to show off their systems or just want a bit of extra flair, this certainly makes the STRIX GTX 1060 stand out.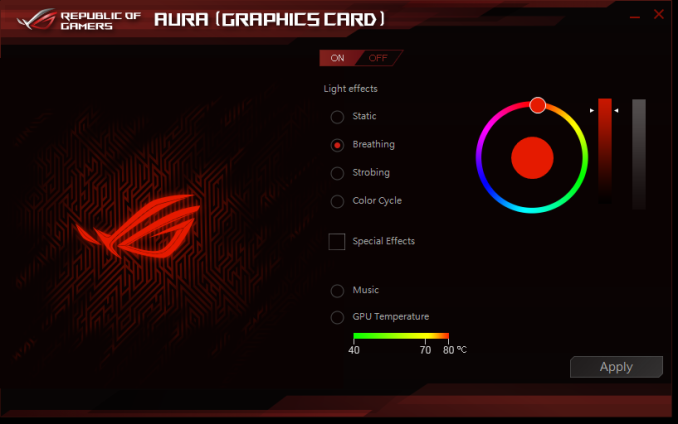 Finally, for display I/O ASUS has deviated from the NVIDIA standard a bit. ASUS has replaced one of the DisplayPorts with another HDMI port, resulting in a 2x DisplayPort, 2x HDMI, 1x DL-DVI-D configuration. ASUS says that they've done this for VR headset reasons, swapping ports so that there's still an open HDMI port after plugging in a VR headset. I see where ASUS is coming from, but at the same time I have mixed feelings about this. The great thing about DisplayPort is that it's easily convertible to other ports, but an HDMI port is always going to be an HDMI port. Ultimately a second HDMI port isn't truly necessary – a standard HDMI display will be just fine with an adapter – but if nothing else it does save buyers the hassle of tracking down said adapter.

Moving on, let's talk about software side of matters. The STRIX GTX 1060 comes with ASUS's GPU Tweak II software. This software hasn't substantially changed since the last time we looked at it, so I'll skip the full rundown here, but in a nutshell it's a solid GPU monitoring and overclocking suite. It allows for all of the usual clockspeed and fan adjustments, and also serves as the control interface for the 4-pin fan headers ASUS put on the card. The software also includes a couple of additional card profiles: a quiet mode that clamps down on TDP to limit card noise, and an OC mode that applies a marginal further 26MHz (2%) overclock. Standard for ASUS cards, GPU Tweak II also includes a built-in copy of the XSplit game broadcasting software, along with a 1 year premium license.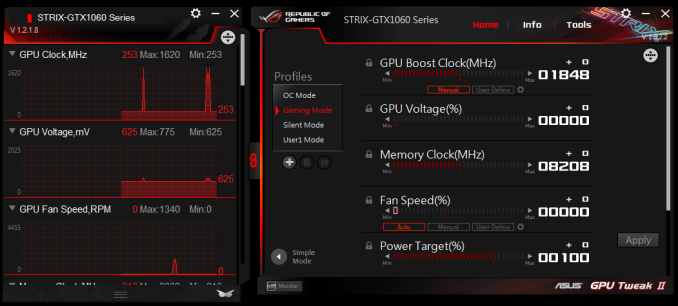 Overall the STRIX GTX 1060 was meant to be the final word in GTX 1060 cards, and certainly it lives up to that expectation. ASUS has thrown in virtually every premium feature they have, from cooling to lighting, and it definitely makes for a unique card. At the same time however this makes ASUS's card the most expensive of the GTX 1060s, $315, or a $65 premium over the base GTX 1060 MSRP. So this is a card decidedly priced for enthusiasts as opposed to mainstream gamers.