Power Consumption
Power consumption was tested on the system while in a single MSI GTX 770 Lightning configuration with a wall meter connected to the power supply. This power supply is 80PLUS rated, and as I am in the UK on a 230-240 V supply, leads to ~75% efficiency > 50W, and 90%+ efficiency at 250W, suitable for both idle and multi-GPU loading. This method of power reading allows us to compare the power management of the UEFI and the board to supply components with power under load, and includes typical PSU losses due to efficiency.
Our Power Consumption tests have changed slightly since our last review as we are testing out new ways to represent the power used by the CPU and the system. The current three standard tests start with a system at long idle, meaning that the OS turns off the monitor and enters a lower power state without going into S3. We then move into a standard idle state on the desktop, with no software running but the desktop on display. The system is then moved into high performance mode, and we run a one-minute OCCT test to identify peak power consumption.
Due to extended requests, our power consumption numbers also use Prime95 to load the system. We use Prime95's peak power consumption mode, testing 1/2/3/4 thread consumption at the wall with our power meter. P95 hits the peak power relatively quickly, making this a straightforward test to include. For CPUs above 4 threads, we typically manage powers of two, half the CPU, and the full CPU to get an accurate picture.
For this review, we performed the power analysis for all four main CPUs at the 3 GHz frequency (using automatic voltage on the motherboard), as well as at stock frequencies. The values shown are delta values to the long idle power consumption, due to power delivery variations.
Generational Power Consumption at 3 GHz
All four processors have a 2-3W difference moving from a long idle to an idle state, however it is clear that our Carrizo CPU, which we stated is well outside its normal efficiency window at the beginning of this review, has a very good response during OCCT loading.

These results are within 3-4W of the full loading provided by Prime95 as well. If we analyze the per core jumps from moving up the threads using Prime95, there are some interesting numbers to pick out.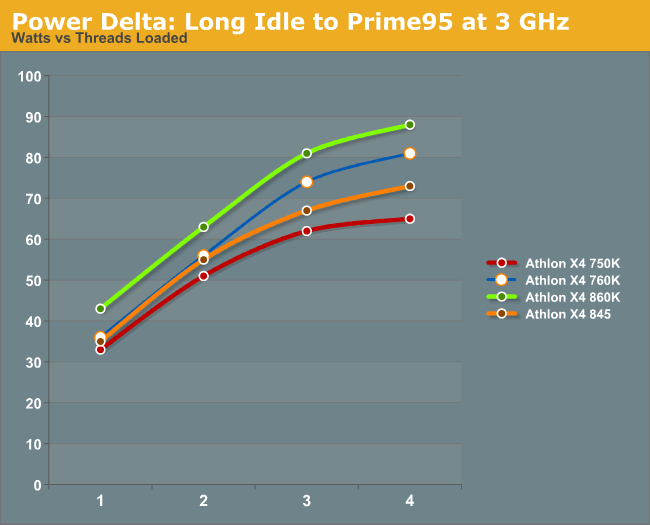 All the processors increase their power consumption by ~20W when both modules are loaded, when moving from 1 core loading to 2 core loading. When moving to 3/4 core loading, it is obvious that as both modules are already running at high frequency, a smaller amount of power is needed for each to enable the second thread.
Power Consumption at Stock
For those keeping track, we were not able to source identical TDP rated processors for this test. While the Carrizo based Athlon is 65W, the other processors are at the 95W/100W level. This makes total power consumption numbers relatively processional, and it becomes interesting looking into how close each processor gets to its TDP.
In our testing, the X4 845 seems to go beyond its 65W TDP, pushing almost another 9W through our power meter. This is only 8W away from the X4 750K, which should be 35W ahead. However, it would seem that for the X4 845, P95 draws an extra 15W compared to OCCT, but for the X4 750K, it draws 10W less, showing how difficult it can be to retain consistency. It is worth noting that TDP ratings are difficult to interpret in this way - the processors coming out of the fabs will have a statistical variation to their operating voltage, and this differs between samples. A good sample of a high TDP compared to a bad sample of a low TDP might seem to generate an interesting story, however without having access to several dozen units it can be strained to draw many conclusions.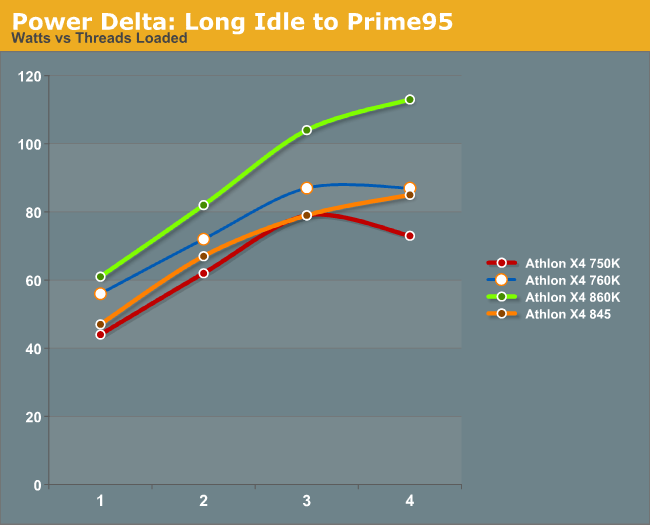 Looking at the Prime95 core-loading numbers, we see a similar pattern to what happened at 3 GHz, despite the X4 760K getting the same power reading for 3/4 core loading and the X4 750K actually decreasing in power with four loaded threads.