Closing Thoughts
Testing both the IBM POWER8 and the Intel Xeon V4 with an unbiased compiler gave us answers to many of the questions we had. The bandwidth advantage of POWER8's subsystem has been quantified: IBM's most affordeable core can offer twice as much bandwidth than Intel's, at least if your application is not (perfectly) vectorized.
Despite the fact that POWER8 can sustain 8 instructions per clock versus 4 to 5 for modern Intel microarchitectures, chips based on Intel's Broadwell architecture deliver the highest instructions per clock cycle rate in most single threaded situations. The larger OoO buffers (available to a single thread!) and somewhat lower branch misprediction penalty seem to the be most likely causes.
However, the difference is not large: the POWER8 CPU inside the S812LC delivers about 87% of the Xeon's single threaded performance at the same clock. That the POWER8 would excel in memory intensive workloads is not a suprise. However, the fact that the large L2 and eDRAM-based L3 caches offer very low latency (at up to 8 MB) was a surprise to us. That the POWER8 won when using GCC to compile was the logical result but not something we expected.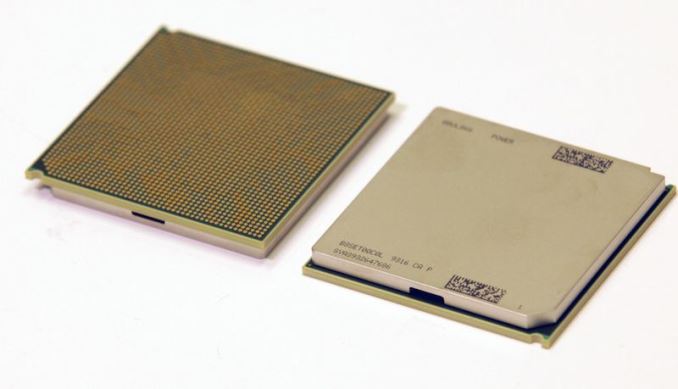 The POWER8 microarchitecture is clearly built to run at least two threads. On average, two threads gives a massive 43% performance boost, with further peaks of up to 84%. This is in sharp contrast with Intel's SMT, which delivers a 18% performance boost with peaks of up to 32%. Taken further, SMT-4 on the POWER8 chip outright doubles its performance compared to single threaded situations in many of the SPEC CPU subtests.
All in all, the maximum throughput of one POWER8 core is about 43% faster than a similar Broadwell-based Xeon E5 v4. Considering that using more cores hardly ever results in perfect scaling, a POWER8 CPU should be able to keep up with a Xeon with 40 to 60% more cores.
To be fair, we have noticed that the Xeon E5 v4 (Broadwell) consumes less power than its formal TDP specification, in notable contrast to its v3 (Haswell) predecessor. So it must be said that the power consumption of the 10 core POWER8 CPU used here is much higher. On paper this is 190W + 64W Centaur chips, versus 145W for the Intel CPU. Put in practice, we measured 221W at idle on our S812LC, while a similarly equipped Xeon system idled at around 90-100W. So POWER8 should be considered in situations where performance is a higher priority than power consumption, such as databases and (big) data mining. It is not suited for applications that run close to idle much of the time and experience only brief peaks of activity. In those markets, Intel has a large performance-per-watt advantage. But there are definitely opportunities for a more power hungry chip if it can deliver significantly greater performance.
Ultimately the launch of IBM's LC servers deserves our attention: it is a monumental step forward for IBM to compete with Intel in a much larger part of the market. Those servers seem to be competitively priced with similar Xeon systems and can access the same Little Endian data as an x86 server. But can POWER8 based system really deliver a significant performance advantage in real server applications? In the next article we will explore the S812LC and its performance in a real server situations, so stay tuned.