Energy Consumption
A large part of the server market is very sensitive to performance-per-watt. That includes the cloud vendors. For a smaller part of the market, top performance is more important than the performance/watt ratio. Indeed for financial trading, big data analyses, database, and some simulation servers, performance is the top priority. Energy consumption should not be outrageous, but it is not the most important concern.
We tested the energy consumption for a one-minute period in several situations. The first one is the point where the tested server performs best in MySQL: the highest throughput just before the response time goes up significantly. Then we look at the point where throughput is the highest (no matter what response time). This is is the situation where the CPU is fully loaded. And lastly we compare with a situation where the floating point units are working hard (C-ray).
SKU
TDP
(on paper)
spec
Idle

W
MySQL
Best throughput
at lowest resp time
(W)
MySQL
Max Throughput
(W)
Peak
vs
idle
(W)
Transactions
per
watt
C-ray
W
Xeon D-1557
45 W
54
99
100
46
73
99
Xeon D-1581
65 W
59
123
125
66
97
124
Xeon E5-2640 v4
90 W
76
135
143
67
71
138
ThunderX
120 W
141
204
223
82
46
190
Xeon E5-2690 v3
135 W
84
249
254
170
47
241
Intel allowed the Xeon "Haswell" E5 v3 to consume quite a bit of power when turbo boost was on. There is a 170W difference between idle and max throughput, and if you assume that 15 W is consumed by the CPU in idle, you get a total under load of 185W. Some of that power has to be attributed to the PSU losses, memory activity (not much) or fan speed. Still we think Intel allowed the Xeon E5 "Haswell" to consume more than the specified TDP. We have noticed the same behavior on the Xeon E5-2699 v3 and 2667 v3: Haswell EP consumes little at low load, but is relatively power hungry at peak load.
The 90W TDP Xeon E5-2640v4 consumes 67W more at peak than in idle. Even if you add 15W to that number, you get only 82W. Considering that the 67W is measured at the wall, it is clear that Intel has been quite conservative with the "Broadwell" parts. We get the same impression when we tried out the Xeon E5-2699 v4. This confirms our suspicion that with Broadwell EP, Intel prioritized performance per watt over throughput and single threaded performance. The Xeon D, as a result, is simply the performance per watt champion.
The Cavium ThunderX does pretty badly here, and one of the reason is that power management either did not work, or at least did not work very well. Changing the power governor was not possible: the cpufreq driver was not recognized. The difference between peak and idle (+/- 80W) makes us suspect that the chip is consuming between 40 and 50W at idle, as measured at the wall. Whether is just a matter of software support or a real lack of good hardware power management is not clear. It is quite possibly both.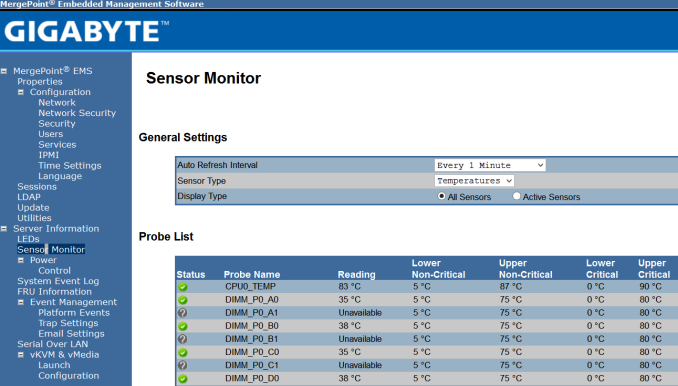 We would also advise Gigabyte to use a better performing heatsink for the fastest ThunderX SKUs. At full load, the reported CPU temperature is 83 °C, which leaves little thermal headroom (90°C is critical). When we stopped our CRAC cooling, the gigabyte R120-T30 server forced a full shutdown after only a few minutes while the Xeon D systems were still humming along.