Memory Subsystem: Bandwidth
For this review we completely overhauled our testing of John McCalpin's Stream bandwidth benchmark. We compiled the stream 5.10 source code with the Intel compiler for linux version 16 or gcc 4.8.4, both 64 bit. The following compiler switches were used on icc:
-fast -openmp -parallel
The results are expressed in GB per second. The following compiler switches were used on gcc:
-O3 –fopenmp –static
Stream allows us to estimate the maximum performance increase that DDR-2400 (Xeon E5 v4) can offer over DDR-2133 (Xeon E5 v3).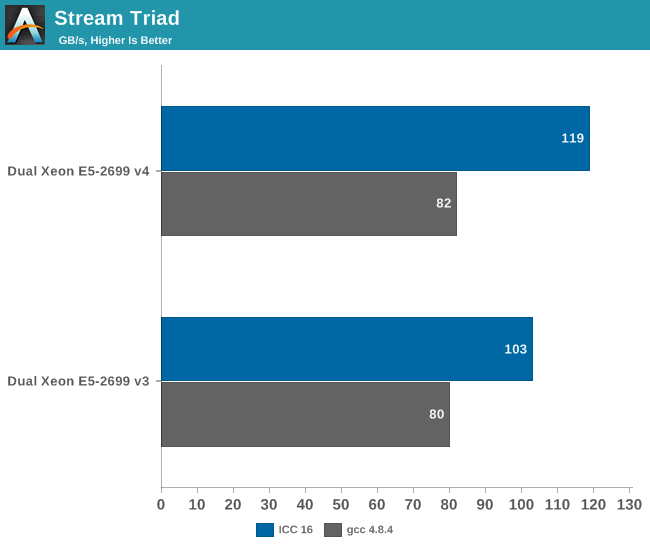 The Xeon E5 v4 with DDR4-2400 delivers about 15% higher performance then the v3 when we compile Stream with icc. To put this into perspective: DDR-4 @ 1600 delivered 80 GB/s.
The difference between DDR-4 2400 and DDR-4 2133 is negligible with gcc.
Memory Subsystem: Latency
To measure latency, we use the open source TinyMemBench benchmark. The source was compiled for x86 with gcc 4.8.2 and optimization was set to "-O2". The measurement is described well by the manual of TinyMemBench:
Average time is measured for random memory accesses in the buffers of different sizes. The larger the buffer, the more significant the relative contributions of TLB, L1/L2 cache misses, and DRAM accesses become. All the numbers represent extra time, which needs to be added to L1 cache latency (4 cycles).
We tested with dual random read, as we wanted to see how the memory system coped with multiple read requests.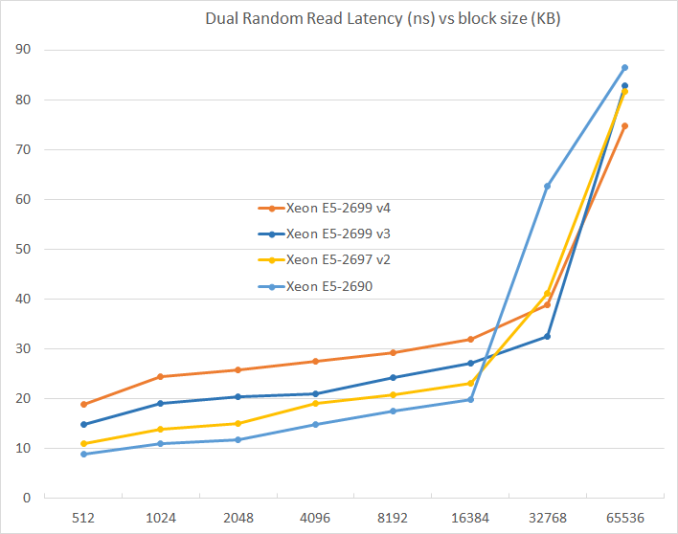 The larger the L3 caches get, the higher the latency. Latency has almost doubled from the Xeon E5 v1 to the Xeon E5 v4 while capacity has almost tripled (55 MB vs 20 MB). Still, this will result in a small performance hit in many non-virtualized applications that do no need such a large L3.