Albatron PX845PEV Pro: Board Layout
The Albatron PX845PEV is laid only decently, we had quite a few complaints.
First off, we noticed that Albatron placed the ATX (20-pin) connector on the right side of the motherboard. While the general positioning of the connector is correct, the actual location is a bit off. In reality, the ATX connector should be placed higher up on the motherboard, towards the top of the memory slots, instead of the middle right-hand portion of the motherboard. Due to the tiny dimensions of this motherboard, the ATX connector placement actually angles the ATX wires so that it's still pretty difficult to clear the center of the case. In addition, the ATV12V line is placed very near the I/O ports. If you desire to uninstall your HSF, you'll first have to unhook the ATX12V line. To be fair, the vast majority of P4 motherboards place the ATX12V line close to the I/O ports.
Secondly, and most annoyingly, is the placement of the Primary and Secondary IDE connectors. Albatron placed the Primary and Secondary connectors below the AGP slot and DIMM slots. This makes it very difficult for IDE cables to reach high enough in case you're trying to, for example, connect an optical drive in the highest bay of a full-sized ATX case. If you're using a large video card like the GeForce4 Ti4600, this is especially true.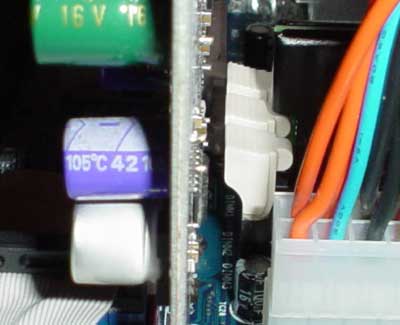 Another negative aspect of the PX845PEV Pro's layout is the placement of the DIMM connectors so close to the AGP slot. This is the closest we have ever seen DIMM connectors to the AGP slot, and it's certainly very difficult to uninstall your memory while with your video card still in place. It requires quite a bit of bending on the video card's part to give enough room for the RAM to be unseated without removing the video card.
For some reason Albatron decided to place the floppy connector all the way at the bottom of the board, beneath the 5th PCI slot. This makes it difficult to clear away the Floppy cable from the center of the case, which makes it that much more difficult to keep a clean and well ventilated case. The poor placement of the IDE connectors and ATX connector don't make things any easier.