The Thunderbolt 3 Bandwagon
One of the main reasons why some users buy certain motherboards is due to a specific feature. If you need to use a specific feature that only some models have, it guts out 98% of potential candidates at the first step. Typically most users will separate by compatibility and price first if they don't need a certain specific feature, but it means that when we look for Thunderbolt 3 enabled motherboards, the Z170X-UD5 TH comes in at one of the cheapest models available and only $6 more than the non-Thunderbolt 3 variant.
As can be the issue with early adoption though is the lack of devices currently using the standard. We saw similar issue with the previous two generations of Thunderbolt, especially when it came to Windows compatibility (most devices ended up focused on Apple), or things like SATA Express that never took off. Perhaps SATAe is an odd-ball standard anyway, but it still stands to reason that TB3 devices are thin on the ground. Standard expectations will put it on the next generation MacBook Pro and Mac Pro devices, as well a display or two, but we are going to have to wait for other storage/hub options to come through. There's also the issue of cabling – TB3 requires an active cable to reach 40 Gbps, whereas a cheaper passive cable will only be rated for 20 Gbps. Nonetheless, it comes back to that $6 difference; if you can use the ports for USB 3.1 in the meantime, then it can make it an easy decision to spend the extra for the price of a large double-shot coffee.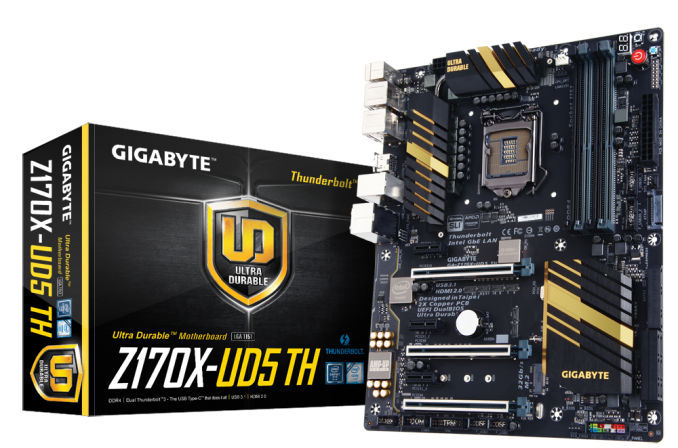 Moving away from the Thunderbolt 3 aspect and we have GIGABYTE's main stream Ultra Durable brand motherboard sitting between the UD3 and UD7. This means it gets the UD black/gold branding, some upgraded power delivery, GIGABYTE's new PCIe protection guard scheme to avoid slots being ripped out by large cards and storage options in M.2. The UD5 TH is also one of the few motherboards that will support HDMI 2.0 (HDCP 2.2), in this case using a LSPcon, when the integrated graphics are in play. It seems a little odd to be upgrading the integrated graphics options with a motherboard aimed at discrete GPU users, however GIGABYTE clearly sees a benefit here when non-GPU PCIe devices are in use instead.
There's also some upgraded Realtek ALC1150 audio using PCB separation, filter caps and EMI shielding, with RGB LEDs underneath the motherboard on the digital side for users that want to pimp their rig. There's another interesting choice in using an EMI shield for the Intel I219-V network controller, as this tends to make little difference in performance. There's also the three SATA Express ports, but the only thing that can use them that is for sale is a USB 3.1 front panel bay which of course, sells separately.
In the performance metrics, the Z170X-UD5 TH does use MultiCore Turbo, but only on certain benchmarks – we saw video encoding and 7-Zip encoding were MCT enabled, but WinRAR encoding and ray tracing were not. This gave the performance a mid-range outing between those that do enable MCT and those that do not. For the system benchmarks, idle power and POST time were the best we've seen so far on Skylake, but load-to-idle delta and DPC Latency were nothing to write home about. GIGABYTE also implements their classic mode BIOS only here, avoiding the HD mode altogether, but the software package is easier to use and update than previous generations.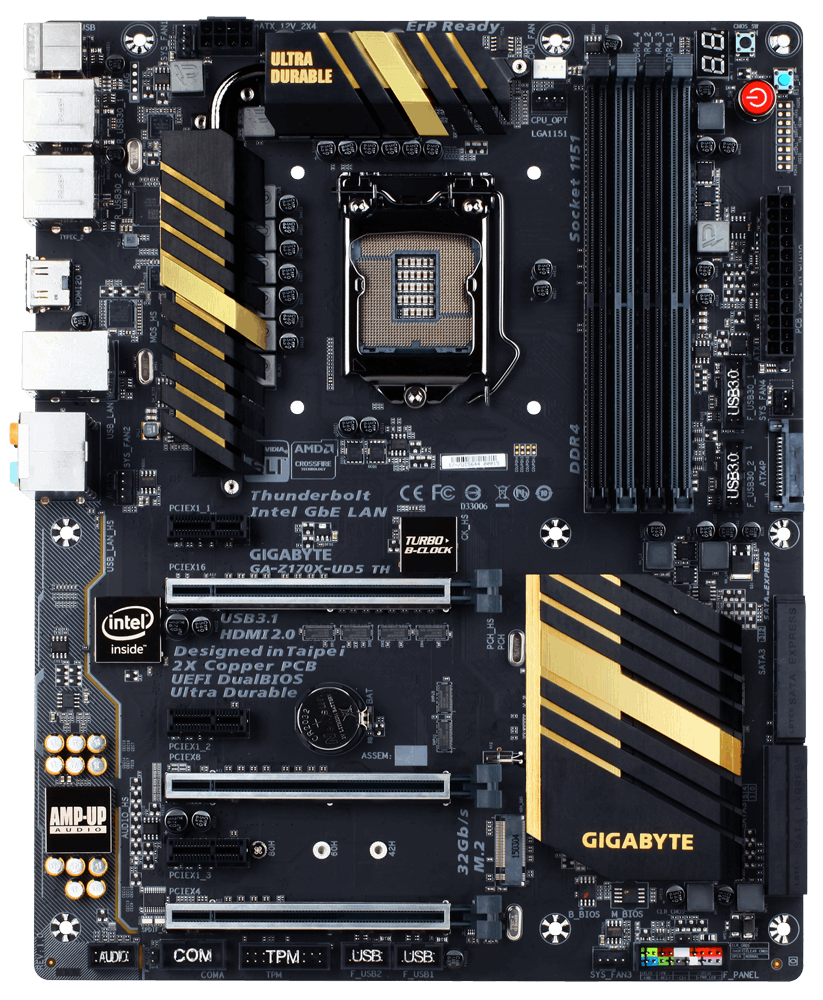 For users interested in water cooling, it is worth noting that EKWB has a CPU plus power delivery water block available for the Z170X-UD5 TH using G1/4 fittings at €118. For some of the markets that GIGABYTE aims for, having tie-ins with extra hardware manufacturers can be a good thing, especially for users wanting to expand designs beyond a simple cooler and memory.
There are a few oddities, such as HDMI 2.0 on a GPU focused motherboard, having three SATAe ports but no SATAe drives in the market, and having the M.2 slot muxed with the final PCIe slot rather than having them separate as is possible with the Z170 chipset. The first two of those most users will ignore anyway, but there is certainly an element of design here that warrants the price point. The GIGABYTE Z170X-UD5 TH is a good motherboard by most metrics. I have since handed it off to Ganesh to update one of his NAS/Thunderbolt testing systems, as it was one I had that would fit the bill. The board is one of the most appealing to those wanting to invest in Thunderbolt 3, as and when devices enter the market - especially if it is still only $6 more than the non-TH version, and that will most likely be the biggest draw.