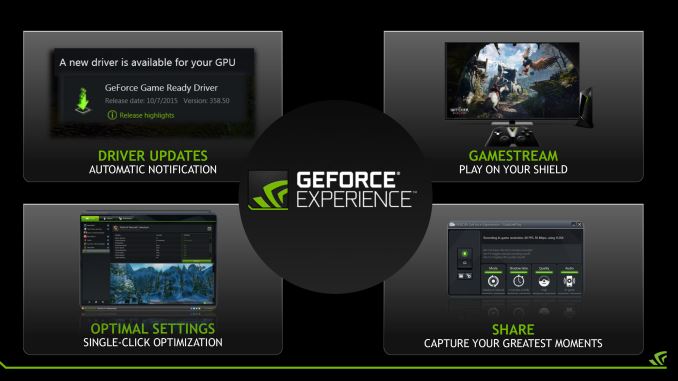 Since launching their GeForce Experience software utility over two years ago, NVIDIA has continued to iterate on it in a fairly regular fashion. Along with its software update and game settings optimization features, NVIDIA has added a number of features over the past couple of years tied to their NVENC hardware encoder, including GameStream, ShadowPlay, and most recently the beta for Share and GameStream Co-Op. As one might expect, NVIDIA is not stopping there, and in a briefing to the press this week, NVIDIA is announcing some of their feature development plans for GeForce Experience over the next couple of months.
To kick things off, in a new beta release hitting NVIDIA's servers today, NVIDIA will be updating several of GeForce Experience's various NVENC-powered features to enable new features. On the GameStream front NVIDIA will be offering new functionality specifically targeted at the recently launched SHIELD Android TV set top box. With the SHIELD Android TV capable of decoding 4K video content, NVIDA is now giving GameStream the ability to encode video at that resolution, allowing for GameStream remote gaming at full native resolution for 4K TVs. Furthermore NVIDIA is also giving GameStream the ability to serve up 5.1 audio.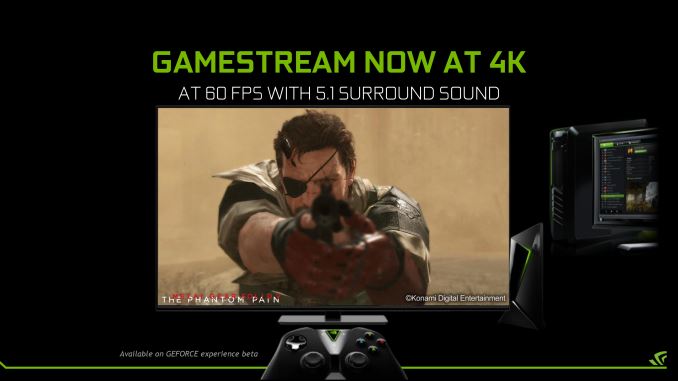 Until this latest release GeForce Experience had been limited to serving up GameStream with 1080p video and stereo audio, so this marks a significant increase in GameStream's video and audio quality. At the same time because of the step up in quality the system requirements to use the new 4K mode are significantly higher as well. On the encode side only the newest Maxwell 2 generation GPUs have an NVENC unit capable of encoding at 4Kp60, so high-end Kepler users won't see this functionality. Meanwhile on the reception side, a SHIELD Android TV is needed to receive 4K video, and NVIDIA is recommending a hardwired 100Mbps (or better) Ethernet connection for best performance. And on a technical side note, though not specified in NVIDIA's presentation, as 4K support is limited to SHIELD Android TV I'm curious whether NVIDIA is still using H.264 or if they're switched to HEVC, as Maxwell 2 and SHIELD Android TV support hardware HEVC encoding and decoding respectively.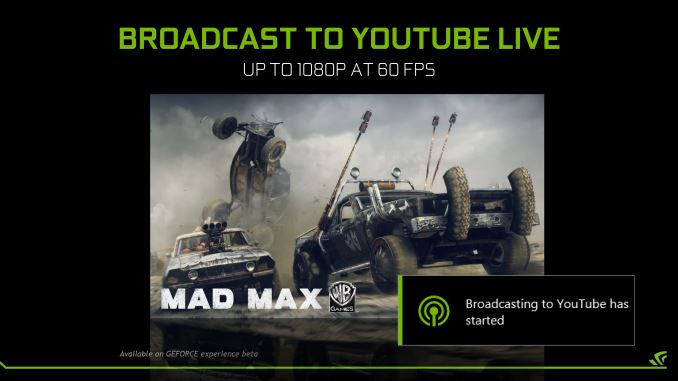 Moving on, similar to GameStream, GeForce Experience's video broadcasting module is also getting new functionality and an image quality boost. First launched with Twitch support back in late 2013, the broadcast module is now gaining support for Google's rival YouTube Live service as well, allowing GeForce users to broadcast to the service of their choice. Furthermore the broadcast module can now upload video streams at 1080p60 with a maximum bitrate of 9Mbps, supplanting the module's previous 720p60 limit. As even older versions of NVENC have long been able to record at 1080p, this change primarily appears to be NVIDIA increasing their limits now that these services are better able to handle the high bitrates that go with 1080p streaming.
The Next Few Months: Driver Updates Shift to GeForce Experience
Finally, in their last announcement for the day, NVIDIA is sharing a bit of information on their plans for GeForce experience for the rest of the year, and this is a big one.
Starting with a December update to GeForce Experience, NVIDIA will be overhauling how they distribute their driver updates. The company currently posts new drivers on a regular basis to their website while also simultaneously pushing them out via GeForce Experience. Come December, that will be changing and GeForce Experience will be the preferred "first access" distribution mechanism for NVIDIA's frequent driver updates.
This change comes on the heels of NVIDIA's latest research, which finds that 90% of all driver updates are now distributed through GeForce Experience. At this point NVIDIA is not discussing the change in great detail – and most likely they're still sorting out the finer details of what they want to do – but the basic idea is to fully exploit the push update mechanism of GeForce Experience while drawing users into what will in time become a larger NVIDIA ecosystem. GeForce Experience will be used to distribute the company's regular "point release" driver updates that the company frequently releases and typically contain bug fixes and performance improvements for gamers – in other words the drivers most gamers will want to be on. Meanwhile NVIDIA will still post drivers to their website (and by extension Windows Update), but on a reduced quarterly cadence.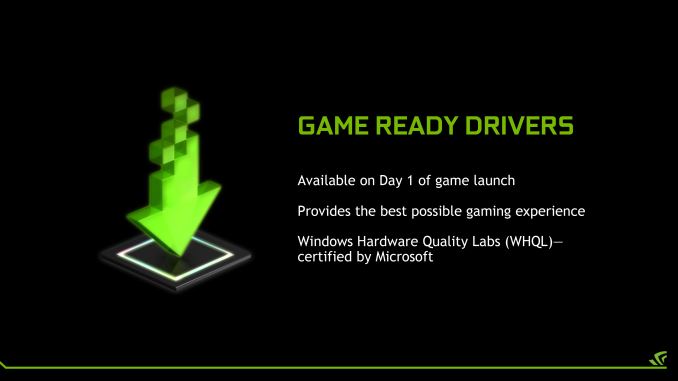 One thing NVIDIA has made clear is that they're sticking with their overall Game Ready driver release system – targeting frequent driver updates to line up with major game launches – and this includes WHQL certification, so this won't be NVIDIA cutting back on WHQL releases despite the fewer updates to their website. However even with WHQL certification, NVIDIA's frequent driver releases (20 in just over the last year, not counting hotfixes) have been both a curse and a blessing for their wider user base, as non-gamers use the same drivers. I get the impression that this change is in part driven by a desire to establish separate "gamer" and "long term" driver release cadences where non-gamers aren't constantly being bombarded by Game Ready point updates that primarily affect software they aren't using.
At the same time however NVIDIA is also being straightforward about this driver change being part of a broader effort to promote GeForce Experience from a utility to a critical part of the GeForce ecosystem and to make it a software backend of sorts to their GPUs. The change in driver distribution will be accompanied by a yet to be fully detailed registration system where NVIDIA will be asking users to register their email addresses with GeForce Experience. NVIDIA has already been toying with this concept this year by using GeForce Experience to distribute game codes, so while it's not fully clear what NVIDIA intends to do with a registered user base this is clearly the latest step as part of building their ecosystem.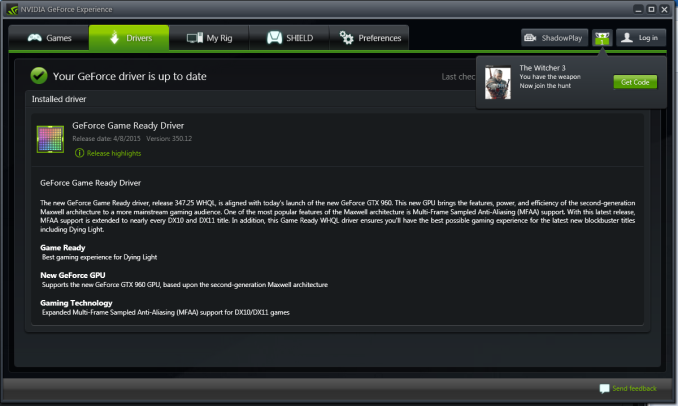 More broadly speaking, NVIDIA has been pushing the larger GeForce ecosystem concept for even longer than GeForce Experience has been around – through G-Sync, PhysX, 3D Vision, and other technologies – and the company has made it clear for years that they see their continued success as coming from not just offering gamers solid hardware, but offering a wholly integrated experience. Given that PC gaming is otherwise one of the few bright spots in a tough market for PCs – year-over-year worldwide sales were down 7.7% for Q3 – it makes a great deal of sense for NVIDIA to want to further bolster their hand in the PC gaming market.
I am however curious to hear more details in the coming months about how the registration mechanism and revised driver distribution system works in GeForce Experience, what else NVIDIA will be doing with their growing ecosystem, and what GeForce owners think of this. Web based driver updates are older than the formal concept of the GPU, so NVIDIA's plans mark a significant change in how drivers are at least preferably distributed. Though to NVIDIA's credit they have clearly thought this through – even downgrading has been considered and NVIDIA will be building in a downgrade mechanism into the GeForce Experience driver update module. And ultimately with NVIDIA's 90% distribution figure, it would appear that web downloads were already a quickly dying trend anyhow.
Wrapping things up, NVIDIA tells us these latest and upcoming improvements to GeForce Experience will be followed by further improvements for GeForce Experience in 2016. NVIDIA has stated that they have an "interesting roadmap" for the utility for the next year, one that will no doubt further flesh out this software ecosystem that the company is quickly assembling.