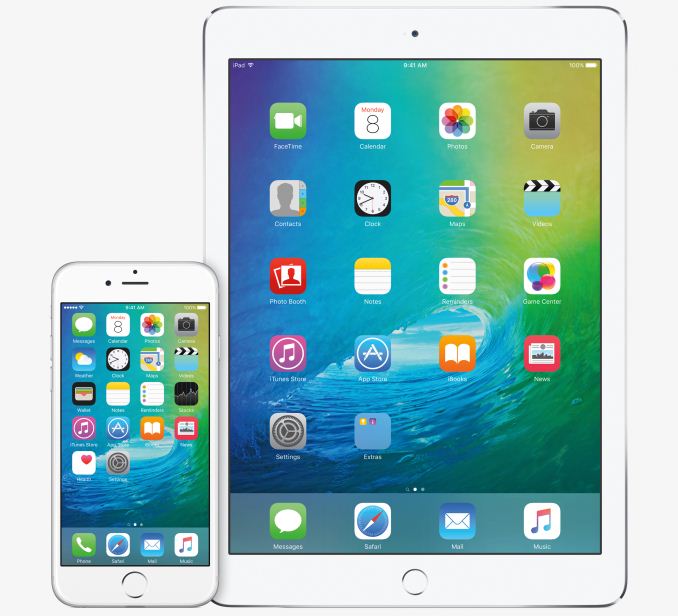 Today Apple has made a number of announcements relating to their three major operating systems. We've seen the announcement of WatchOS 2 for the Apple Watch, OS X El Capitan for Macs, and finally, iOS 9 for Apple's iPhones, iPods and iPads. With the ninth major iteration of their mobile operating system, Apple is bringing some long overdue improvements to features like Siri and Spotlight, improving performance on all devices, and revamping the experience for users on the iPad.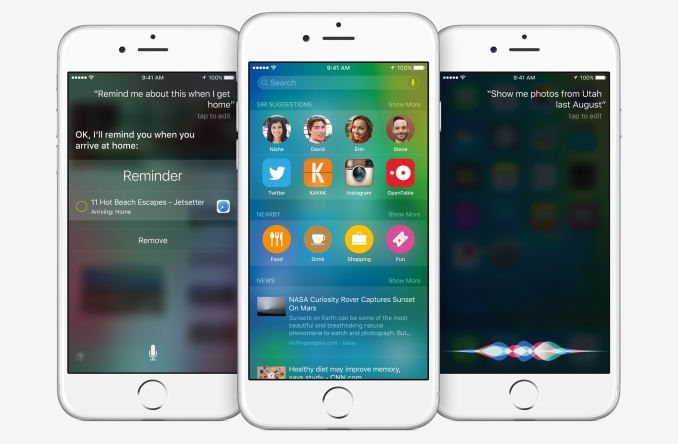 The first big change in iOS 9 that Apple introduced is a completely revamped Spotlight Search. This new screen was actually referred to as part of Siri during the keynote, and so it appears that the name Spotlight is now a thing of the past. Interesting enough, this new search screen is accessible by swiping to the right on your first home screen, which is how Spotlight was accessed up until iOS 7.
The big improvement with the new search feature is how much smarter it is than Spotlight Search was. This mirrors the improvements made to Spotlight in OS X El Capitan, with users being able to make text searches for information that they could access via voice using Siri. As you can see above, information about sports scores and weather can be accessed by typing a single search term. These results appear on the same sort of cards that you see in Siri.
In addition to search, this new screen can display relevant information based on external factors such as your location and the time of day, in the same way that Google Now does. For example, it can show nearby restaurants and stores, and can suggest applications to launch or people to contact based on your daily routine.
These improvements to search are definitely necessary to keep pace with Google. Many of the features mirror those that are available in Google Now, and even the interface of cards with information is very similar. However, Apple is quick to point out that they don't collect any identifiable information about the user when they use these new search features, and your search terms are never linked to your or your Apple ID.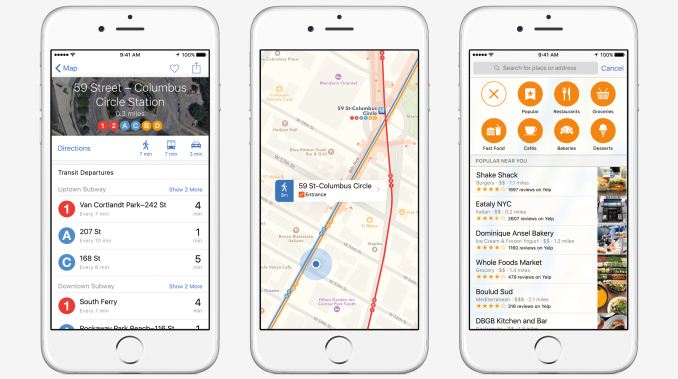 iOS 9 also brings significant improvements to Apple Maps. One of the most desired additions is maps and directions for transit. You will now be able to see maps of transit routes and get directions using public transportation in major cities. Transit will be enabled on a city-by-city basis, starting with some of the world's major cities, but apple also made note that there will be support for over 300 cities in China, which is another step in their efforts to expand in the Chinese market.
Apple Maps in iOS 9 can also show you information about popular nearby stores. You can search by category, and can view detailed information about businesses such as their hours, their phone number, and whether or not they support Apple Pay.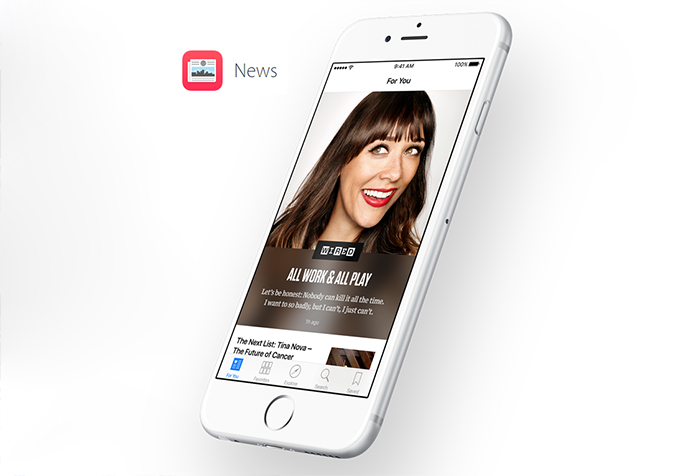 Newsstand has always been an annoyance on iOS. It never really took off, and after many years of users trying to hide it in folders or remove it entirely Apple is trying something new. The new News application in iOS 9 will bring a customizable news experience to users in the United States, United Kingdom, and Australia. The app looks very similar to Flipboard, but with a heavy focus on typography, animations, and images. It also doesn't appear that you'll be able to add any RSS feeds you want to the app, as publishers need to sign up for the program. That said, RSS is currently supported, and though publications wanting the bset look will want to craft articles using Apple's forthcoming news format, they can bridge the gap for the moment using RSS feeds.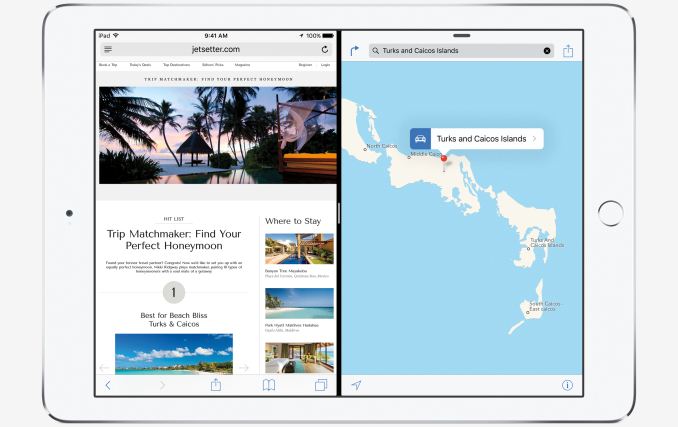 While Apple has made some nice improvements to iOS that will work across all devices, they've made some drastic improvements to the experience on the iPad. These upgrades are part of the new multitasking features in iOS 9. There's a new Split View mode, which you can see above. This mode allows you to use two applications side by side, with both of them functioning as they normally would. When you're using one app, you can still do touch input on the other. This feature will only be available on the iPad Air 2, most certainly due to its 2GB of RAM. Legacy applications will not be able to take advantage of the feature,as it requires the use of Apple's existing flexible UI APIs, along with some new APIs just for Split View..
In addition the Split View, Apple has a new Slide Over feature that allows you to temporarily slide one application overtop of another from the side. For example, you can slide the Messages application in from the right side while you're using Safari, respond to a message, and then slide away Messages to continue working in Safari. Apple also has a picture-in-picture mode where you can have videos playing in a window within another app. It can be resized and moved around, much like the video window feature in Google's Youtube app. These features will be available on all iPads with Apple's A7 and A8X chips.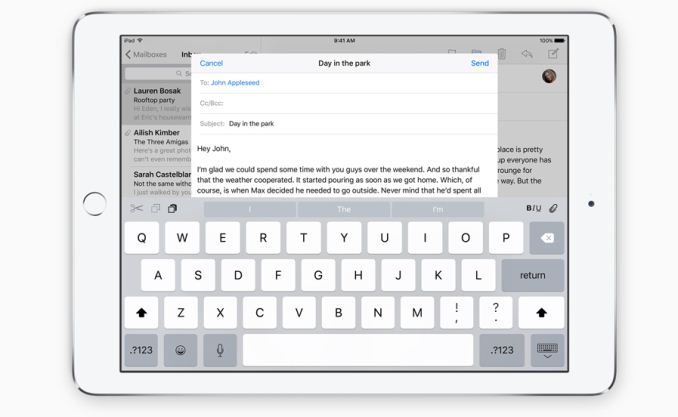 Along with the new multitasking features, the iPad keyboard receives some significant improvements in iOS 9 as well. Quick shortcuts have been added on the left and right sides in the suggestion bar, and you can now move across the keyboard with two fingers to use it as a trackpad. This allows you to move the cursor to select text without having to take your fingers off the virtual keyboard.
On top of the new features and improvements to existing features in iOS 9, there are also significant improvements to performance. Many of the iOS graphics APIs, including Core Animation and Core Graphics, are now using Metal instead of OpenGL ES on the iOS devices that support Metal. According to Apple this reduces CPU usage, and will improve the overall smoothness of the UI. Apple has also made improvements to power usage, and they claim that iPhone users will see battery life improve by up to an hour of usage. There's also a low power mode which disables all but the core functions of the device, much like the one introduced with Android Lollipop.
Meanwhie the amount of temporary free space required for OTA updates has been reduced. By changing their update mechanism to allow what Apple calls "streaming" - effectively an in-place patching - Apple has been able to do away with requiring OTA updates to download and unpack whole updates at once. As a result the free space requirement for the iPad Air has been brought down from 4.58GB to 1.3GB. The size of OTA updates has been an issue for Apple, especially as they continue to sell 16GB devices that have even less free space after accounting for what the installed OS occupies.
iOS 9 also has a couple security improvements. Apple is now defaulting to a 6 character passcode, up from the 4 number requirement that currently exists (though falling back to 4 is an option). As Apple has been trying to drive everyone to TouchID anyhow, Apple believes this won't be a big deal for most of their users since TouchID is still the preferred way of unlocking an iOS device. As for the benefits of longer codes, moving to 6 digits will improve security against passcode brute force attacks. Meanwhile Apple has also built in support for their 2-factor authentication for Apple ID logins.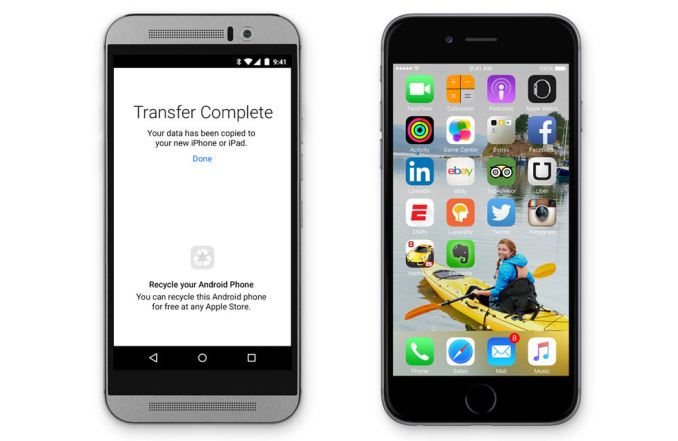 The last feature of iOS 9 is for users who are coming to the iOS platform from Android. It's a new app called Move to iOS, and it allows users to wireless transfer their data from an Android device to their iPhone. According to Apple, the app is able to move your contacts, message history, camera photos and videos, web bookmarks, mail accounts, calendars, wallpaper, and DRM-free songs and books. It will also recommend any free apps that you had installed on your Android phone so you can easily rebuild your app library.
While iOS 9 doesn't seem as exciting on the surface as iOS 8, there's a number of changes under the hood that are sure to benefit users. iPad users definitely have a lot of improvements heading their way, although it's going to be disappointing for iPad Air and iPad Mini 2/3 users that they're unable to use the new multitasking features.
iOS 9 will be launching alongside OS X El Capitan and WatchOS 2 in the fall of this year. Unlike previous releases where certain devices get dropped from support, iOS 9 supports every device that iOS 8 supported, which includes the Apple A5 based iPad 2 from 2011. A developer beta of iOS 9 is available now, and for the first time ever, Apple will be hosting a public beta which will begin in July.