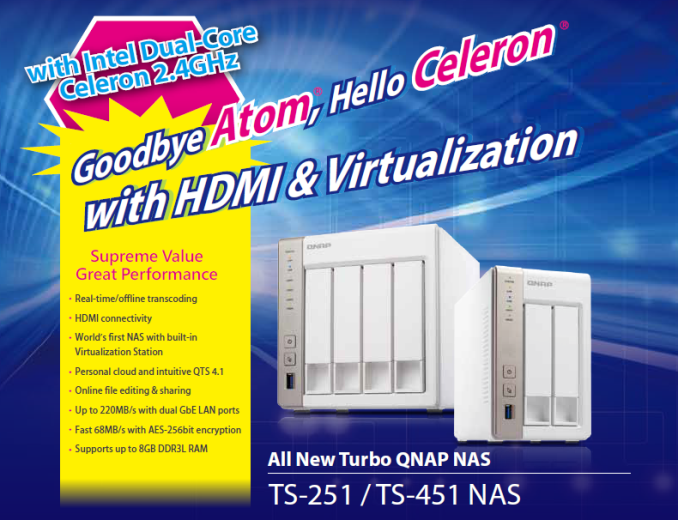 Introduction
At Computex 2014, we visited QNAP and came away with a lot of information (some of which we had already seen at CES). After Computex, QNAP got in touch with me to better explain the various features of the newly introduced TS-x51 series (which was not at CES). And, boy, was I floored?! Usually, you don't see me getting very excited over product announcements. They usually get a small write-up with analysis in our pipeline section. However, I believe that QNAP's TS-x51 family has the capability to revolutionize the NAS market for home users and media enthusiasts, particularly in the way it utilizes Intel Quick Sync technology. It also gives us an opportunity to understand the state of the market and where it is headed.
The consumer / SOHO / SMB NAS market (which, in our definition, is comprised of units costing less than $5K) has two major platform vendors. In the cost-sensitive low power / performance segment, we have Marvell, with its ARM-based SoCs. Units requiring higher processing power (where cost is not a primary factor) have typically utilized Intel's x86 platforms. Over the last year or so, the delineation has been blurring quite a bit. Marvell's ARMADA 370 is no slouch when it comes to CPU performance, and it integrates a healthy number of PCIe and SATA lanes. On the other hand, Intel realized that its Bonnell-based D525 and D27xx-based solutions for the NAS market (which required an additional PCH) were not particularly power or cost efficient. While announcing its Silvermont architecture last year, Intel mentioned that the Bonnell follow-up would be part of multiple SoCs for microservers (Avoton) as well as other infrastructure equipment (Rangeley). It was widely expected that NAS vendors would move to Silvermont soon for their x86-based units. We were expecting some announcements at CES, but there was really nothing new.
QNAP's TS-x51 series has been introduced into the market just as it is on the verge of a major change. The details of the various members of the TS-x51 series are provided below. The Celeron CPU mentioned in the first row happens to be the J1800.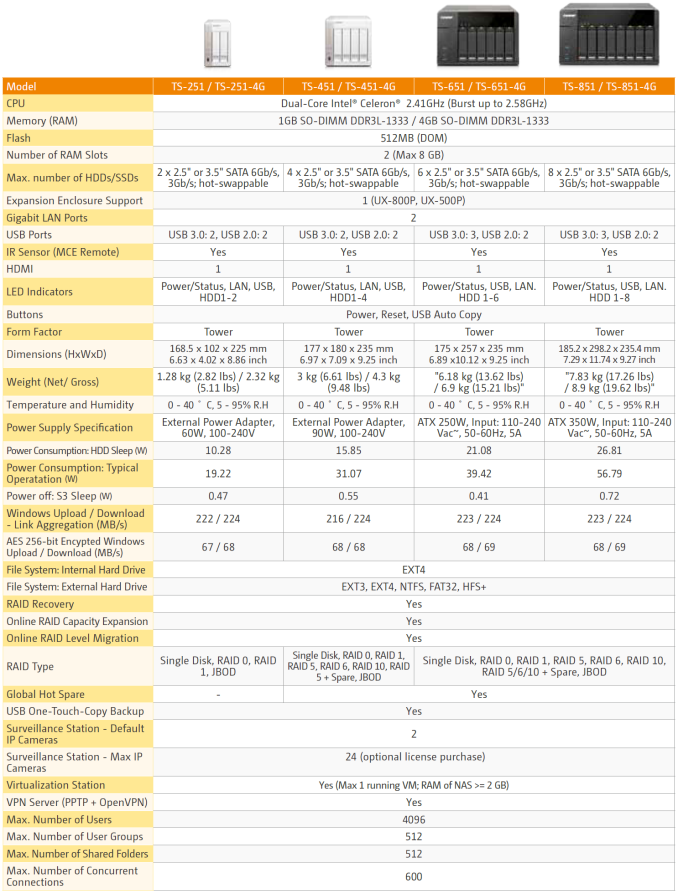 Before analyzing the product line and its features, let us take a short detour to understand Intel's play in this market.