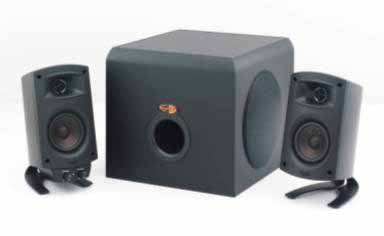 Since October of 1999, Klipsch speakers have sat on desktops, pumping out powerful, clear sound from their fourpoint gaming system, the v.2-400. With 400W of power, the system was of a magnitude unheard of in the PC audio arena. It was definitely a step forward in the evolution of computer gaming speakers.
The large format system was great for many people, including both gamers and those implementing a computer based home theatre system. It was obvious now that a computer sound system could sound extremely good and have power, but there were many users for whom the 4 channel system was less than ideal. A two channel system had the potential to conquer a market much like the v.2-400 had-many of the same quality pitfalls stood in the way of the 2.1 market as the 4.1 market as both are based on unencoded audio streams, in which pure acoustics is king.
Like the v.2-400, the ProMedia 2.1 system also carries THX Multimedia certification that was introduced with the original Klipsch system. The certification is an effort to bring some standard quality requirements to multimedia audio environment, building on the influence that such standards have had in theatres. Though there is a marketing factor involved in utilizing the THX certification, there is testing and standards in place to back it up. More can be learned from the THX website, www.thx.com.
The "next step" premiered last October with the introduction of the ProMedia 2.1 system. The design was based on user feedback-even the format comes from those that obviously wanted quality to be brought down to the 2.1 market. Quick features that reflect the most common feedback following the v.2-400 are the inclusion of a headphone jack on the control module for private listening, and an additional stereo minijack input is offered for connecting portable devices while at the desktop.
The system consists of two satellites utilizing a two way design, with Klipsch MicroTractrix horns accompanied by a 3" midrange driver. In addition, each satellite includes its own desktop stand. The sub unit, tucked away in a ported enclosure that also contains the 200W amplifier, contains a 6.5" driver. Here's how Klipsch describes their system:
Specifications:
FREQUENCY RESPONSE:

31Hz - 20kHz

MAXIMUM ACOUSTIC OUTPUT:

106dB SPL

NOMINAL IMPEDANCE:

4 ohms

ENCLOSURE TYPE:

Satellites—sealed, Subwoofer—bass reflex

AMPLIFIER:

BASH Digital linear hybrid amplifier; discrete MOSFET output power section

INPUTS:

MP3 two-channel soundcard

miniplug

OUTPUTS:

Headphone

DRIVE COMPONENTS:

Satellite: Two-way system using 0.75" (1.9cm) polymer dome tweeter with a

MicroTractrix

® Horn and one 3" long-throw

midBass

driver. Subwoofer: Side-firing 6.5" (16.51cm) long-throw driver

TWEETER:

0.75" Poly compression driver

HIGH FREQUENCY HORN:

90° x 40°

MicroTractrix

® Horn

HIGH FREQUENCY CROSSOVER:

5kHz

WOOFER:

3" Fiber-composite cone

SUBWOOFER:

One 6.5" (16.51cm) fiber composite cone

SUBWOOFER AMPLIFIER:

130 watts

DIMENSIONS:

Satellite: 8.5" (21.59cm) x 4.2" (10.67cm) x 5.67" (14.4cm) Subwoofer: 9.5" (24.13cm) x 9.8" (24.9cm) x 10.2" (25.9cm)

WEIGHT:

Satellite: 2.1 lbs. (0.95kg) Subwoofer: 16 lbs. (7.26kg)

ENCLOSURE MATERIAL:

Satellites: ABS Subwoofer: Medium density fiberboard construction (MDF)

FINISHES:

Black

ACCESSORIES:

RB-1 Stand, WB-1 Bracket (each sold separately)

VOLTAGE:

110/120 VAC

EXPORT VOLTAGE:

230 VAC

YEARS BUILT:

2000 -