Introducing the Rosewill Ranger
When you start dipping well below an MSRP of $99 for an enclosure, you'll see manufacturers having to make compromises in the design and build quality in order to keep the price down. That's not unusual, and it gives the opportunity for smart engineering to come to the forefront in a bid to maximize value at minimal expense. We've seen a lot of exciting cases at $99 and in that neighborhood, but Rosewill's Ranger can be had for just $69.99, putting it in direct competition with crowd favorites like Bitfenix's Shinobi. Rosewill offered superior value with their full-sized Thor v2; can they repeat that success at half the cost?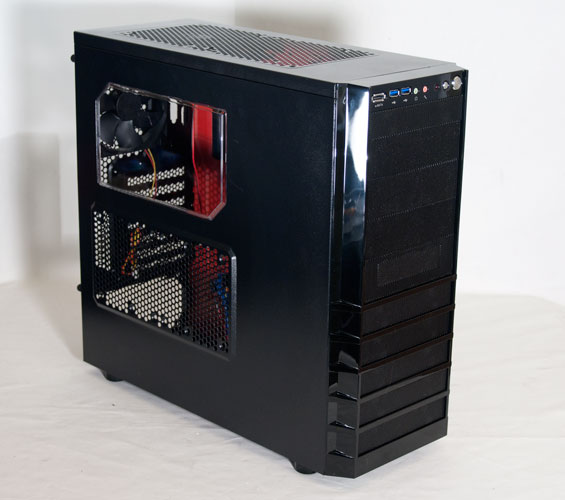 We've seen a lot of decent contenders for budget cases lately, but things start to get really tight once you hit the Ranger's price tag, as you start to lose a lot of the amenities from more expensive enclosures. A good, inexpensive enclosure is a fine deal for an enthusiast at home, but boutiques would also do well to see what's available down here. I've griped about boutiques using mediocre cases for otherwise powerful builds in my desktop reviews, but there's a key difference between inexpensive and cheap. It's fine to save money on the case if the case itself is a good deal for the price, and that's what we're going to try and determine with the Rosewill Ranger today.
Rosewill Ranger Specifications
Motherboard Form Factor
Micro-ATX, ATX
Drive Bays
External
3x 5.25", 1x3.5"
Internal
4x 3.5" (2x 2.5" with included adaptor tray)
Cooling
Front
1x 120mm intake fan
Rear
1x 120mm exhaust fan
Top
1x 140mm exhaust fan (supports 2x 120/140mm fans)
Side
2x 120mm fan mount
Bottom
1x 120mm fan mount
Expansion Slots
7
Front I/O Port
eSATA, 2x USB 3.0, mic and headphone jacks
Top I/O Port
-
Power Supply Size
ATX
Clearance
10.5" (Expansion Cards), 170mm (CPU HSF), 200mm (PSU)
Weight
9.36 lbs.
Dimensions
7.88" x 18.23" x 18.98"
Price
$69
Rosewill seems to be offering a decent amount of expandability for the price, but there are some odd tradeoffs here. While most users (especially users buying a case in this price range) aren't going to need more than four hard drive bays, the four external 5.25" bays are even less likely to see use. A smarter plan might have been to kill one of the 5.25" bays to add one more 3.5" bay, which would feel at least a little more balanced.
You'll also notice this is a pretty small enclosure, and while it's not quite the devil to assemble that the Lian Li PC-A05FN was, you'll see it's not particularly easy to work in either.