Introducing the Fractal Design Define R3
One of the perks of this job is getting to see some up-and-comers get championed by our readership and then turn around and find out what the fuss is all about. Such is the "case" (pun wholly intended) with Fractal Design's Define R3 enclosure. This is a case that has shown up fairly regularly in comments practically since we started doing these reviews again at the beginning of the year, and now we finally have the Define R3 in house for testing. It carries the weight of the community behind it and to its credit, it's certainly an interesting piece of kit at first glance. Does it live up to the word of mouth?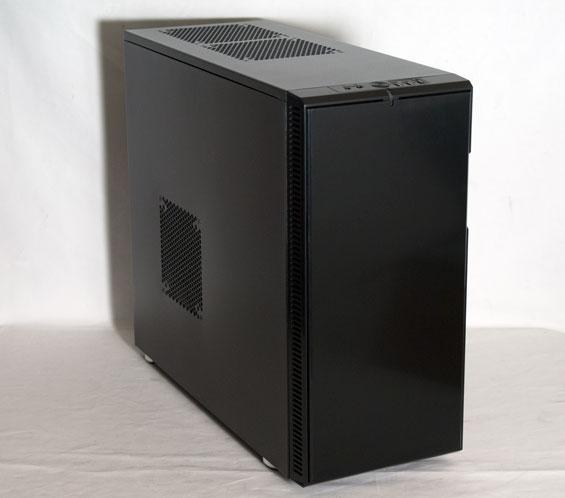 Something that's been bugging me since I started doing these reviews is a stunning lack of enclosures that are engineered with silent running in mind. Very few seem to make provisions towards keeping noise in check, and as a result the competition in that arena can be slim. Yet what Fractal Design has done with the Define R3 suggests that the end user need not choose to build a silent machine or a cooling optimized one. Not just that, but they've driven south the price of acoustically optimized cases into a realm previously only really occupied by NZXT's H2.
Keep in mind that this is a $99-$109 case, though. In my experience there's been an unofficial rule in the enclosure industry: south of $200 you can get silence or great cooling, but not both. For that, you'll need to spend up on something like the SilverStone FT02 or Thermaltake Level 10 GT. The question then is whether the Define R3 can challenge that notion.
Fractal Design Define R3 Specifications
Motherboard Form Factor
ATX, Micro ATX, Mini ITX
Drive Bays
External
2x 5.25" (one 5.25" to 3.5" converter panel included)
Internal
8x 3.5"/2.5"
Cooling
Front
1x 120mm intake fan, 1x 120mm fan mount
Rear
1x 120mm exhaust fan
Top
2x 120/140mm fan mounts
Side
1x 120/140mm fan mount
Bottom
1x 120/140mm fan mount
Expansion Slots
7
Front I/O Port
-
Top I/O Port
Mic and headphone jacks, 2x USB 2.0, eSATA
Power Supply Size
ATX
Clearance
11.5" (Expansion Cards), 170mm (CPU HSF), 180mm (PSU)
Weight
27.56 lbs. (12.5 kg)
Dimensions
20.85" x 8.17" x 17.4" (529.5mm x 207.5mm x 442mm)
Price
$109
The Fractal Design R3 may come with a bunch of fan mounts, but it also includes acoustic pads that are mounted inside the case to cover up the unused mounts. As a result, any turbulence inside the case is kept inside the case; use the fan mounts you want without worrying that the ones you don't want are going to be letting noise leak out. While there are plenty of fan mounts, the Define R3 comes equipped with two 120mm fans.