Vostro V131: Let's See the Benchmarks
Most of what we have to benchmark is part of a well-trodden path. Basically, we're having yet another go at a midrange dual-core i5 with a hard drive. The Intel i5-2410M has been a very popular SKU among OEMs, and while the new i5-2430M is set to replace it the outgoing model is only 100MHz slower—less than a 4% difference in most cases. We've got the i5-2430M in the recently reviewed XPS 14z, so you can see how the two CPUs compare. Also note how the i5-2520M in the K53E compares, with an 8% higher base clock, 10% higher maximum Turbo Boost, and an 8% faster GPU clock.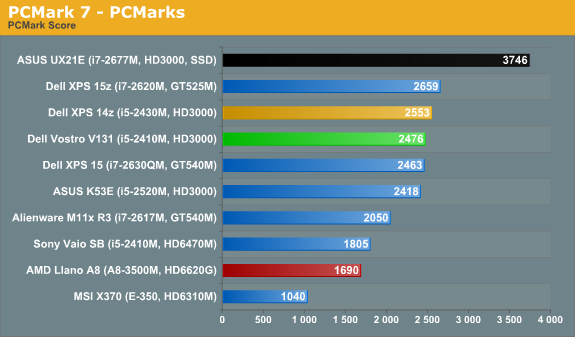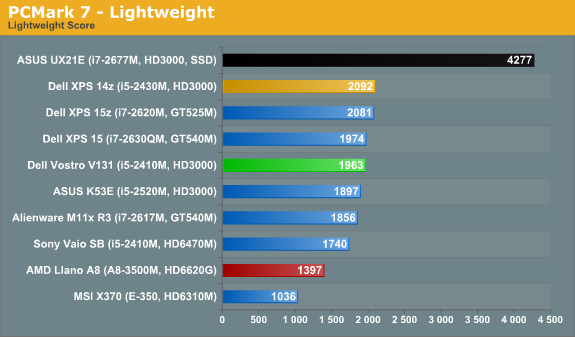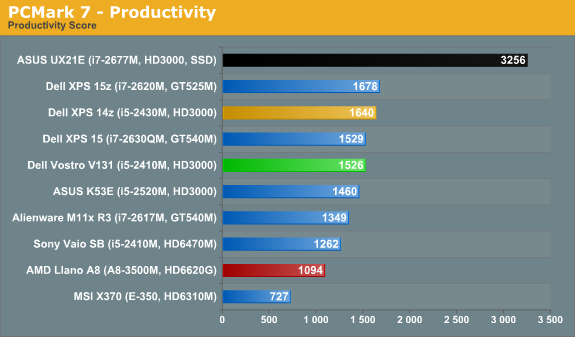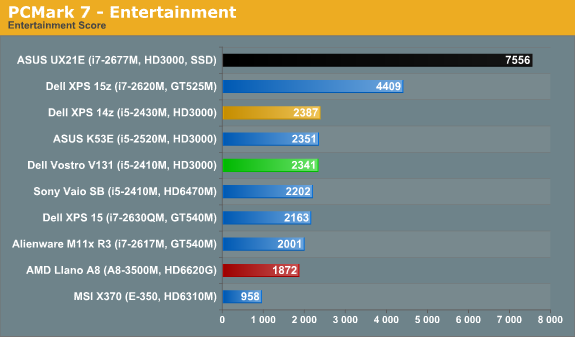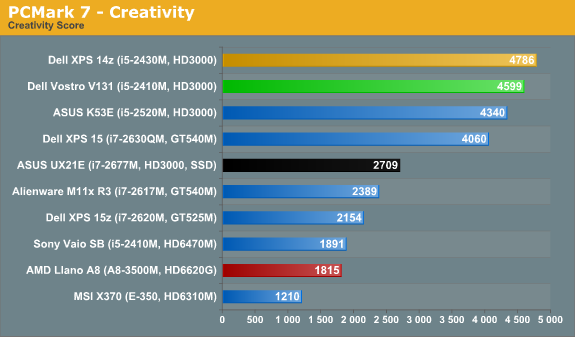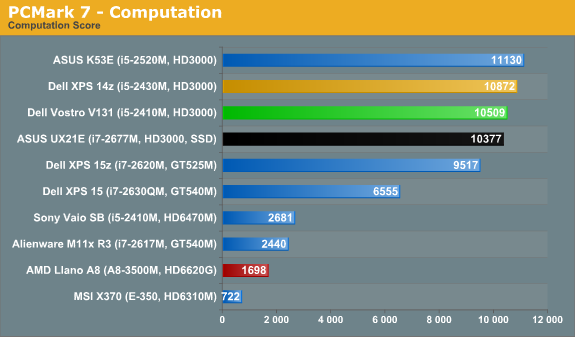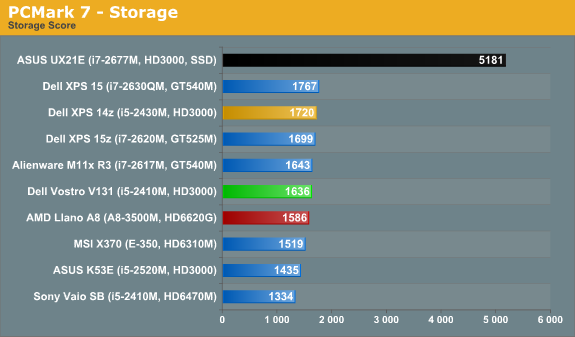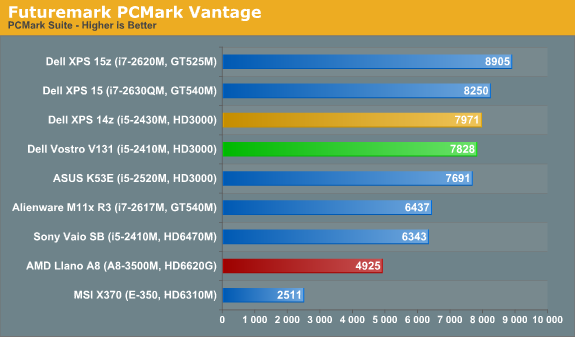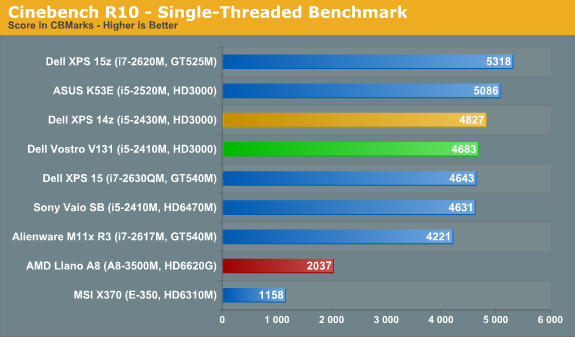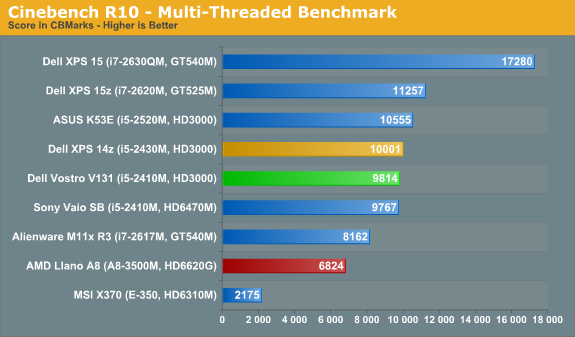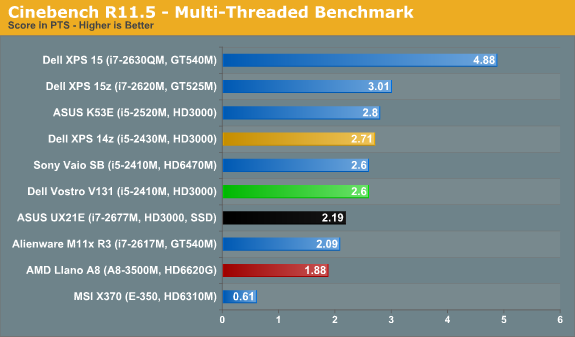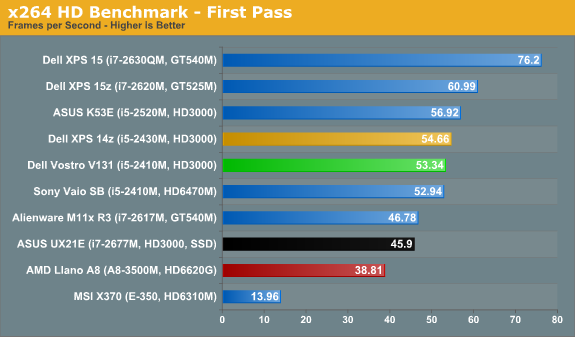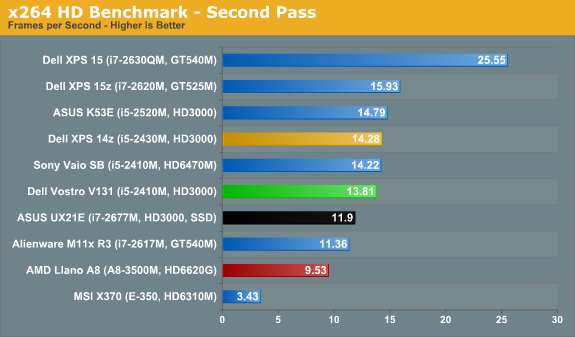 As expected, the 8-10% theoretical performance difference between the i5-2410M and the i5-2430M and i5-2520M basically gets lost in the noise with PCMark 7 when we measure actual performance. A far bigger differentiator is the presence (or lack) of an SSD, as well as the specific brand of hard drive. The ASUS K53E has a somewhat slower 5400RPM drive, while the only laptop in these charts with an SSD is the ASUS UX21E; the SSD enables the ultrabook to run away with the PCMark 7 results.
Outside of PCMark, the results fall pretty much where you'd expect based on clock speeds. All of the dual-core Sandy Bridge mobile processors are plenty fast for most tasks; it's only in computationally intensive scenarios like video transcoding, 3D rendering, or complex scientific modeling that the dual-core parts start to struggle. If you need to do any of the tasks we just listed, a quad-core processor will definitely pay dividends.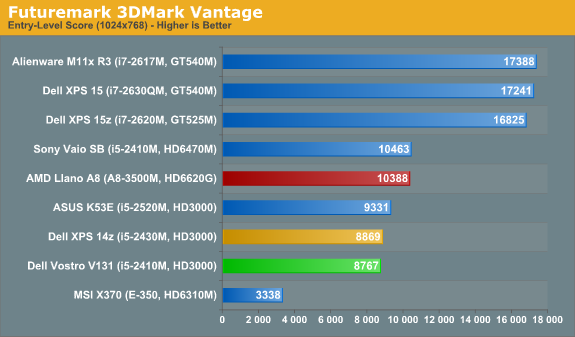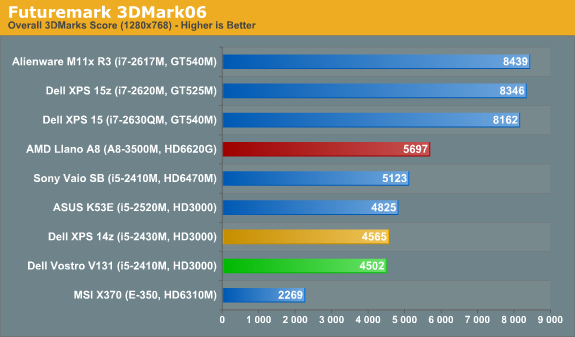 This isn't a gaming laptop—by any stretch of the imagination—and we've already looked at Intel's HD 3000 performance several times. The i5-2410M has the HD 3000 clocked a bit lower than the i5-2520M or i7 quad-core models, but if the 10% performance increase offered by the higher clocks on the quad-core chips is the difference between "too slow" and "good enough", I've got some beachfront property I'm willing to sell cheap. If you want graphics performance for gaming, grab something with a GT 525M or above (or HD 6630M or above) and you should be set. We won't bother with any gaming tests, as 3DMark already tells us enough: this is the same HD 3000, and it will be sufficient for running some titles at 1366x768 and low detail, but anything more and you'll want a discrete GPU (or Llano). But then, most businesses aren't worried about their employees playing games on their laptops, are they?