Introducing the Lian Li PC-V353
We've been wanting to get Lian Li enclosures in house for review for a while now, and we're pleased to report we finally have a contender on hand (with more on the way!) in the form of the PC-V353. Lian Li touts this case as having been designed to cool through use of extensive ventilation instead of fans, but surprisingly they don't advertise what may be one of its more interesting aspects: the enclosure is comprised almost entirely of aluminum and is likely to feel surprisingly light. Can an aluminum, well-ventilated enclosure take the place of steel and fans?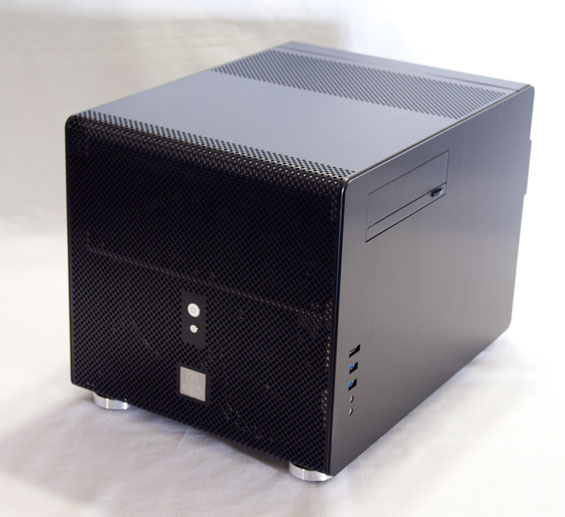 We're trying to get more Micro-ATX/Mini-ITX enclosures in for review, so when the Lian Li rep contacted me about reviewing their products and asked me what I was looking for, I had a pretty specific answer in mind: something silent and/or something small. (Well, I had a third answer, too: "...or pretty much anything; I've been dying to get some Lian Li kit in.") Her answer came in the form of the PC-V353: a Micro-ATX enclosure designed to minimize the amount of fan noise by simply not having fans, instead relying on a lot of ventilation to get the job done.
Lian Li PC-V353 Specifications
Motherboard Form Factor
Micro ATX, Mini ITX
Drive Bays
External
1x 5.25"
Internal
2x 3.5" and 2x 2.5"
Cooling
Front
4x 120mm fan mounts
Rear
1x 80mm fan mount
Top
-
Side
-
Bottom
-
Expansion Slots
4
Side I/O Port
eSATA, 2x USB 3.0, mic and headphone jacks
Top I/O Port
-
Power Supply Size
ATX
Clearance
11.5" (Expansion Cards), 100mm (CPU HSF), 200mm (PSU)
Weight
9.1 lbs. (4.13 kg)
Dimensions
11.26" x 11.34" x 15.63" (286mm x 288mm x 397mm)
Price
$169
Like many smaller cases, the PC-V353 is going to be fairly limited in the types of peripherals it can hold. While some are more bizarrely spacious than others (SilverStone's Temjin TJ08-E comes to mind) these are generally cases that require some compromise; a tower-style cooler seems like a bad idea in general for the PC-V353, especially when you note that the area above the I/O cluster is one of the few places Lian Li didn't ventilate the chassis. Let's take a closer look and see how this small box performs.