Battery Life & Performance
The Eee Pad has an integrated 24.4Wh battery as well as an optional external 24.4Wh battery courtesy of the Transformer dock. The tablet by itself has battery life similar to that of the Motorola Xoom, and shorter than the iPad 2. With the dock however we measured a 64% increase in battery life in our general use test. With over 15.5 hours of battery life on a single charge, a docked Eee Pad is pretty impressive.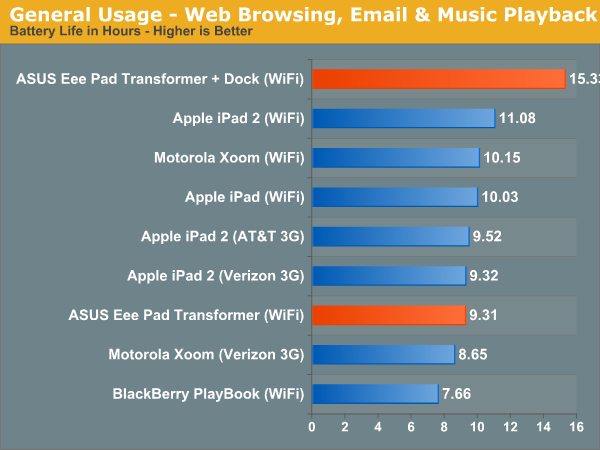 ASUS tells us we aren't seeing a near doubling of battery life with the dock in use because of inefficiencies in the current firmware—something that could improve with the May firmware update.
Video playback battery life is identical to the Xoom. Remember NVIDIA's Tegra 2 doesn't completely accelerate the H.264 decode pipeline, so there's some software offloading that unfortunately keeps the Cortex A9s awake during our video decode test. As a result the Eee Pad and Xoom post lower-than-iPad results here.
With a 1GHz Tegra 2 under the hood, the Eee Pad performs just like a Xoom: