Metro 2033
The next game on our list is 4A Games' tunnel shooter, Metro 2033. Under Metro is quite a resource intensive game under DX11, however under DX9 without so many shader effects it becomes more reasonable.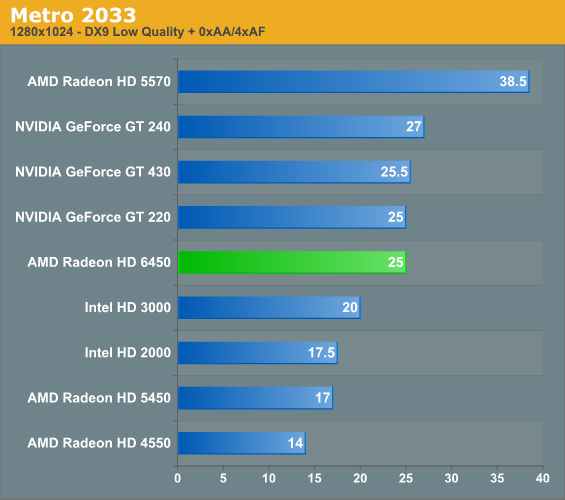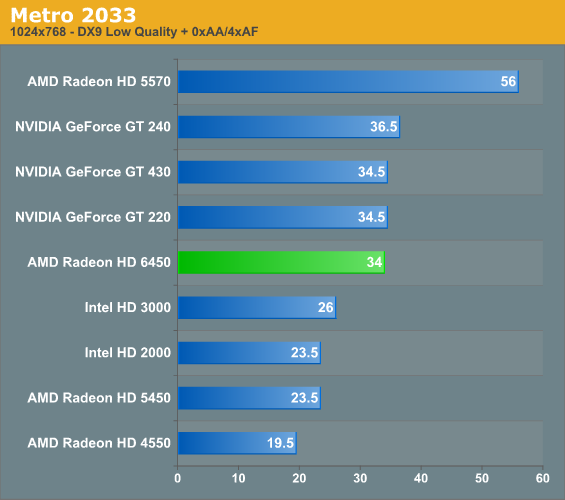 At 1280 even on these bare minimum settings it's not playable with the 6450; it takes 1024 to achieve that. The fact that it's so shader intensive bodes well for the 6450 compared to the 5450 as the 6450 realizes a great deal of its theoretical gains; however, this also means the 5570 is well ahead by being well into smooth frame rates.
Meanwhile compared to competing companies' GPUs, the 6450 does well here, tying the GT 430 in both resolutions; this isn't a trend that will last however. As for the Intel HD series it isn't completely crushed, but at the end of the day the difference is that the 6450 is going to be playable when even the HD 3000 is not.