The Display: Multiple Vendors, Nearly Identical to iPad 1
Apple built the iPad 2 with a similar 9.7-inch 1024 x 768 IPS panel as the original iPad. Side by side the two panels appear to have similar qualities in terms of brightness, black level and contrast ratio. Once we started measuring however we noticed a trend: there appear to be multiple panel vendors in play here.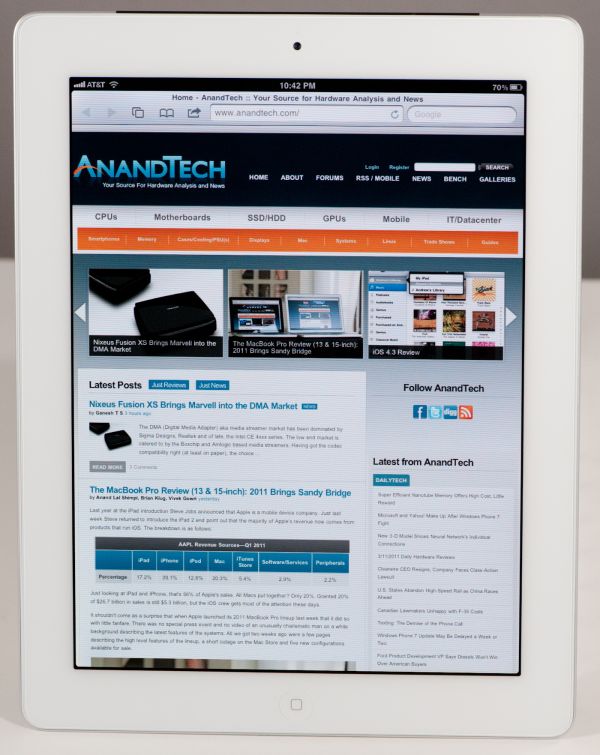 Between Brian, Vivek, Manveer and myself we have four iPad 2s. Brian and I have two 3G models (AT&T and Verizon), while Vivek and Manveer have two WiFi models. All four are white and all four have 16GB of NAND. The results from our baseline display testing are below:
Display Quality Comparison
White Level
Black Level
Contrast Ratio
Apple iPad 2 #1 (AT&T 3G)
406 nits
0.42 nits
966:1
Apple iPad 2 #2 (VZW 3G)
409 nits
0.49 nits
842:1
Apple iPad 2 #3 (WiFi)
352 nits
0.45 nits
778:1
Apple iPad 2 #4 (WiFi)
354 nits
0.41 nits
859:1
There seem to be two different values for white level: either around 400 nits or 350 nits. Black level is pretty variable between 0.41 nits and 0.49 nits, there doesn't seem to be a correlation between white and black levels in our admittedly limited sample size. For our display graphs we simply averaged all four together: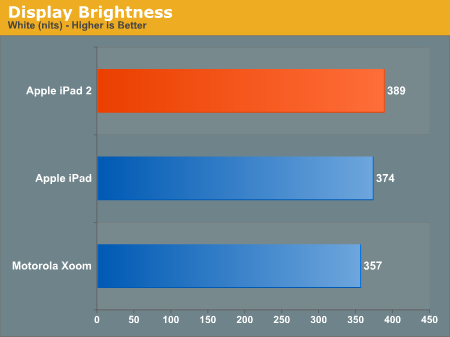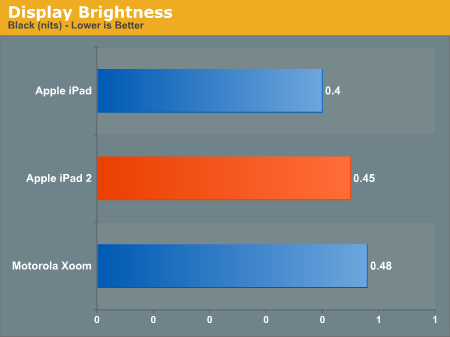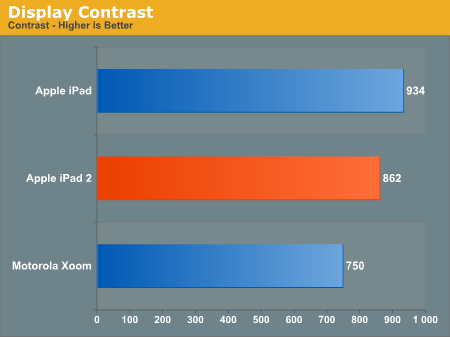 On average the iPad 2 seems to be marginally brighter with a bit worse black levels than the original iPad, resulting in a lower contrast ratio. The display is pretty close to what was in the original iPad and very tough to tell apart. There's still a visible advantage in contrast ratio over the Motorola Xoom.