WiFi + AT&T 3G
The iPad 2 uses what boils down to same exact same 802.11a/b/g/n WiFi + Bluetooth 2.1 EDR solution as its predecessor, the BCM4329. The iPad 2 maintains full 5 GHz (802.11a/n) support, just like the previous iPad, and also negotiates a transmit rate of 65 megabits/s just like nearly all single stream 802.11n mobile devices we've seen thus far. Close to the AP and within good coverage radius, the experience is exactly the same as its predecessor. Best case throughput is virtually identical between the two generations.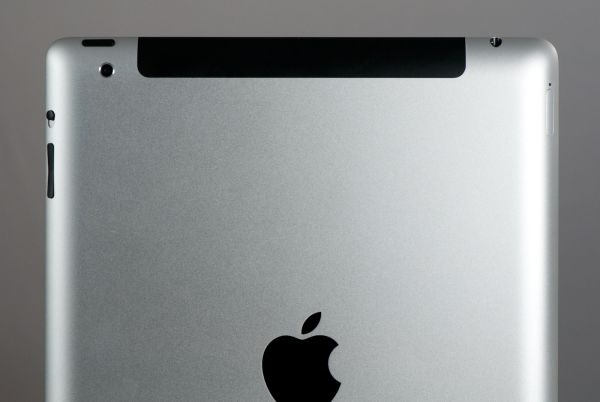 The black plastic strip at the top still is an RF window for cellular connectivity. The strip is black even if your iPad is white, which is a bit puzzling.
That said, thus far we've noticed that wireless range on the iPad 2 is measurably less than the iPad 1. It's not a terribly huge difference, but definitely noticeable as you drop one or two bars of WiFi signal strength. Throughput goes way down compared to the previous generation. We're still testing everything, but it's just not quite as good. No doubt the iPad 2 has a completely different RF design than the original iPad which accounts for this difference.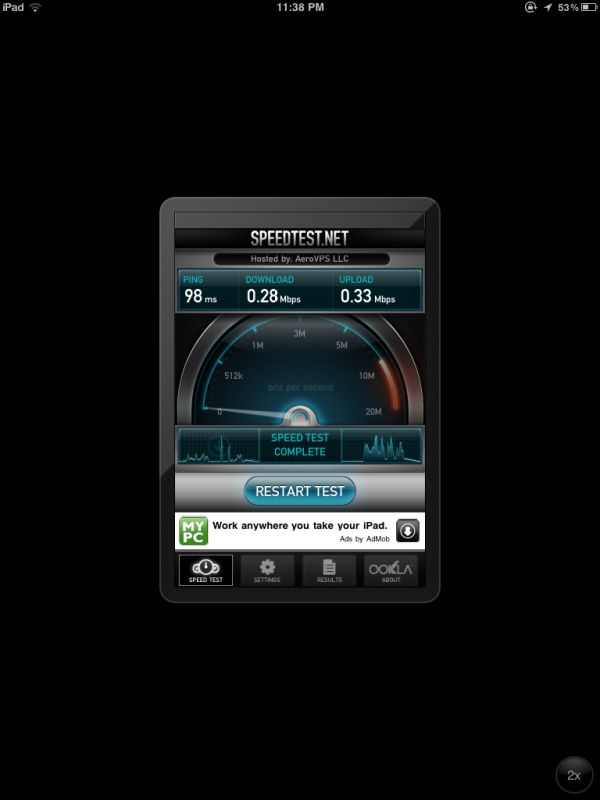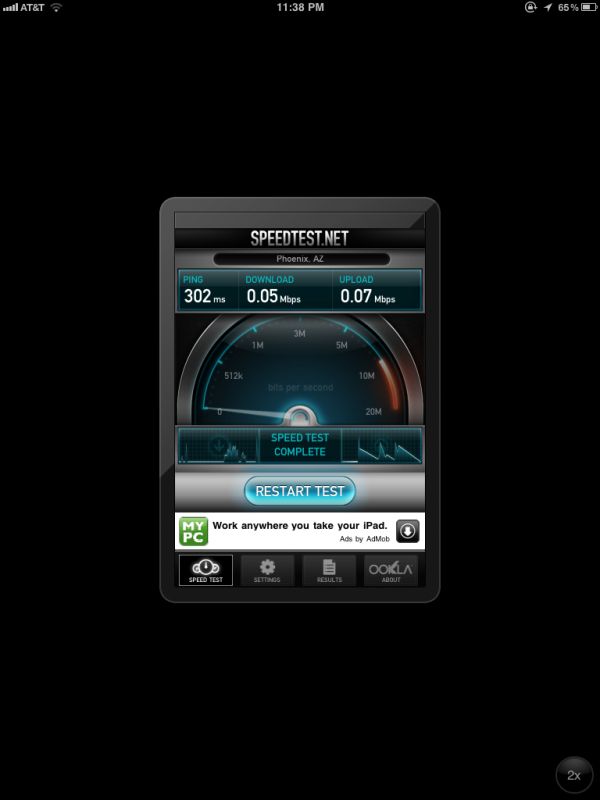 Left: iPad 1 across the street, Right: iPad 2 same location
We've got both an AT&T, Verizon, and WiFi model between the three of us (Anand, Vivek, and myself) and will do the usual due diligence testing cellular connectivity.
Following the rather controversial and inexplicable crippling of HSUPA on the Motorola Atrix and Inspire 4G, the first thing I did with the iPad 2 is run a speedtest. HSUPA is definitely enabled on this device and working just fine. Throughput is where it should be in the best and worst signal cases so far, topping out at around 6 Mbps down, 1.5 Mbps up at my house within line of sight to an AT&T Node B. Apparently AT&T is inexplicably only concerned with Android devices crippling the network with upstream traffic.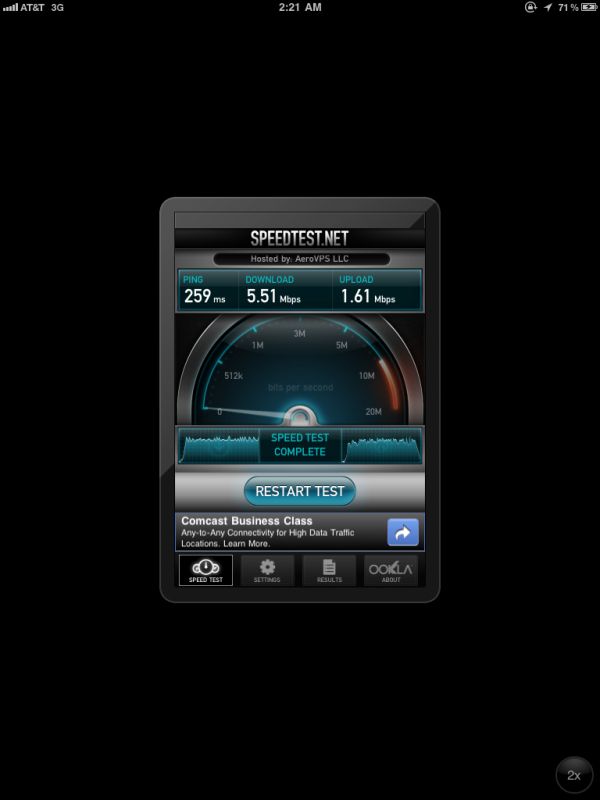 AT&T iPad 2 Cellular Data Throughput
Anand did some initial testing on the Verizon iPad 2 and averaged 1.54 Mbps down, 0.72 Mbps up in testing with good signal strength, which seems about average. Max speeds we've seen on Verizon so far are 1.64 Mbps down and 0.82 Mbps up.
iPad 2 - Network Support
Verizon Version - CDMA2000-1xEV-DO
800 / 1900 MHz
AT&T Version - Quad-Band UMTS + HSDPA/HSUPA
850 / 900 / 1900 / 2100 MHz
AT&T Version - Quad-Band GSM/EDGE
850 / 900 / 1800 / 1900 MHz
Baseband Hardware
Unknown - Possibly MDM6x00
Nobody has disassembled an iPad 2 with 3G connectivity from either Verizon or AT&T, but it seems likely that the two would both leverage a Qualcomm MDM6x00 baseband (where x is 6 for CDMA2000/EV-DO + UMTS/GSM support, 2 for only UMTS/GSM) considering its use in the Verizon iPhone 4.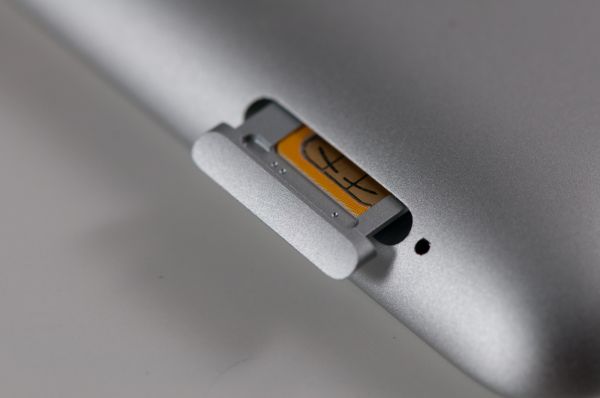 MicroSIM peeking out of the side on the AT&T version. Also yes, it does come with a SIM ejector tool.
Interestingly enough the AT&T model with FCC ID BCG1396 has UMTS/HSDPA/HSUPA support for quad-band UMTS and GSM. The Verizon FCC ID BCG1397 has reports for just cellular and PCS - 850 and 1900 again but CDMA nomenclature.