Hardware
The E5 comes packaged with the essentials; a micro-USB data cable (that's about 5 inches long!), a wired handsfree kit, the charger and the manuals. The E5 can be charged either using the charger or using the included micro-USB cable, which is nice given that some of their previous devices haven't come with this capability (the 5800 XpressMusic comes to mind).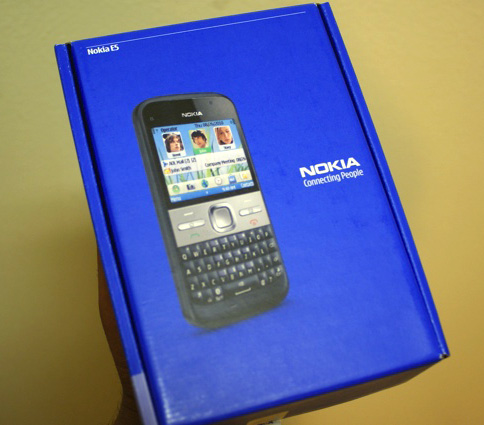 The build quality, in typical Nokia fashion, is rock solid. Weighing in at about 125 grams and a shade less than 13mm thick (12.8mm to be exact), the E5 feels reassuringly good in your hands. And this is an achievement considering the fact that the only metal elements used in the phone's exterior is the battery cover and a band housing the soft keys along with the Answer/End call keys, right above the keyboard. Speaking of the battery cover, testament to the E5's amazing build quality is the unlocking mechanism for the battery cover. While opening it is a pain (unless you have long nails), the mechanism itself it solid and reassuring, adding to the overall solid feel of the device. The phone is better put together than most phones two or three times its price. And with the phone having shared my pocket with keys and other assortments for about 2 weeks, there isn't a single scratch to speak of.
No buttons on the left or bottom; volume control flush with the device on the right; micro USB and charger port along with 3.5mm jack on top
The design of the phone is very un-Nokia like. In fact, if it were not for the branding below the ear piece along with the etching on the battery cover, it would be very difficult to identify it as a Nokia. The first time I saw the E5, it struck me more as a grown-up Palm Centro than anything out of Finland! And although it may not look striking, it does look quite elegant in an understated way. Perfect for the target market.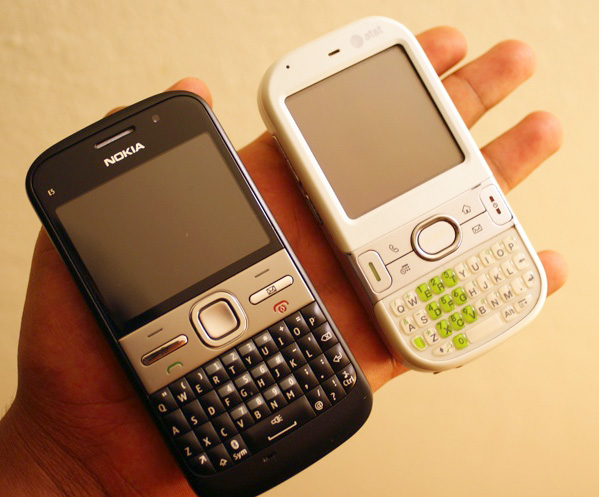 Once you get past the good build, the next thing that strikes you is the awesome keyboard. No really, it's awesome. It's right up there with the very best QWERTY phone keyboards. Infact I frequently found myself choosing to type out an email on the E5 even though I was right in front of my laptop. The spacing and layout is perfect and so is the contour of each key. Apart from when I had to type out special characters, I didn't have to look at the keyboard. And unlike the E72/E63, the E5 comes with a generous sized spacebar. If you tend to type a lot of messages on the go, the Nokia E5's heft, proportion and keyboard will make it a lot easier on your thumbs and won't make you cringe at the thought of typing out more than 10 words on the phone.