But something has gotta give, right? Something has - and sadly, it is the screen. Coming in at a shade less than 2.4 inches (2.36" to be exact), it is without a doubt small. Packing a low 320 x 240 resolution, this QVGA landscape is a thorough disappointment.
The screen is actually the biggest reason why I feel the E5 is not a true successor to the E72. While the latter packed a similarly small display, it was much more vibrant and readable both indoors and outside. Although the E5's screen is usable indoors, it looks washed out; under sunlight, it is about as unusable as some OLED displays. Turning the brightness all the way up helps a bit, but having to do so every time you step outside doesn't make sense. This is probably because the E5 has a cheaper transmissive-type LCD instead of the transflective LCDs seen in higher-end Nokia devices like the E72. As a result, the E5 tends to get washed out in direct sunlight. The E5 comes equipped with an ambient light sensor that seems to do its job well enough, except in the sun. For some reason it doesn't max out the brightness outdoors, which would otherwise alleviate some of the display's outdoor use issues.
Camera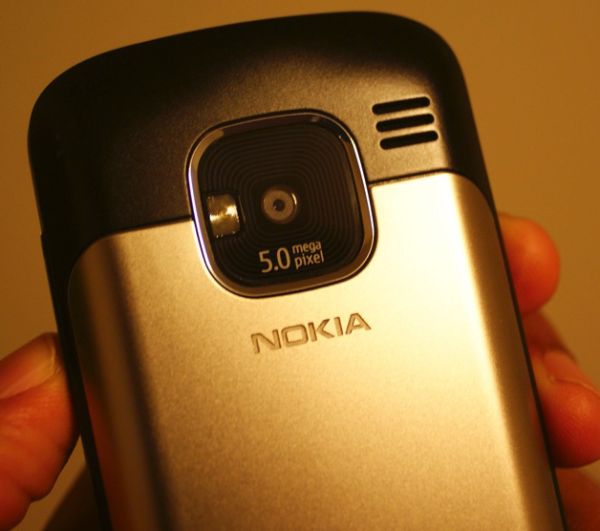 Moving on, we have the 5 megapixel, non-auto focus camera and LED flash on the back of the E5. It is not particularly good at anything more than candid shots in well-lit surroundings.
Although the LED flash is reasonably powerful, pictures taken in anything but perfect lighting are grainy and lack detail. The E5 does have Nokia's Extended Depth of Field feature and it's a nifty feature as it makes sure both the foreground and background are always in focus, thereby "eliminating" focus time. The 2592 x 1944 images are on an average about 1.5MB which means they are quite heavily compressed.
If only it had better optics to make better use of the feature. The video recording part of the phone is even worse; it can only shoot VGA/15 fps video at best. But considering the fact that this phone is targeted at the business crowd, the mediocre-at-best camera should not count against the phone.