Dell XPS L501x Application Performance
PCMark loves SSDs, so the performance of the L501x isn't going to break any records there. Actually, the i5-460M processor is pretty common as well, striking a balance between price and performance. Clocked at 2.53GHz with only a 2.80GHz Turbo Boost available, it's slightly slower than the i5-540M (lower Turbo) but as an OEM part the prices are probably far more attractive. Despite the return to the "pure" XPS name, the new XPS line essentially continues from where the Studio XPS left off. These are good multimedia platforms with mainstream gaming performance, suitable for all but the most demanding users.
Here's how the L501x compares to several other recently reviewed laptops. We've chosen to highlight two other laptops for comparison: the ASUS N82Jv and the Toshiba A660D. The N82Jv is a good all-around laptop with a similar size and performance while the A660D represents the high-water mark for current AMD Danube platforms. Actually, that's not entirely true—AMD has faster mobile parts available—but the A660D is at least in the same price range as the base XPS L501x. We've also got results from the latest MacBook Pro 13 in our charts, but we really need a comparison with the MBP15 (under Windows) to be fair, so we won't make too much of the MBP13 here.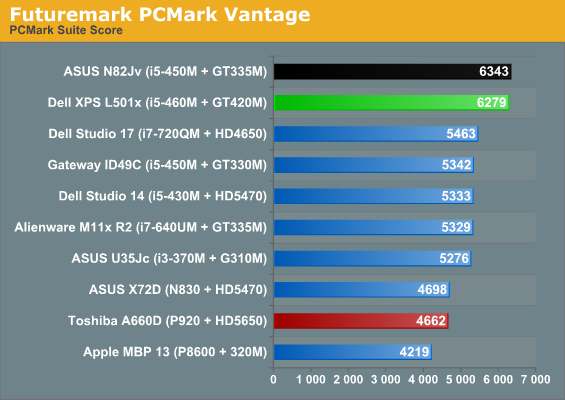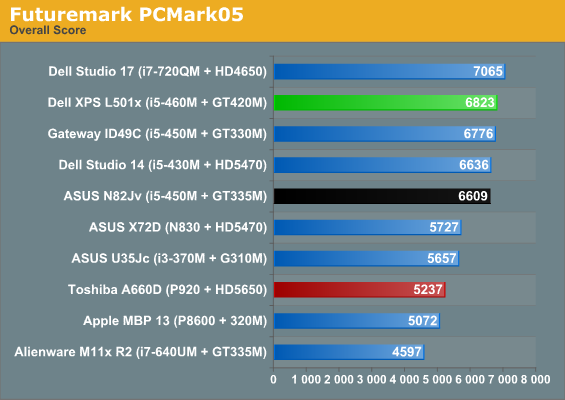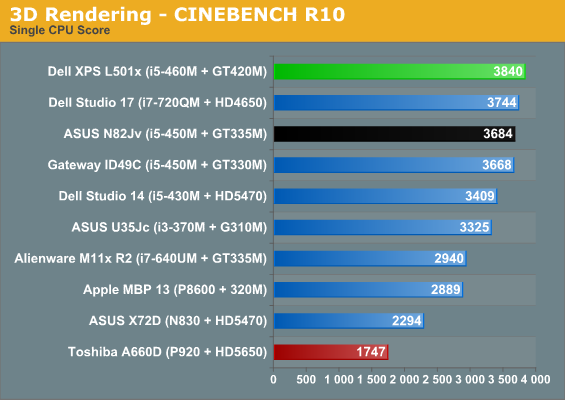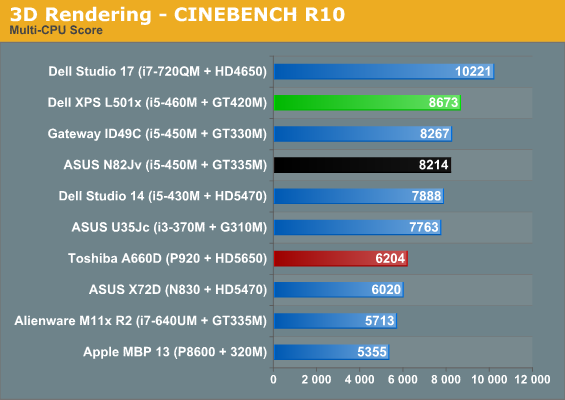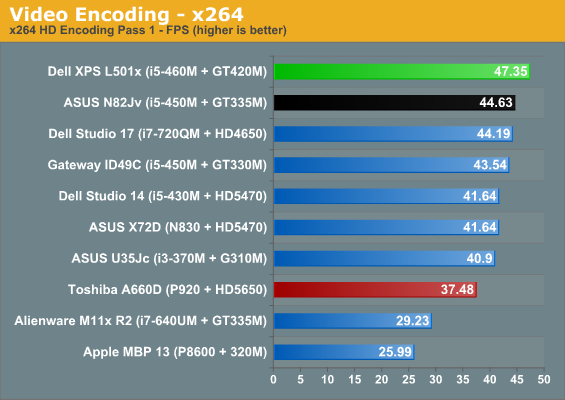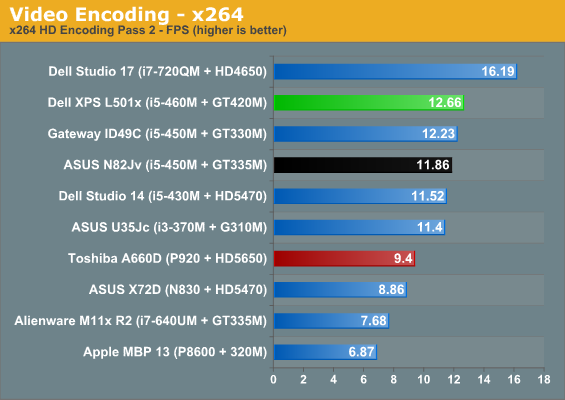 General performance is right where we'd expect it for the CPU, GPU, and HDD combination. The L501x trails the N82Jv slightly in PCMark Vantage but reasserts itself in the CPU intensive CINEBENCH and x264 testing. The higher base clock speed also puts it within striking distance of the i7-720QM in multi-threaded tasks, so unless you really need every last ounce of multi-core power the dual-core i5-460M is a compelling alternative—and don't forget the loss of Optimus (and the price increase) that comes with moving to Clarksfield processors. As a balanced platform, Arrandale is very difficult to beat, and AMD will need its Bulldozer/Llana mobile offerings before it can go toe-to-toe with Intel laptops.