Announcing high end products and 'Halo' type hardware is relatively easy for manufacturers - slap some snazzy artwork next to a few pictures, wring a few industry related endorsements, put the major selling points in big letters, write a website page for it, and maybe run a competition to let a couple of people win one. For entry level boards, it's a different matter - make it work well, and price it right. This is exactly what MSI are trying to do on their new 740GM-P25.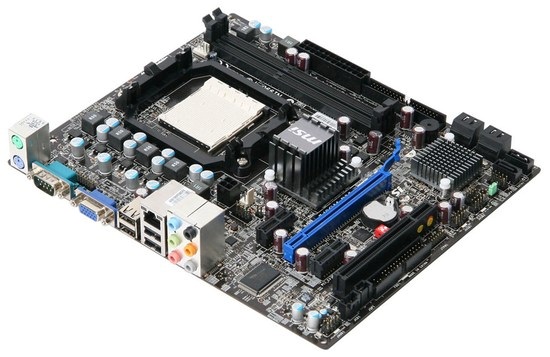 Pre-orders costing around $59, this latest microATX board from MSI combines AMD's 740 and SB710 chipsets, and support for AM3 processors. Along with the board including core unlocking software, there are two DDR3-1333 memory slots, one PCI-E Gen2 x16 slot (which MSI markets as supporting Hybrid Crossfire which is odd), 2 PCI-E x1 slots, 6 SATA 3Gb/s slots (4 parallel to the board, 2 sticking out of the board), an IDE port, Atheros Gigabit LAN and VIA 8-channel audio. Onboard video is supplied by the integrated HD2100, while onboard RAID is the standard 0 / 1 / 0+1 and JBOD affair.
In terms of HTPC, here we see a low-end board that ticks some or most of the boxes people will look for - just drop in a low profile video card, audio card, and a HDD RAID controller for RAID 5 to start. The positioning of that 4-pin 12V CPU power connector may cause issues in cases, and there may not be enough USB 2 ports (four on the back panel), but you get what you pay for. Check online retailers soon for pre-order information.