Two months ago NVIDIA
unveiled its next-generation ION GPU
. Sporting either 8 or 16 SPs (or CUDA cores if you bleed green), the next-generation ION is strictly a GPU while its predecessor was a chipset with integrated graphics. Designed to be paired with Intel's Pine Trail Atom platform, we should start seeing some next-gen ION machines pop up over the coming months. As we understand it, drivers aren't final and products aren't ready for retail sale but imagine our surprise when we found this on our doorstep this morning: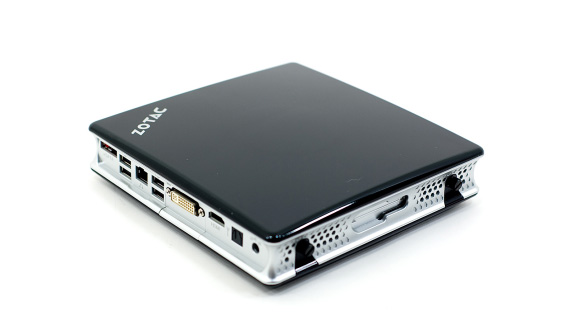 That's Zotac's HD-ID11-U, a nettop based on the dual-core Atom D510 and NVIDIA's 16 core next-gen ION with 512MB DDR3 frame buffer. The system shipped entirely barebones so we'll be suiting it up and running whatever preliminary tests we can on it over the weekend. As I mentioned earlier, drivers aren't final so don't expect a full rundown anytime soon.
The system sports 6 USB ports, HDMI & DVI out, eSATA, Ethernet, optical audio out, headphone/mic jacks and a SD card reader. Internally you've got one 2.5" bay for a SATA HDD (or SSD) and a single SO-DIMM slot for DDR2.
If you want a closer look at the system head over to our pics in the Gallery.