My first thought upon seeing Lenovo's radically different ThinkPad Edge 13 at CES was, "Oh man, the ThinkPad forums are going to burn tonight." Why? The ThinkPad Edge has a glossy lid, a glossy screen, rounded corners, AMD processors (Intel's CULV platform is optional), and can be ordered in "Heatwave Red." When I said radically different, I really did mean that this is a radically different ThinkPad. Speaking of which, remember that legendary ThinkPad keyboard? It's gone, replaced by a chiclet keyboard. Yeah, a chiclet keyboard. This is most definitely not your father's ThinkPad T410.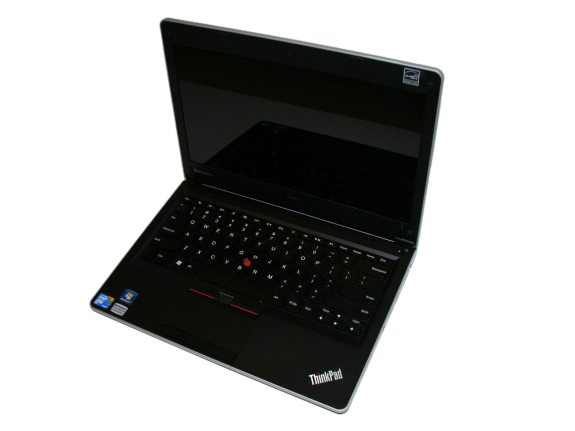 The ThinkPad Edge, other than being obscene to the sensibilities of die-hard ThinkPad fans, is at its roots a slim 13" ultraportable offering good portability and battery life for a modest price. It starts at $579 MSRP with AMD Athlon Neo X2 processors (AMD's lower cost, higher power consuming alternative to CULV) paired to the Radeon HD 3200 IGP and 2GB RAM. Along with the new X100e ultraportable, the Edge is the first ever ThinkPad to offer AMD processors. We have the Intel Edge 13 model for review, which has a $799 MSRP and uses the now familiar Core 2 Duo SU7300 processor and GMA 4500MHD integrated graphics chip.
Lenovo ThinkPad Edge Specifications

Processor
Intel Core 2 Duo SU7300 (45nm, 2x1.30GHz, 3MB, 800FSB, 10W)
AMD Athlon Neo X2 L325 (65nm, 2x1.50GHz, 1MB, 800FSB, 18W)
Chipset
Intel GS45 + ICH9M
Memory
2x1GB to 2x2GB DDR3-1066
2x2GB DDR3-1066 Tested
Graphics
Intel GMA 4500MHD
Display
13.3" LED Backlit WXGA (1366x768)
Hard Drive(s)
250GB 5400RPM
320GB 5400RPM
320GB 7200RPM
Optical Drive
N/A
Networking
Realtek Gigabit Ethernet
Intel Wireless WiFi Link 1000 802.11n
Bluetooth
WiMax (Optional)
Qualcomm Gobi WWAN (Optional)
Audio
HD Audio (2 speakers with headphone/mic jack)
Battery
6-cell 5600 mAh, 63 Wh
Front Side
N/A
Left Side
HDMI
Gigabit Ethernet
1 x USB 2.0 (powered)
VGA
Kensington Lock
Cooling exhaust
Right Side
AC Power Connection
5-in-one card reader
3.5mm Headset jack
2 x USB 2.0
Back Side
Battery
Operating System
Windows 7 Professional 64-bit
Dimensions
13.07" x 8.98" x 1.23" (WxDxH)
Weight
4.0 lbs (with 6-cell battery)
Extras
1.3MP Webcam
Spill Resistant Keyboard
5-in-1 Flash reader
Warranty
1-year standard warranty
Remote diagnostics
2-year and 3-year extended warranties available
Onsite service and accidental damage protection available
Pricing
AMD X2: Starting at $490
Intel CULV: Starting at $699
In addition to the CULV platform, our Edge packs 4GB (2x2GB) of DDR3-1066 memory, a 320GB 7200RPM hard drive, an LED-backlit 13.3" 1366x768 glossy screen, Bluetooth 2.1, and a 6-cell Li-ion battery rated for eight hours of run time, all topped off by Windows 7 Professional 64-bit and a matte black lid. (The Heatwave Red color option is only available on the AMD model, so you're out of luck if you want to stand out and have good battery life.)
While the spec sheet is vanilla as far as CULV machines go, what the Edge really seems to offer over its competitors is the ThinkPad name and the reputation for build quality, reliability, and ruggedness that comes along with it. Looking at the similarly sized $745 ASUS UL30Vt, we see the same 13.3" WXGA screen, 4GB of DDR3-1066, a larger 500GB (but 5400RPM) hard drive, an overclockable version of the SU7300 processor, and a switchable NVIDIA G210M dedicated graphics card in addition to GMA 4500MHD. That's the ASUS' ace in the hole – the ability to give you significantly better performance with a dedicated graphics card and a 1.73GHz processor at the push of a button, and with a price lower than the Lenovo, those are definitely attractive features. However, the UL series isn't known for build quality...and the ThinkPad is.