Meet the Board
We've got two Pine Trail articles for you today. I'm looking at the dual-core nettop version while Jarred is looking at the first Pine Trail netbook: ASUS' EeePC 1005PE.
Intel sent me their first desktop Pine Trail motherboard: the D510MO(B). It's a rather pedestrian looking mini-ITX design with a single 32-bit PCI slot (no PCIe) and a mini-PCIe socket on board.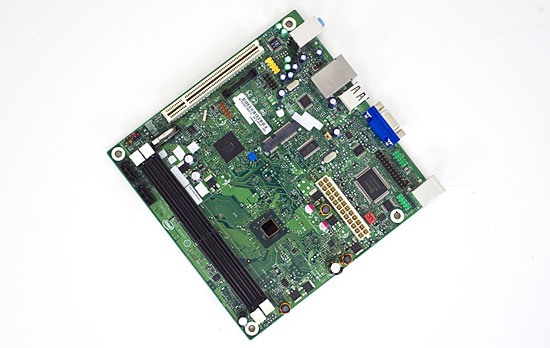 Unlike previous desktop Atom motherboards, the D510MO(B) is entirely passively cooled. Here Intel is benefitting from the lower power characteristics of the Pine Trial platform, showoffs. You get a single large heatsink covering the Pineview Atom CPU, while the tiny NM10 sits naked outside.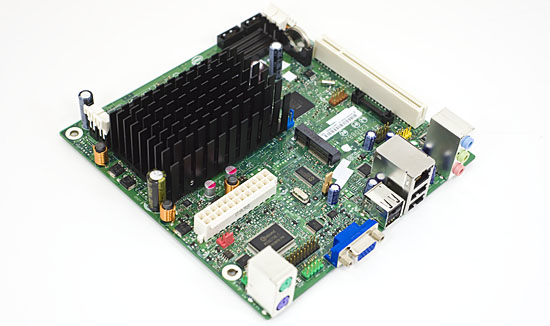 Intel's Pine Trail board with heatsink
Another welcome change is the inclusion of two DIMM slots, despite Pineview only offering a single 64-bit DDR2 memory channel. You get two SATA ports as well.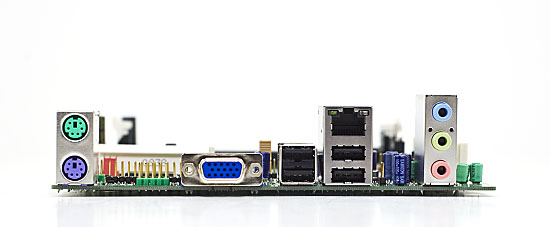 Flip around to the rear of the board and the I/O panel is devoid of any excitement. Four USB ports, Ethernet, PS/2 keyboard/mouse, three 1/8" audio jacks and a VGA output are all you get. Granted the board only costs $75 new, but would it have killed Intel to include DVI or HDMI out? Let's advance the industry folks, even at the low end.
I suspect that it's more of a ploy from Intel to characterize Pine Trail as an entry level machine and not something you go around plugging into HDTVs, after all it can't decode 1080p H.264 video. Leave those sorts of things to Ions.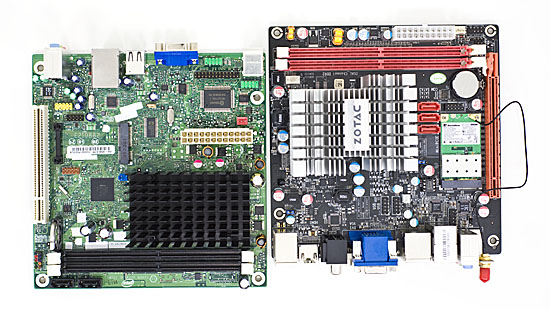 Intel's Pine Trail desktop board (left) vs. Zotac's latest Ion board (right)
Intel stuck the D510MO(B) in a mini-ITX chassis equipped with its own external DC power supply to demonstrate its usefulness as a complete system. While not quite as sexy as the latest Ion platforms, it shows you exactly what you can do with one of these motherboards.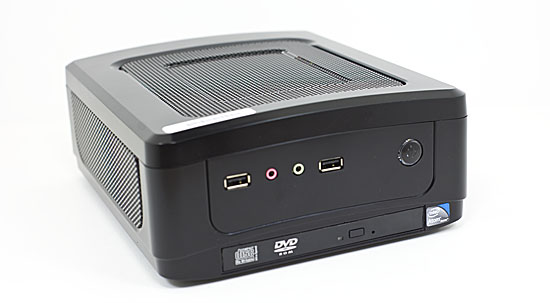 A fully passively cooled Pine Trail mini-ITX system
If you have a truly archaic desktop or want to add a third, fourth, fifth or fileserver PC to your network, grab one of these motherboards and using some relatively old/spare hardware you can build a functional machine. That's the goal and in that capacity it works quite well. The cheapest Ion motherboards will run you over $110 and even then, in general usage tasks, they are actually slower. It's only if you're building a HTPC that Pine Trail disappoints, for a desktop or file server, you're better off with Intel.