No Native Hardware H.264 Decoding: Long Live Ion
The integrated GMA 3150 graphics hasn't been used by Intel before, it's a 45nm shrink of the GMA 3100. It's technically a DX9 GPU running at 400MHz, however as you'll soon see - you can't really play any games on this platform. The GPU only offers hardware acceleration for MPEG-2 video, H.264 and VC-1 aren't accelerated.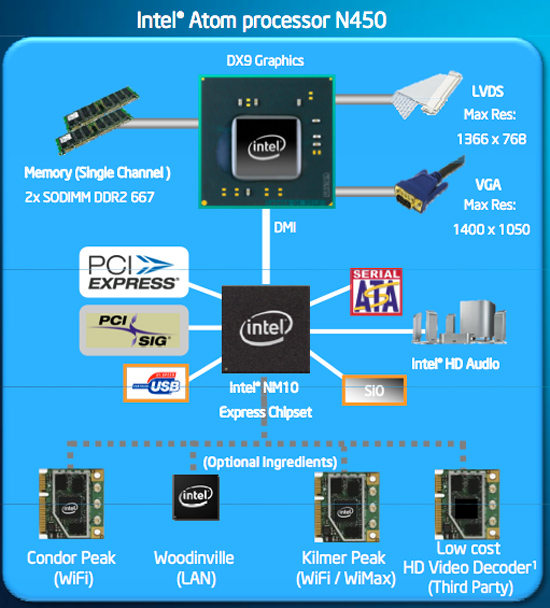 Max output resolution is also limited. The best you can get over a digital connection (HDMI/DVI) is 1366 x 768, over analog VGA you can do 2048 x 1536 (only 1400 x 1050 on the N450). It's a curious coincidence, Poulsbo also had a 1366 x 768 digital output limitation.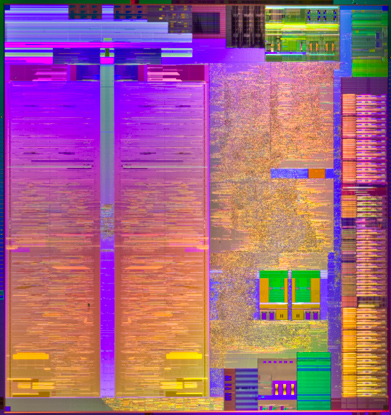 Dual-core Atom "Pineview", the left half are the two CPU cores, the right portion is GPU + memory interface
And now we see why Intel skimped on the GPU abilities: nearly half the die is used for graphics.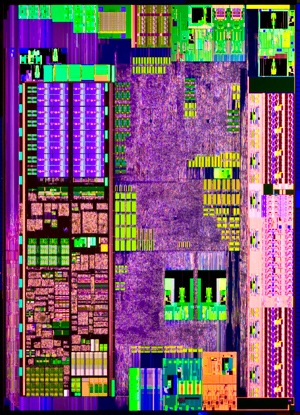 Single-core Atom "Pineview"
On the single core part, more than half the die is the GPU/memory controller. At 32nm this won't be a problem, but today at 45nm it is what it is - we get a mediocre GPU.
The NM10 Express Chipset
Pine Trail is all about integration. Pulling the memory controller and GPU on-die let board makers either build smaller, simpler or more feature rich motherboards. In fact, one of the benefits of integration is that all Atom motherboards can now be built using 4 layer PCBs. Previously, only the desktop Atom boards could be built on 4 layer PCBs, now netbook boards can be just as cost effective.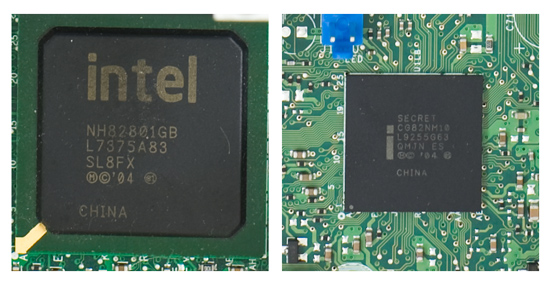 The old ICH7 (left) vs. the new NM10 (right) - pictures are to scale, the NM10 is really that much smaller
With the memory controller and GPU on-die, the "chipset" in Pine Trail has been reduced to a single chip external to the CPU. It's called the NM10 Express Chipset and it connects to the new Atom CPU via a 2.5GB/s DMI link.
Intel's NM10 supports 8 USB 2.0 ports, two SATA ports, HD audio, 2 x 32-bit PCI slots and 4 PCIe lanes. The NM10 is derived from existing ICH technologies, but bundled in a smaller package for use in small form factor motherboards.
Intel lists one interesting "optional ingredient" that can be connected to the NM10 chipset: a third party HD video decoder.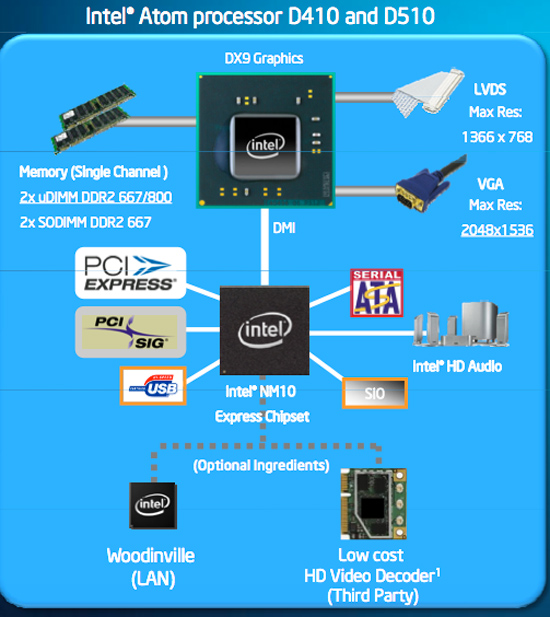 The FTC hasn't won it's case yet so most manufacturers still prefer to support Intel and would rather pair Pine Trail with a Broadcom H.264 decoder than go for something like Ion. It's Intel's concession to those who demand high definition video acceleration. Honestly, I would've preferred to see something that could do it natively instead of relying on a 3rd party solution. I suspect that the 3rd generation of Atom will solve this; at 32nm there's more than enough transistor budget to integrate a GMA4500 series core, which would finally bring Atom up to feature parity with NVIDIA's Ion chipset...just two years later
What About Ion 2?
Pine Trail uses Intel's DMI to connect Pineview and the NM10 chipset. NVIDIA doesn't have Intel's blessing to sell chipsets that use DMI, so NVIDIA can't produce something that takes the place of the NM10 chip.
NM10, however, has an integrated PCIe controller. It's possible that NVIDIA's next-generation Ion will simply connect via PCIe to the NM10 chip.