We always enjoy opening new boxes that come from ASRock. They are one of our favorite motherboard suppliers when it comes to delivering high value performance solutions. We were speaking with them just a couple of weeks ago about their BIOS updates for the X58 Supercomputer X58 motherboard that allows 2000+ memory clocking now along with general improvements when running all four x16 (x8 electrical) slots populated with the GTX295 boards.
They mentioned a new X58 motherboard design and asked if we wanted to look at it. We of course obliged and thought nothing else of it until the package arrived a few days ago. We ripped the box open, looked around, and thought to ourselves this is a nice update to the current X58 Deluxe board. That is until we started noticing a cleaner layout, power/reset/CMOS switches, a new 8-phase power delivery system, and an abundance of fan headers. However, the proverbial rock that hit us on the head was the little note with the suggested MSRP of $169.99.
Yes, that's right, we finally have a full featured ATX X58 based motherboard below the $170 mark without a rebate or reduced feature set. While you could purchase a great AMD 780G board and processor in that price range, this a quite reasonable price for an X58 product. We wanted to provide a full review of the product before it launched, but it showed up for sale earlier than expected. This is good news for bargain hunters looking at upgrading to the X58/i7 combination, bad news for us. As such, we are providing a very quick first look (preview) of the ASRock X58 Extreme today with additional details to follow in the near future.
Board Layout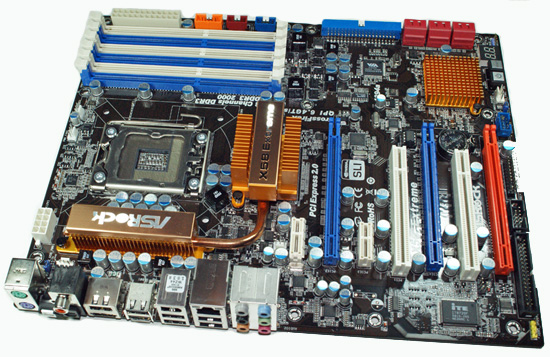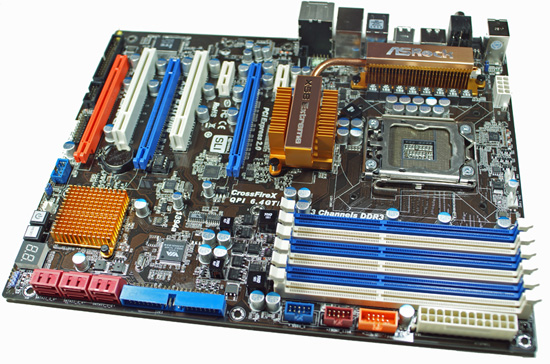 Taking a quick look around this board, we find the overall layout is excellent. ASRock placed the 24-pin and 8-pin ATX power connectors, IDE/Floppy connector, and the SATA ports along the edge of the motherboard. The board features two PCIe x1 slots, two PCI slots, and three PCIe x16 slots (x16/x16/x4). The CPU area is uncluttered and a push/pull CPU fan/heatsink design like the Vigor Monsoon III will not interfere with memory in the first dimm slot. The back of the board is clean and all of our various air/water coolers that required a back plate worked fine.
ASRock includes the standard array of components like the Realtek ALC890 HD audio codec, Realtek RTL8111D, VIA VT6330 IEEE 1394a/IDE combo chipset, Intel ICH10R for SATA and RAID support on six ports, along with full support for the Core i7 processor series. Five chassis fan headers offer speed but not temperature control along with full hardware monitoring and control via the BIOS or ASRock's software utility. Last but not least, ASRock implemented a new 8-phase power delivery system along with having the first EuP (Energy using Product, 1W or less power consumption when off) compliant motherboard.
The rear panel features the standard PS/2 mouse and keyboard ports, optical/coaxial SPDIF out ports, seven USB 2.0 ports, powered eSATA/USB port, Gigabit LAN port, IEEE 1394a port, and a handy Clear CMOS switch. ASRock was generous enough at this price point to include Power and Reset switches along with an LED POST display. They also include a very good accessories bundle. You get the standard rear I/O panel cover along with 1 x IDE/Floppy cable, 4 x SATA cables, 2 x SATA power cables, and SLI bridge card. An informative manual and software CD is included that contains their IES, OC Tuner, and Instant Boot applications.
The board also features the new Instant Flash utility that allows the user to flash the BIOS from the POST screen or via a BIOS option setup. Yes, this functionality has been available on other boards for sometime, but it is a first for ASRock. Speaking of the BIOS, the overall design is geared for the general enthusiast with several auto overclocking options and a decent array of manual timings. ASRock includes enough options so that we did not have any problems maximizing our overclocks with air or water cooling options. We still think VTT voltage options should include finite (about a .05V difference between settings) settings of 0.01V steps. Overall, the AMI based BIOS design is clean and uncluttered.
Let's take a quick look at the initial performance capabilities of the board.